Fortnite seasons' finale events have been some of the biggest gaming moments in recent years, with many Twitch records broken and milestones achieved.
We've seen such epic moments as the Travis Scott concert or the invasion of Galactus, and fans can't wait to find out what's next to come.
While most of the previous seasons had some kind of a theme which was building a story, this time around it seems that the lore and the overall story are a bit lacklustre.
This season was by far the most diverse when it comes to the crossover events, with franchises like Tron Legacy, Alien, Mandalorian, Terminator, and many more entering The Island, but the broader story was missing.
That's why Fortnite players are particularly excited to find out what has Epic prepared for the end of Season 5.
Season 5 ending is currently scheduled for 15th March, which is just two weeks from now, and with the v15.50 update, the first details about the season finale are starting to emerge.
Fortnite Season 5 finale event leaks and 
teasers

The Zero Point is pulsating (Picture: Epic Games)
The latest update has brought the first teasers about the possible Season Finale event.
As you might have already noticed the Zero Point is slowly becoming unstable and will probably progressively worsen in the upcoming days.
Right now, if you come close to it, you will notice some strange visual effects and noises coming from it.
While we currently don't know what this might mean, some dataminers were able to discover more details about the possible Season Finale event.
A prominent Fortnite dataminer Mang0e has discovered that there might be not one, but several "mini-events" that will lead to one final huge event at the end of Season 5.
It appears the Zero Point will send out 4 "waves" of destabilization over the course of the following weeks for Season 6 build up. I expect these to act as "mini-events". pic.twitter.com/5o50DZ5fOb

— Mang0e | Fortnite Dataminer (@Mang0e_) March 2, 2021
Mang0e explains that this "destabilization" will come in four waves over the course of the following weeks, which will serve as a build-up for the upcoming Season 6.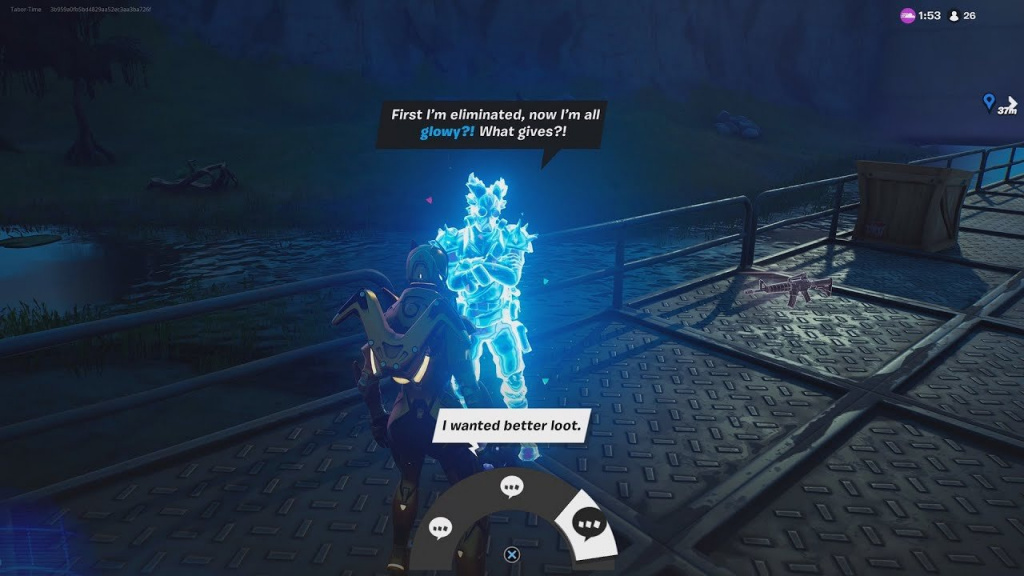 Something strange is happening with NPCs (Picture: Mang0e/Epic)
He has also discovered that NPCs will be affected by this wave and they will even glow "ethereal" similarly to how the Zero Point glows. According to what he found, there is a potential for NPC to be teleported "to wacky places by the Zero Point".
Another renowned Fortnite leaker, HYPEX, was able to dig up the new Zero Point destabilize and pulse sounds. 
New Zero Point Destabilize Sounds! pic.twitter.com/vzxUf4qo8D

— HYPEX (@HYPEX) March 2, 2021
Apparently, this will have an effect on Fortnite's voice chat as well, adding distortions to the players' voices when triggered, although it is not clear if it will be completely random or will it happen when players are near the Zero Point.
Whatever it is that Epic is bringing for the Season 5 Finale, it definitely looks intriguing, and we can't wait to find out more details. Make sure to follow us, as we will update this article as soon as more details are being revealed about the Season Finale event.
---
For more Fortnite news be sure to check out our dedicated section, or some of our Guides & Tutorials, just below:
Fortnite Guides - All Fortnite Redeem Codes | When Does Fortnite Chapter 3 Season 5 Start?|All Fortnite Twitch Drop Rewards| How To Make Your Own Fortnite Skin |
Fortnite Events - Fortnite Winterfest 2022 | 
The Best Fortnite Creative Codes - Best Edit Course Codes|Best Prop Hunt Codes|Best Zombie Map Codes
Featured image courtesy of Epic Games.