Update: Why not join us on our live Fortnite Galactus page where we are following all the night's action, canvassing reactions, and piecing together what this might mean for Chapter 5?
Original Story:
Ever since the release of Fortnite Chapter 2, Season 4, with all the Marvel characters joining the Battle Royale party, we've known the endgame. The Marvel supervillain, Galactus, is coming to devour the world. Now, we know exactly how and when you can experience the biggest Fortnite event to date. Here's the release date, time and how to join the Fortnite Galactus event, aka the Nexus War.
Fortnite Galactus Nexus War: Release date & time
Epic Games has revealed the Fortnite Galactus event release date and time in a new post.
The end of Season 4 event, also known as the Galactus event or Nexus War event if you will, is scheduled to begin on 1st December 2020 at 16:00 ET. For those in the UK, that's 21:00.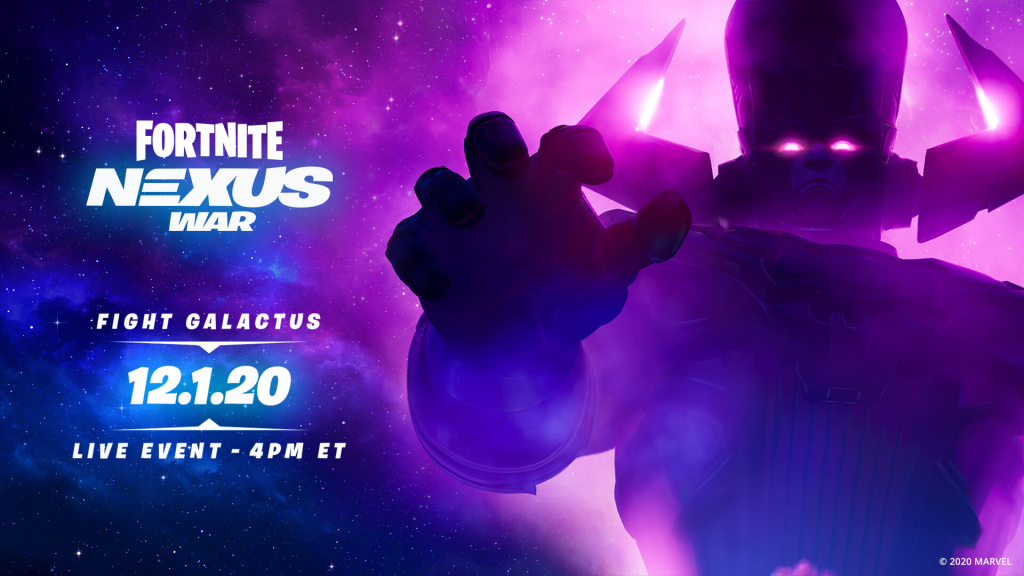 (Picture: Epic Games)
Epic Games states: "It was only a matter of time. Galactus is closing in on the Island and the fate of all Reality lies in the balance. Join the ultimate fight against Galactus in the one-time-only Nexus War finale event on Tuesday, December 1 at 4 PM ET."
Fortnite Nexus War: How to join
Epic Games notes that together, we can save the island from Galactus, aka the Devourer of Worlds.
If you are wondering how you can join the Fortnite Nexus War event and fight Galactus, then it is quite simple really. First off, you need to have the latest update, v14.60 installed.
Then, Epic Games explains how they have taken measures to ensure more people can join in the Nexus War event. The developer recommends you log in one hour before the event starts.
The playlist for the Nexus War event is expected to go live 30 minutes before the official start time. 
At the time of writing, it is unclear exactly how the event will work. However, it is expected to be the biggest end-of-season event in Fortnite history, which is quite exciting, to say the least.
---
For more Fortnite news be sure to check out our dedicated section, or some of our Guides & Tutorials, just below:
Fortnite Guides - All Fortnite Redeem Codes | When Does Fortnite Chapter 3 Season 5 Start?|All Fortnite Twitch Drop Rewards| How To Make Your Own Fortnite Skin |
Fortnite Events - Fortnite Winterfest 2022 | 
The Best Fortnite Creative Codes - Best Edit Course Codes|Best Prop Hunt Codes|Best Zombie Map Codes
Featured image courtesy of Epic Games.