Fortnite Season 7 is here and it brings aliens. A lot of aliens!
The invasion has started and the whole season is themed around the alien invasion, with items like Alien Artifacts, alien-themed weapons, a brand new Cosmic Chest, and much more.
As expected, Season 7: Invasion comes with a lot of new map locations and POIs, where you will get to meet a bunch of weird new NPCs.
And while you are going around the map, you might have noticed nasty little creatures that like to jump on you and then won't go away.
Those are alien parasites, and they add an interesting new gameplay feature which we will explain below.
What are alien parasites in Fortnite Season 7?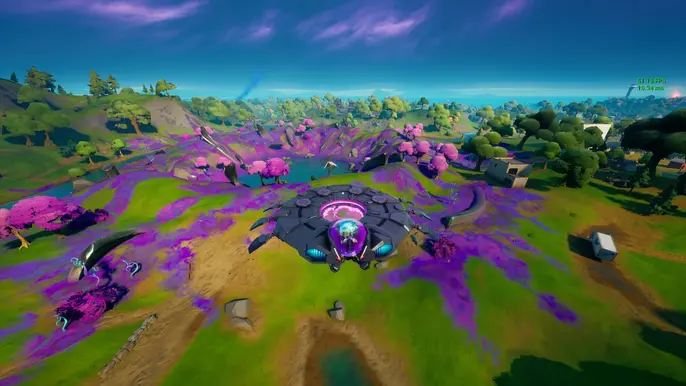 (Picture: Epic Games)
These small alien parasites are a part of the invasion, they have been brought by aliens and they will automatically attach to you when you get near them, whether you want that or not.
Though they can be an annoying nuisance, they actually have a nice gameplay effect.
Once they stick to you, you will be granted a small bonus on your mobility for a period of time, but they will also drain your health over time.
They essentially work like stim pack in StarCraft 2, granting you speed in exchange for some of your life.
They can be useful, but some players don't like them. If you want to get rid of them, here's how.
How to remove alien parasites in Fortnite Season 7?
If they attach to you against your will and you want to get rid of them, that's quite easy!
All you need to do is to get them uncomfortable!
Here's how to get rid of Alien Parasites that stick to you: "Detach and ignore you for a few seconds if you touch fire, water, or enter a prop"

Also other text related to them: "An Alien Parasite has attached to you! Enjoy enhanced mobility in exchange for some health!"

— HYPEX - Fortnite Leaks (@HYPEX) June 8, 2021
They don't like fire, water, and props, so all you need to do is to find some of these around the map and get into or near it.
They will not like that and will detach from you. Just make sure to quickly distance yourself from them after they fall off from you, as you will have a few seconds while they are ignoring you before they become aware of you again.
And there you have it, now you are free! At the time of writing, it is not certain for how long will this new feature stay on the map, but now you at least know what they are doing and how you can get rid of them!
---
For more Fortnite news be sure to check out our dedicated section, or some of our Guides & Tutorials, just below:
Fortnite Guides - All Fortnite Redeem Codes | When Does Fortnite Chapter 3 Season 5 Start?|All Fortnite Twitch Drop Rewards| How To Make Your Own Fortnite Skin |
Fortnite Events - Fortnite Winterfest 2022 | 
The Best Fortnite Creative Codes - Best Edit Course Codes|Best Prop Hunt Codes|Best Zombie Map Codes
Featured image courtesy of Epic Games.