Now that the alien invasion has ushered in Fortnite Chapter 2 Season 7, the map has seen quite significant changes and additions. We've already shown you the new point-of-interest (POI) and Landmark locations on the Fortnite Season 7 map, and now, it's time to shared the locations of all current NPCs. Since the alien mothership destroyed The Spire, new NPCs have appeared, and many have moved around. 
Fortnite Season 7 map - All NPC locations
While not all NPCs are friendly, for example, you will need to take down Dr Slone to get the new Mythic Pulse Rifle, there are many NPCs that you can get tasks from, or purchase items using Gold Bars.
NPCs form an important aspect of the game for many players, so knowing all their locations in Fortnite Season 7 is of the utmost importance.
This brings us to the complete map with all NPC locations as well as their movement paths as shared by dataminer and leaker, iFireMonkey.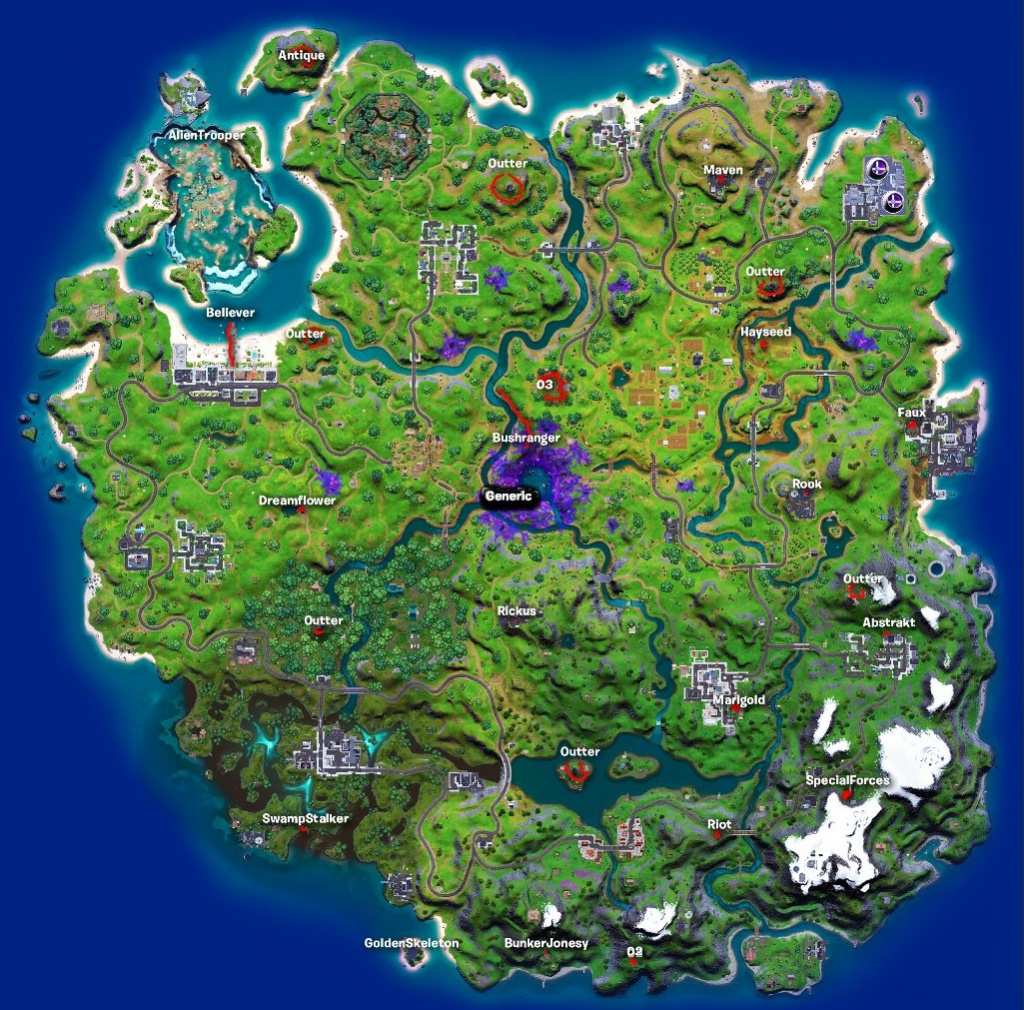 (Picture: iFireMonkey)
As you can see, there are many new NPCs. If you are wondering who the "Generic" NPC is, well, that's Dr Slone, a boss which players can defeat.
Outter spawns at various locations, while the likes of Marigold, Dreamflower, Bushranger and more have one spawn point. Some NPCs such as Bushranger and Bellflower also tend to move around a bit, so if you don't instantly see them, just take a look around. 
As the season progresses, Epic Games will likely add more NPCs into the mix with every new update coming to the game. 
So there you have it, all the known NPC locations at the start of Fortnite Chapter 2 Season 7. Players might even discover hidden NPCs as more and more people dive into the season. We will keep you updated if more NPCs are found in Fortnite.
Check out our dedicated section for everything Fortnite, from news to leaks, guides, drama and more.
---
For more Fortnite news be sure to check out our dedicated section, or some of our Guides & Tutorials, just below:
Fortnite Guides - All Fortnite Redeem Codes | When Does Fortnite Chapter 3 Season 5 Start?|All Fortnite Twitch Drop Rewards| How To Make Your Own Fortnite Skin |
Fortnite Events - Fortnite Winterfest 2022 | 
The Best Fortnite Creative Codes - Best Edit Course Codes|Best Prop Hunt Codes|Best Zombie Map Codes
Featured image courtesy of Epic Games.