Fortnite has become the kind of game your relatives ask you to explain at Christmas, reaching beyond our beloved cradle of video game culture and becoming its own entertainment entity.
It's so big now it transcends the platforms we play it on, and even people that don't play it find themselves drawn to its constant updates out of sheer curiosity if nothing else.
The year that was
There has been plenty to admire in 2019. Fortnite got a hefty dose of Marvel in another Avengers crossover for the long-awaited Endgame, while still finding time in December to tie-in with Star Wars: Rise Of Skywalker via an exclusive scene introduced by director JJ Abrams.
The inaugural Champion Series competition, hosted by Epic themselves during Season X, helped carry things along, but the clear "gaming moment" of 2019 belongs to Chapter 2. After a black hole swallowed the game and had millions tuning in waiting for signs of life, Fortnite emerged with a fresh map, new gameplay tweaks (like fishing, of all things), which have all been well received.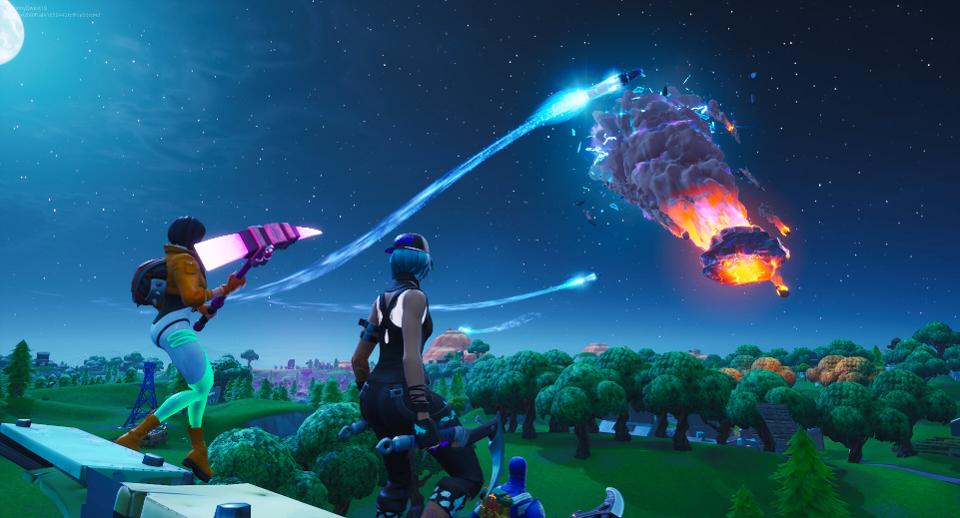 Fortnite reinvented itself in 2019 (Picture: Epic)
All of these events no doubt added to the 250 million players Epic reported in March of 2019 - albeit with some inactive accounts. That's already about four times the population of the UK.
But, that's all for nought if Epic doesn't maintain that trajectory - with the game's revenue showing signs of slipping in 2019 (a sizeable 25% drop from the previous year, although it's still above every other game). And with no Star Wars or Avengers movie this year, they might have to get creative to be able to make 2020 a success.
Cinematic aspirations
That's not to say there's not plenty of scope for cinematic tie-ins. Could we see one for the likes of Black Widow or Wonder Woman? Maybe Venom 2? We'd be very surprised if there isn't something cooking for one of them, but we would be surprised if it was a James Bond tie-in; count us in for driving around the Chapter 2 map with a tricked out Aston Martin.
Speaking of Chapter 2, the first season of the "reborn" Fortnite is due to end in February - and we don't know what comes next. A "Chapter 3" that shakes up the map and meta again seems unlikely, but will we see fresh additions to gameplay? Or will subsequent seasons focus on fresh cosmetics to chase and challenges to complete?
New toys to play with
Mechs and planes that were added in seasons of yore have been widely rejected by the community as being too gimmicky, but the new additions of hiding in haystacks and using the environment to kill enemies (both Chapter 2 tweaks) seem to have been more popular - arguably because they're more skill-based than finding a vehicle by sheer happenstance.
Will we see something similarly understated? Off the top of our heads, why not a cover system to go with the building mechanics? We're just speculating, of course, but why not the ability to go prone or blend in with the game's cartoonish textures.
Changing of the seasons
We'd imagine we'll see plenty of seasonal events, too. Halloween is always a big hit, but expect new skins to chase for Valentines Day and the like - but will it be enough?
Fortnite's hardcore fanbase, the players that didn't know what to do with themselves when the game was out of action in the lead-up to Chapter 2, will log in regardless. Many, this writer included, drop in for the big events. So if there are no big events, will people log in?
We are the champions

Bugha won the Fortnite World Cup (Picture: Getty)
Of course, one thing that's almost guaranteed to get players logging in is the Fortnite World Cup. 2019's event was watched by 2.3 million people live, so we'd expect to see this year's event take place in summer and get a similarly impressive viewership.
We'd imagine Kyle "Bugha" Giersdorf will be back to defend his crown and add to his $3 million winnings from last year - especially since he won "Best Esports Player" at the Game Awards. The Fortnite World Cup however wasn't the winning event at the bash, something Epic will undoubtedly look to improve on.
There's also the behind the scenes shuffle which has seen Fortnite streamer Ninja move to Mixer. He's still streaming Fortnite, sure, but how long until Microsoft leans on their new charge in an effort to leverage Halo content to his millions of fans?
It's all about the game, and how you play it
Then there's the issue of platforms. You can play Fortnite on a wealth of devices, and it's safe to assume you'll be playing it on the Xbox Series X and PlayStation 5 by the end of the year, too - but will those versions be hamstrung by the game also running on weaker handhelds.
Epic Games (among others) has led the charge when it comes to cross-play, but in needing the same version of the game to run on everything from a three-year old iPhone to the latest console, will you still be able to squad up with your friends in the same way?
Of course, the truth is that Fortnite is too difficult to predict. We didn't expect mechs, TIE fighters, Thanos, or a game-wide reboot, but Epic Games' ability to keep us on our toes is truly incredible and unmatched by anyone else in the industry.
The development team work so quickly and so fluidly that, whatever happens, the Fortnite bubble isn't ready to burst just yet - and that can only be good for gaming.