One of the main calling cards for Epic Games Fortnite is the aspect of variability. Up and running since 2017, Fortnite has been steadily adding to its vault of in-game skins and styles to constantly bring new looks to the battle royale.
A great way to measure how well they've done here is to count how many times you come across someone in-game wearing the same skin and style as you. It's fairly rare, especially if you're not using any of the newest skins just dopped into the store.
To even further add to the ever-growing collection, it's been leaked that Epic Games is set to unveil three new potential styles for certain skins. Those three being Golden, Runic, and Chromium.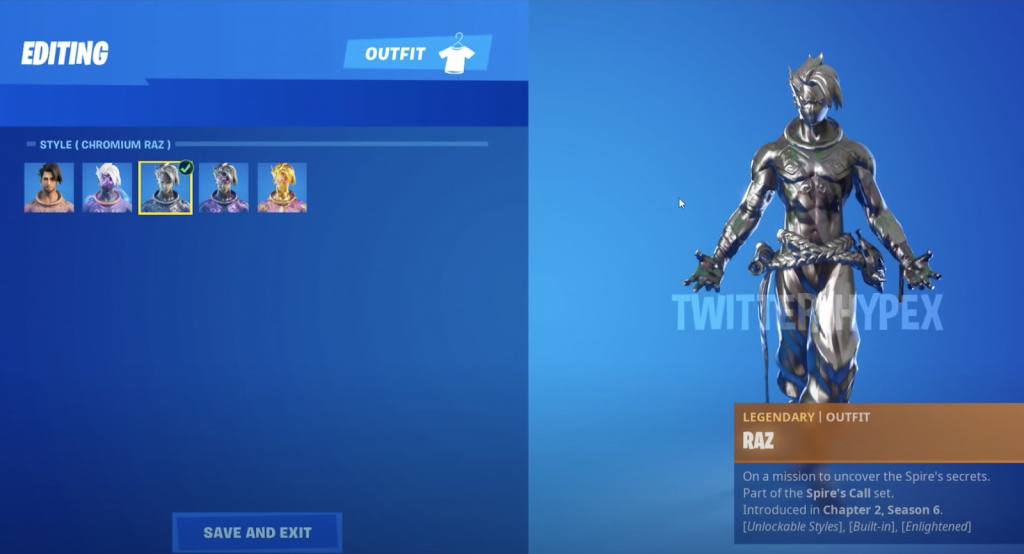 (Picture: HYPEX II YouTube)
New skin styles: Golden, Runic, and Chromium
The new skins receiving these potential style upgrades are Raz, Spire Assassin, and Tarana. All three will reportedly have challenges made available to unlock the special skin styles.
Details are yet to be revealed, but it's likely that this is a timed set of challenges that will expire as the season concludes. For now, here's how to unlock Golden, Runic, and Chromium skin styles.
How to unlock Golden, Runic, and Chromium skin styles
Thanks to YouTuber and Fortnite player HYPEX II, we have an exclusive look at these potential new styles. All three look awesome and completely change the skin, so here's how to unlock them.
According to the video, there is only one challenge necessary to unlock each style. And it appears to be reaching a certain level of the Battle Pass, a level well past 100.

(Picture: HYPEX II YouTube)
For Raz, the Chromium skin style requires the player to reach level 130, the Runic style requires level 180, and the Golden style requires level 215.
The Spire Assassin Chromium style unlocks at level 150, the Runic style unlocks at level 200, and the Golden style at level 225. Note that the Spire Assasin adds another layer as you can choose either Helm on or Helm off in addition to the style.
Chromium Tarana unlocks at level 110, Runic at 160, and the Golden style at level 205. You'll have plenty of time to reach these levels as the season just started. But to reach the 200's you're gonna need to be knocking out Weekly Challenges to maximize XP.
Banner image courtesy of YouTube/@HYPEXII.