Fortnite Chapter 2 Season 8 has landed, bringing with it the usual array of additions. This includes map changes, a slew of new weapons, and of course, a brand-new Battle Pass packed full of new skins and cosmetics. Among these new skins is the new "Carnage Symbiote Mythic" skin.
While impressive as it may be, players will be sad to learn that it will take a remarkable amount of work (or money) to unlock it. Here's how to get the Carnage Symbiote Mythic skin in Fortnite Season 8.
How to get the Carnage Symbiote Mythic skin
Carnage can be unlocked by purchasing the Fortnite Season 8 Battle Pass. The Battle Pass will use the same Battle Stars system as the previous season, allowing players to choose which items they would prefer to unlock first.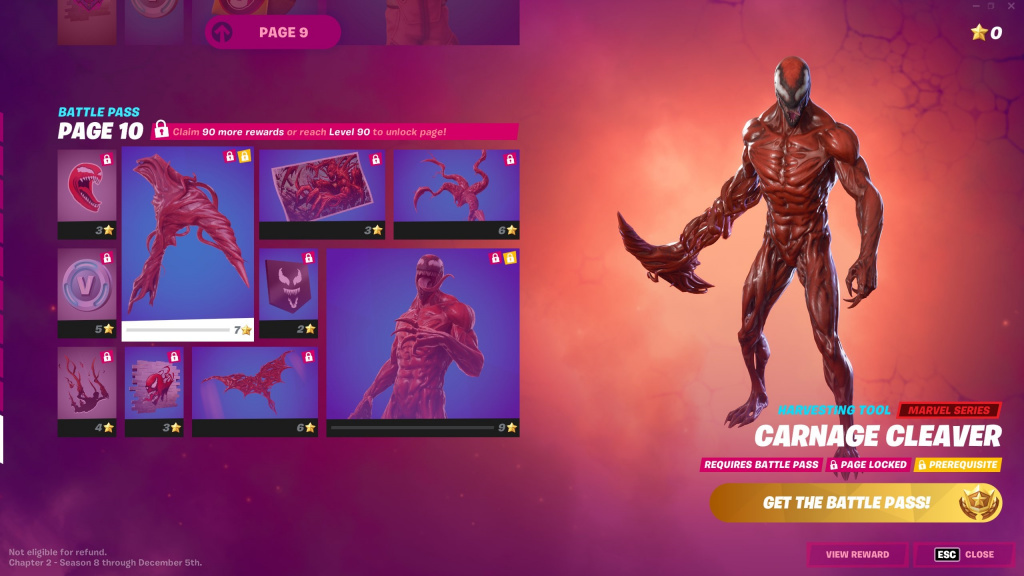 The Battle Pass costs 950 V-Bucks and is equivalent to about $7.99 when considering the price of a 1000 V-Bucks Bundle. Otherwise, players can earn V-Bucks by signing up for the Fortnite Crew subscription service at $11.99 per month.
Carnage is a "Tier 100" skin reward and is located on Page 10 of the Battle Pass. Unlocking the Carnage skin will require players to reach Level 90 or unlock 90 rewards to open this page. In addition to this, players will need to have earned 9 Battle Stars.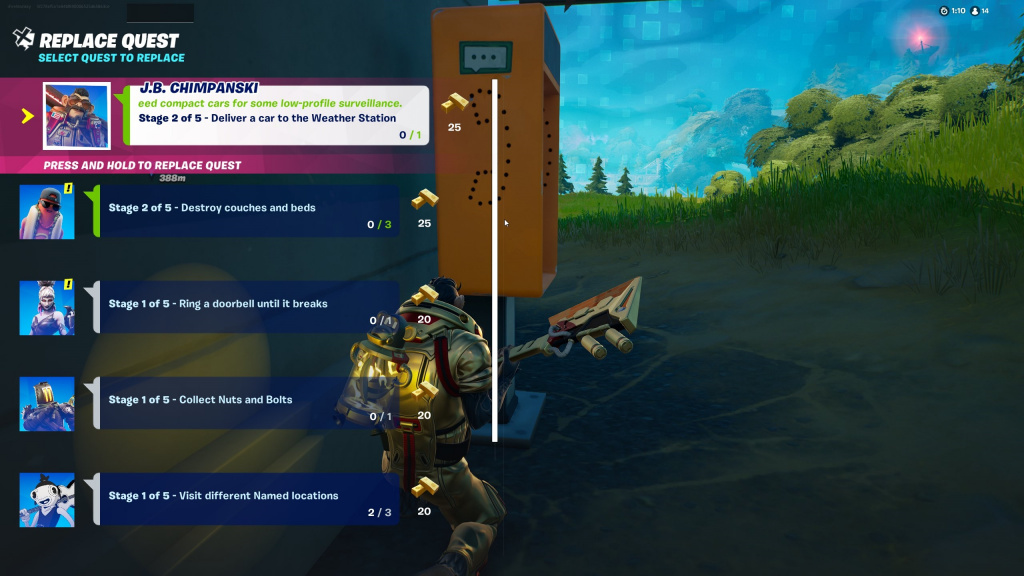 Of course, this can be completed by winning matches or by doing the Daily, Weekly, or Character Punchcard challenges. You can only have 5 challenges at a time, which is more than enough time considering that the season only ends on December 5th.
If you've got deep pockets, then you can always purchase levels and Battle Stars using V-Bucks. Buying the Carnage skin will cost about 14,000 V-Bucks (or about $80-90).
Players will have to first redeem the Bonus Rewards cosmetics for Carnage, including a glider, pickaxe, contrail, back bling, sprays, and a loading screen, before being able to redeem the Carnage skin.
How to get the Carnage Symbiote Mythic Weapon
Something that will not be able to be bought is Carnage's Symbiote Mythic weapon. This can only be obtained by beating Carnage's boss in the game. It's possible that this weapon will be unlocked at one of the Sideways or Sideways Anomolies locations, scattered across the map.
This weapon serves the same purpose as the Venom Symbiote Mythic, apart from having a different colour. The Mythic will be able to grab players and do significant amounts of damage. In addition to this, the Symbiote Weapon will allow players to use it as a glider.
We'll be sure to have more details on how to get the Carnage Symbiote Mythic weapon in a future article.
In the meantime, check out our dedicated section for everything Fortnite, from news to leaks, guides, drama, and more.
Header image via Epic Games.