Last week, information came to light that SerpentAU, known as one of the fastest Fortnite builders in the world, used Marcos to achieve his success. Now, SerpentAU has been banned from Fortnite. As it turns out, an apology isn't enough.
SerpentAU banned from Fortnite
SerpentAU, the Australian YouTuber who boasts over 500,000 subscribers and over 34 million views across the board. He's built a reputation of being one of the fastest builders in the Fortnite community.
SerpentAU has now been banned from Fortnite. The YouTuber announced this news to his fans on Twitter in a short tweet.
I just got banned on Fortnite

— code "serpent" for follow back #ad (@SerpentAU) June 17, 2020
At the time of writing, there is no indication if this is a permanent ban on SerpentAU. His YouTube channel is still up and running.
The last video is from one week ago, where he was still denying using cheats, and said he only used Marcos for his first video.
SerpentAU apology
For those who haven't been following the story about SerpentAU cheating in Fortnite by using Marcos, YouTuber EJLad posted a video to his channel accusing the Australian of using these prohibited shortcuts.
This heavy wave of criticisms prompted Overtime Gaming, SerpentAU's sponsor, to drop him, citing having "definite reasoning to believe SerpentAU has committed an act of dishonesty through the use of Macros" after doing their own investigation. 
After first denying the allegations, SerpentAU then released an apology, which you can read below.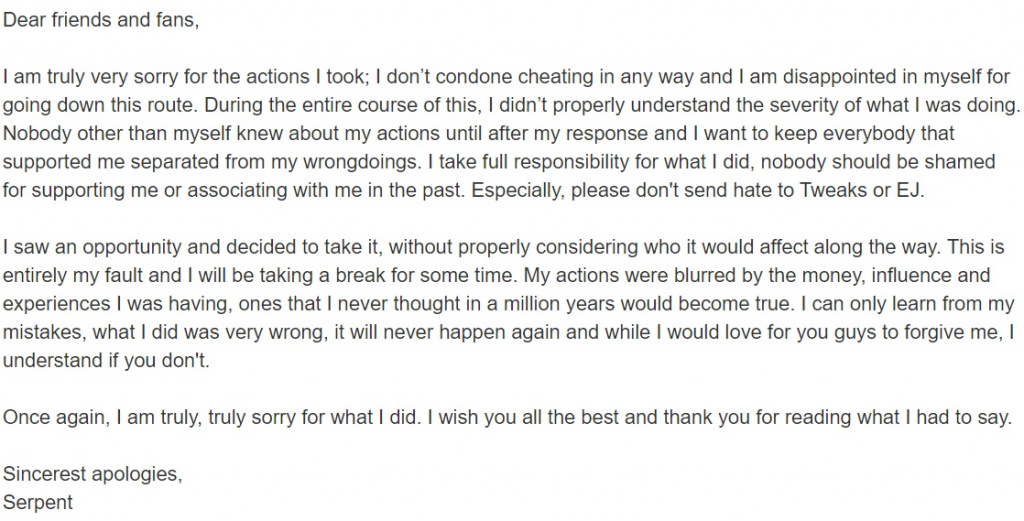 It looks like an apology wasn't enough, since SerpentAU has been banned from Fortnite by Epic Games.