It could be an ending more fitting of an episode of Scooby-Doo, because "Kquid" the Fortnite pro who last week claimed he was
banned for using another computer during W
eek 1 of the FNCS Invitational
, may well have a much more explainable reason for his sudden ban - he has been cheating.
Evidence has emerged that allegedly (and allegedly is the operative word here in what is becoming a rather bizarre story) shows Kquid not only attempting to buy cheats but also footage has emerged taken from Kquid's very own Twitch channel that shows these cheats, and programs designed to mask the use of the cheat, on his desktop.
The hard yards were all done by SerpentAU, an Australian YouTuber and Fortnite player.
Not only that, but he also posted a Twitlonger(that he has now deleted) explaining that he has tried to use them in the past and failed and subsequently factory reset his machine to get rid of them.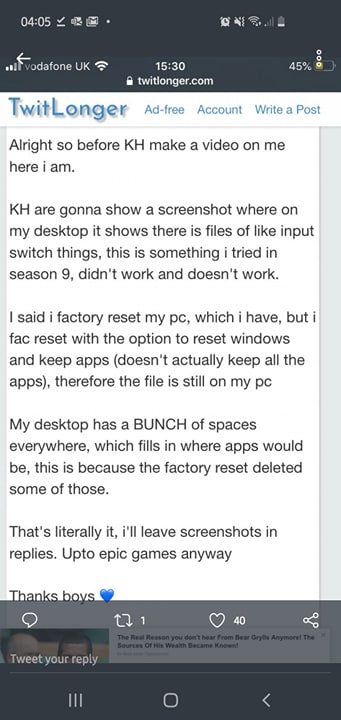 (Picture: SerpeantAU)
The only problem being the footage found showing the files on his desktop? Yeah... They are dated and show that they were installed after the "factory reset".
There is also some additional evidence that points to his guilt including screenshots of a player that goes by the name "Devy" reportedly a friend of Kquid that shows him talking about using the cheats. The chat is dated the 19th of October, 2019.
FYI I didn't buy it as you can tell and I had no intention of buying it I just wanted info. but here you can see Kquids best friend used the cheat and we talked in a VC as well. I will live share on discord to anyone not believing me. Ther is a high chance kquid is using this. pic.twitter.com/guevwrglar

— beny (@BenyFn) May 15, 2020
There have also been instances where Kquid has referenced using "aim assist" or his aim feeling like "aimbot" which seems like a joke at the time but may infer something more egregious.
The cheats in question are most certainly against the rules, essentially they work to trick Fortnite into thinking you're using a controller with its nutty aim assist, but when you're in fact still using mouse and keyboard meaning you have the best of both worlds and the potential to absolutely beam people across the map.
The question that has to be asked now is, if he is using them - and we don't know for certain he has - did he use them during his tournament wins? At the Australian Open LAN were he placed 5th and won $11,000AUD?
It may be the reason Epic Games was so quiet last week when there was the initial uproar over his ban, maybe because they simply do not what it to emerge that a player has been consistently cheating at a high level for an unknown amount of time.
There are some in the community that feel that there is no doubt this has been going on for a long time, with Liquid Stretch saying that his cheating has been going on "since WORLD CUP and nobody batted an eye."
Kquid cheating is just a testament to how fucked aim assist is, he has been cheating since WORLD CUP and nobody batted an eye, wonder who else is...

— Liquid Stretch (@Stretched) May 14, 2020
While see this is the perfect example of how broken aim assist is whether you are secretly using it on keyboard and mouse, or not.