With the new update merely a few weeks away, Free Fire OB29 update leaks are dropping every day. As we all know, Free Fire major updates always add a new pet in the game, and this time, the title is getting a new Ninja Tiger pet, according to several leaks. While this should be taken with a pinch of salt, the leaks do provide some insight and hints for the pet's abilities and skills. 
In addition to this, there have been some key leaks claiming plenty of incredible features in the Free Fire. However, this time around, we'd like to focus on everything we know so far about the forthcoming pet. So without further ado, let's have a detailed look at what Ninja Tiger can offer to Free Fire gamers after the OB29 update.
Free Fire Ninja Tiger Ability and Skills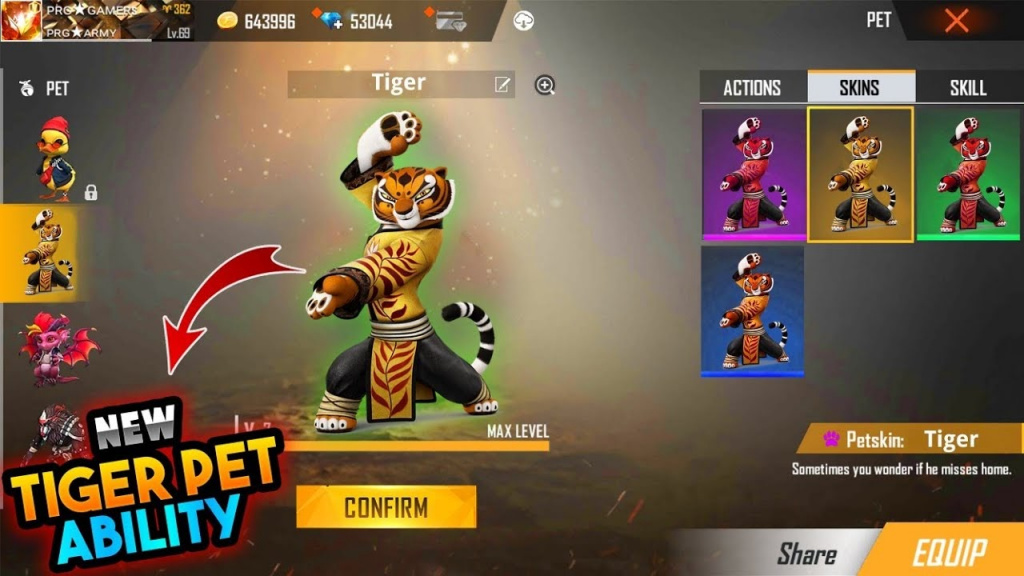 Every Free Fire pet boasts either a passive or an active ability on the battlefield, and the leaked Ninja Tiger pet is no exception. The Ninja Tiger ability will provide a buff to the playable character and deals additional damage to the moving enemies.
However, its skill name is unknown yet and will be revealed once the OB29 Advance Server drops out. According to several Free Fire content creators, Ninja Tiger's ability contradicts the popular D-Bee character, which increases the movement speed when firing while moving.
Free Fire Ninja Tiger Price
As mentioned earlier, Ninja Tiger is just a leaked pet and isn't available in the Free Fire store at the moment. Therefore, the official price of the pet is still unknown. However, it's being speculated that players can purchase Ninja Tiger for 699 Diamonds from the Free Fire in-game shop. Besides this, players can also look out for the top-up events to score the upcoming pet, as low as for 1 Diamond.
Garena will release the new Tiger pet in the Free Fire OB29 Advance Server on July 21, and players can pre-register themselves to get their hands on new features prior to global release.
Don't forget to check out our dedicated Free Fire section for news, guides, patch notes and more while you wait for the OB29 Advance Server download link to appear.