Predicting the typical development schedule, the next slated livestream for Genshin Impact's 2.2 update is expected to take place next month. The livestream is expected to cover forthcoming content updates including events, characters, areas and more.
With some information still expected to be confirmed, possibly ahead of the livestream, here are all the confirmed reports, news, leaks and rumours for the next livestream.
Genshin Impact 2.2 livestream: Start date and time
The livestream is expected to broadcast on 3rd October 2021 at 5 am PT / 8 am ET / 1 pm BST. The livestream will be available via Genshin Impact's official Twitch channel as well as miHoYo's Bilibili channel.
Additionally, if you miss the live broadcast, it will also be available on Genshin Impact's official YouTube channel shortly following the broadcast at 9 am PT / 12 am ET / 5 pm BST. The livestream will be available in English and Chinese.
The 2.2 update is expected to release on 13th October with more details to be announced closer to its release.
For the first time we will be doing a watch along on the GinxTV Twtich channel.
Check it out.
Genshin Impact 2.2. livestream: new characters and locations 
There have been a few official announcements as to what players can expect from the 2.2 update. One of the confirmed announcements is the arrival of another playable adventurer, Thoma The character was first reported by notable Genshin Impact source, Zeniet, in August before it was subsequently confirmed by miHoYo.
Thoma ‧ Protector From Afar

Kamisato Clan's Housekeeper

Perhaps influenced by the relaxed and happy atmosphere of his hometown, Thoma is very good at socializing. Although he is an outlander, he has built an unexpectedly powerful network of people in Inazuma.#GenshinImpactpic.twitter.com/ouKOQtdqXb

— Genshin Impact (@GenshinImpact) August 30, 2021
Residing in the Inazuma region, Thoma appears to be a Pyro character, wielding a 4-star polearm however, this may change before the update releases. Honey Impact gave a detailed breakdown of Thoma's attacks which was further supported with character gameplay footage.
Abilities and weapons aside, Thoma is quite a special character, known for being the Housekeeper for the Kamisato Clan who "has built an unexpectedly powerful network of people" within the Inazuma region.
Additionally, during the livestream, the developer will also provide information for travellers of its PC and mobile versions of the game on how to claim Horizon Zero Dawn's protagonist, Aloy, in the 2.2 update.
"Everything I do is in the service of life, not death. That's why I'm here with you."#Aloy
Savior From Another World
Nora Huntress
Cryo
Nora Fortis

Travelers, let's welcome Aloy – "Savior From Another World!"#GenshinImpactpic.twitter.com/6D00O9NfkM

— Genshin Impact (@GenshinImpact) July 22, 2021
Speaking of the Inazuma region, the last remaining islands may be available to players in the 2.2 update, however, there hasn't been much information available to confirm. One of the islands we may expect to arrive, Tsurumi Island, was previously introduced to players during the 1.6 Special Program livestream however, its history and location are shrouded in mystery.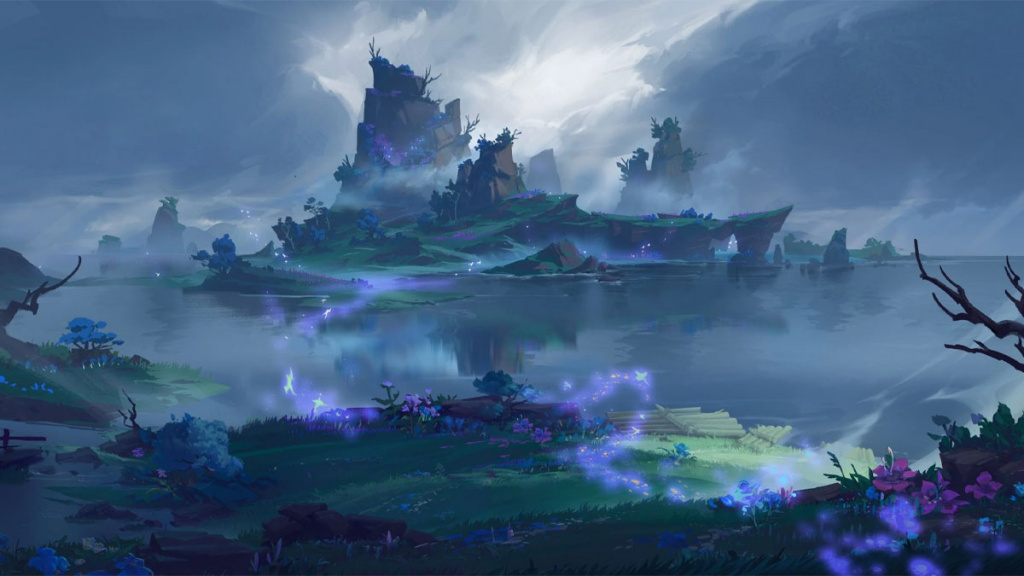 Genshin Impact 2.2 livestream: New weapons, items and in-game events
There will also be new weapons and items rumoured to arrive with the 2.2 update. The Mounn's Moon, Akuoumaru and Wavebreaker, all 4-star weapons, will increase Elemental Burst damage depending on the maximum energy of the entire party while the Brumal Star possesses a passive ability that increases Elemental Skill and Burst damage by 12%. These weapons will be available throughout the Epitome Invocation banner.
Players will have the opportunity to improve their music and timing skills in the "To the World's Sounds Listening" event, a dungeon challenge event "Labyrinth Warriors" and channel their inner green thumb in the "Dreams of Bloom" event. Help out Katheryn from the Adventurers' Guild in the "Shadow of the Ancients" event and there will also be new Hangout Events for Thoma and Sayu.
2.2 Spiral Abyss phase 2: Character with full energy gains one stack of Blessed Effusion (BE) per second, up to 10 stacks. Using elemental burst clears all stacks of BE and grants 5% increased DMG per stack of BE cleared, for 10s. No BE stacks will be gained during the DMG buff. pic.twitter.com/oTBYvgghpS

— Genshin Intel (@Genshin_Intel) September 2, 2021
Speaking of in-game events, the Moonlight Merriment Festival has finally kicked off where players can complete several quests and challenges to progress throughout the festival's three stages: "Path of Stalwart Stone", "Path of Gentle Breezes" and "Path of Austere Frost". Completing the Moonlight Merriment Festival event unlocks vast rewards which you can read the full festival round-up on our website.
The autumn moon shines bright, and Liyue Harbor is hard at work preparing for the traditional Moonchase Festival. The preparations for various activities based on the festival's theme are well underway.

See Full Details >>>https://t.co/R3pW5o1Ere#GenshinImpactpic.twitter.com/i49hUtvGPC

— Genshin Impact (@GenshinImpact) September 26, 2021
Quality of life improvements is also expected to be included in the 2.2 update which should further enhance their gaming experience. Some of these changes include more Spiral Abyss areas being added, artifact inventory capacity to be increased and new enemies, Electro and Geo Riftstalker Hound and Whelp.
Don't forget to follow our Genshin Impact dedicated section packed with guides, updates, news, and more.
Featured image courtesy of miHoYo.