Today has seen the launch of the latest update for Genshin Impact, introducing new characters and events to miHoYo's hugely popular gacha RPG.
A few days ago we talked about the arrival of Xiao, the Guardian Yaksha also known as the Conqueror of Demons, which will be available during the month of February through its own banner, Invitation to the Mundane Life.
Along with the Lantern Rite event, new challenges will be active throughout the holiday. The first will be focused on fortune and photography.
Five Flushes of Fortune: Exchange photos for rewards


(Picture: miHoYo)
During this event, players will be able to acquire the Kurious Kamera of Ji Tong, a special artefact that allows you to take pictures, but with a peculiarity that will serve you for this mission.
After equipping it, the Kurious Kamera will ask you to take photos from objects around you of different colours, up to a maximum of five sets. When you have accumulated the five requested, you can get a Fortune Trove.
The Fortune Troves will come with great rewards, among Protogems, Hero's Wit, Mystic Enhancement Ores, and more.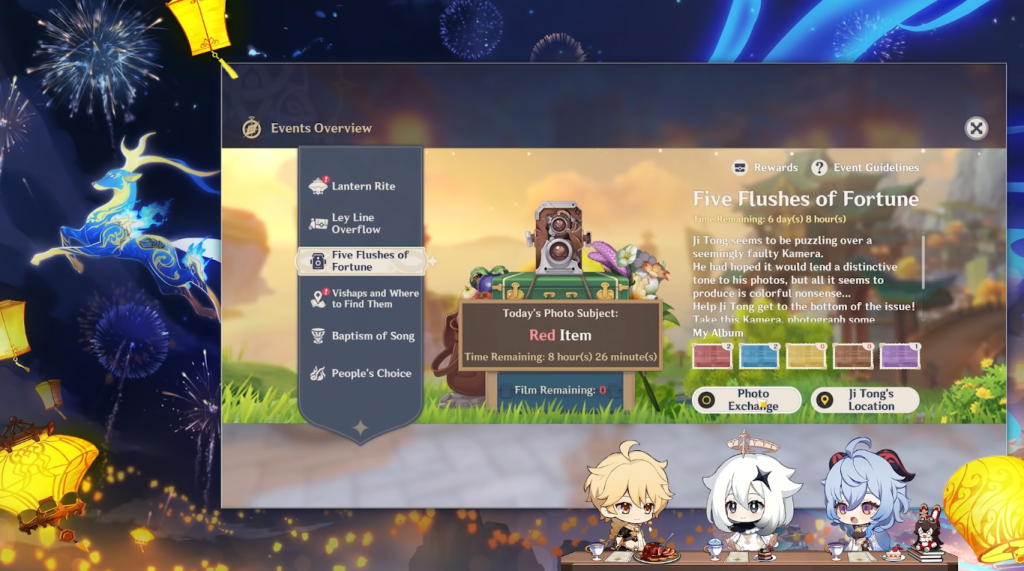 (Picture: miHoYo)
To participate, you must have reached Adventure Rank 20 or higher, and have completed Ji Tong's "Kurious Kamera" special quest. This event will run from 3rd - 10th February, with rewards available until 13th February.
We must emphasize that during the first seven days, you will receive 10 negatives to take photos. After this, it will not be possible to take photos with the special Kurious Kamera nor will it be possible to get the photos taken. However, you can continue exchanging photos with your friends.
After the event is over, you can accept new quests from Ji Tong and continue to use the Kurious Kamera.
May Fortune Find You: Receive rewards every day


(Picture: miHoYo)
Upon completion of the Five Flushes of Fortune, all players will be able to receive rewards with each login from the 11-26th of February. The more logins you accumulate, the greater the rewards you will receive, up to a maximum of seven days:
1 day: Intertwined Fate ×1
2 days: Mora ×80,000
3 days: Intertwined Fate ×2
4 days: Mystic Enhancement Ore ×18
5 days: Intertwined Fate ×2
6 days: Hero's Wit ×8
7 days: Intertwined Fate ×5