The Genshin Impact 2.0 was released on 21st July 2021, with the highly-anticipated Inazuma region now open to travellers. With a plethora of new quests to take on, and multiple new characters entering the game, there's a whole lot to discover. Speaking of new characters, Kamisato Ayaka, a figure greatly admired by the people of Inazuma for her beauty, dignified demeanour, and noble character, wants a pizza.
If you are stuck on playing the pizza delivery person, we've got a full guide to the Genshin Impact Mushroom Pizza recipe, and how you can give it to Ayaka with ease.
Genshin Impact pizza recipe: How to get
Ayaka wants a Mushroom Pizza, and you don't want to let the princess of the Inazuma region down, right? 
If you've progressed this far into Genshin Impact, you should already have the recipe for the Mushroom Pizza. Just make sure to scroll through your recipes to find the pizza Ayaka desires.
If you simply do not have the Mushroom Pizza recipe in your cooking arsenal just yet, you can find it inside a Precious Chest at Stormterror's Lair just north of the tower. On your map, this location is just above the "o" in Stormterror's Lair as shown in the image above.
Mushroom Pizza ingredients in Genshin Impact:
x4 Mushroom
x3 Flour
x2 Cabbage
x1 Cheese
There's one caveat! That final ingredient, cheese, isn't easy to create. If you don't have any cheese in your inventory, it can be processed using 3 Milk. It takes 10 minutes of real-world time to process the cheese.
Alternatively, we suggest you head on over to the City of Mondstadt and purchase cheese from the Good Hunter NPC.
Give the pizza to Kamisato Ayaka quest
As we've mentioned at the start of the guide, Kamisato Ayaka will task you with providing her with a pizza. This quest occurs near the start of the "The Immovable God and the Eternal Euthymia" content and progresses the story of the Inazuma region further. 
Thankfully, now that you know the Mushroom Pizza recipe for Genshin Impact, you should have no trouble completing the quest.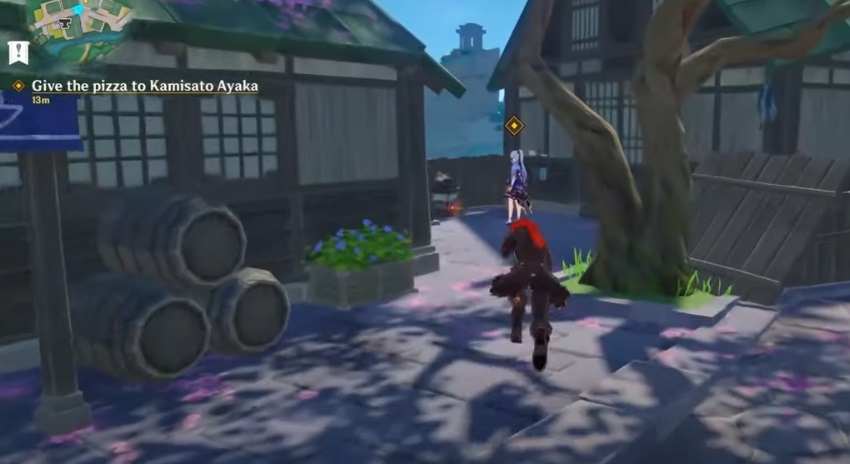 Simply cook the pizza at the location shown in the image above, and give it to Kamisato Ayaka to complete her quest.
In the video below, YouTuber Violet Skies showcases how easy it really is to complete the quest. However, the content creator also notes that it is easy to miss that you actually already have the recipe for the Mushroom Pizza which Ayaka desires.
With this guide, your search for the Mushroom Pizza recipe in Genshin Impact should be over. Simply give the cheesy sustenance to Kamisato Ayaka and watch her consume it.
In the meantime, don't forget to join our community of travellers on our Genshin Impact Twitter account, where you will find tips, tricks, guides, and more.