Genshin Impact's 2.4 update, which sees new characters joining the party, will be arriving on 5th January 2022. One of these newest arrivals is the opera songstress, Yun Jin, whose playstyle is as powerful and delicate as her vocal capabilities.
Hailing from the Liyue region, Yun Jin is a prominent figure in Liyue Harbour opera and playwrighting scenes. Along with her incredible, sweet-sounding voice, she's also known for her bespoke costumes and exquisite acting performances.
Here's everything you want to know about Yun Jin including her attack talents, voice actors, ascension materials and more.
When will Yun Jin be released?
"One performance by Yun Jin at our tea house rakes in enough Mora that we won't have to open for a whole month!" — Fan Er'ye of Heyu Tea House

â—† Yun Jin ‧ Stage Lucida
â—† Current Director of Yun-Han Opera Troupe
â—† Geo
â—† Opera Grandis#GenshinImpactpic.twitter.com/UKC0FojsFu

— Genshin Impact (@GenshinImpact) November 22, 2021
As of now, Yun Jin will be included in the Character Event Wish Phase I banners for Shenhe and Xiao, whose banners will likely begin on the same day as the 2.4 update release. If this isn't the case, we will update the article once the Wish banner release date is revealed.
Once Shenhe and Xiao's banners arrive in-game, you need to use your Wishes for Yun Jin through Intertwined Fate which can be purchased using Primogems. Additionally, she will receive a drop-rate boost for appearing on both Event Wish banners.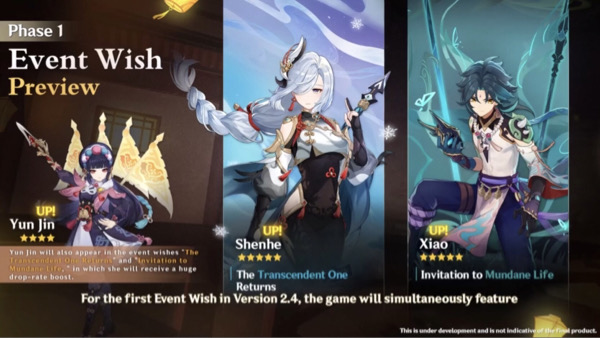 Travellers will get to spend more time with Yun Jin beyond the Event Wish banners as she will receive a Hangout Event in the 2.4 update. Lastly, the Lantern Rite Festival will be returning to Genshin Impact where you can select any 4-star character canonically associated with the Liyue region, which includes Yun Jin, during the Prosperous Partnerships event.
Who are Yun Jin's voice actors?
Yun Jin's English voiceover will be performed by Judy Alice Lee, who is notable for her works on the shows "He-Man and the Masters of the Universe" and "Star Wars: The Old Republic - Onslaught". Her Japanese counterpart, Koiwai Kotori, has lent her voice to a number of popular anime series, including Psycho-Pass, Mob Psycho, Seven Deadly Sins and Blue Exorcist.
Incredibly honored to have contributed the English VA for #yunjin in #genshinimpact together with such amazing talent!! https://t.co/IaCP5QCsNU

— Judy Alice Lee | 정미 (@JudyAliceLee) December 26, 2021
What are Yun Jin's abilities and ascension materials?
Yun Jin is a 4-star character possessing a Geo element and a polearm as her preferred weapon type. Below are all of Yun Jin's abilities as well as the ascension materials required to level the character in Genshin Impact.
Yun Jin Attack Talents: Cloud-Grazing Strike
Normal Attack: Can perform up to five consecutive polearm strikes.
Charged Attack: Once consuming a certain amount of Stamina to jump forward, Yun Jin deals considerable damage to enemies along the way.
Plunging Attack: Jumps out of the air and attacks the ground below, inflicting damage to enemies along the way as well as dealing AoE damage to nearby enemies when landing.
To increase Yun Jin's stats such as HP and damage, you will need to level up using the ascension materials listed below. As standard with every character in Genshin Impact, Yun Jin has a total of 10 ascension levels which also requires Mora to complete her level-up.
Teachings of Diligence
Damaged Mask
Guide to Diligence
Stained Mask
Philosophies of Diligence
Ominous Mask
Ashen Heart
Crown of Insight
And that is everything you need to know about the opera songstress, Yun Jin. May the constellations be in your favour if you're looking to acquire Yun Jin in the 2.4 update.
Don't forget to check out our dedicated Genshin Impact section for the latest news, updates, guides, leaks and more.
Featured image courtesy of miHoYo.