As the arrival of the 1.6 update for Genshin Impact approaches, the hype for the debut of the Inazuma region has been increasing, and even with miHoYo making an unexpected move by releasing the first teasers for three new characters from Inazuma.
However, the news hasn't stopped there as thanks to dataminers from many groups like Genshin Intel, Project Celestia, and Honey Impact, new weapons, artifacts and more characters from this archipielago have been revealed during the last few hours, as these have been found recently within the beta servers of the game.
Ten characters from Inazuma are coming to Genshin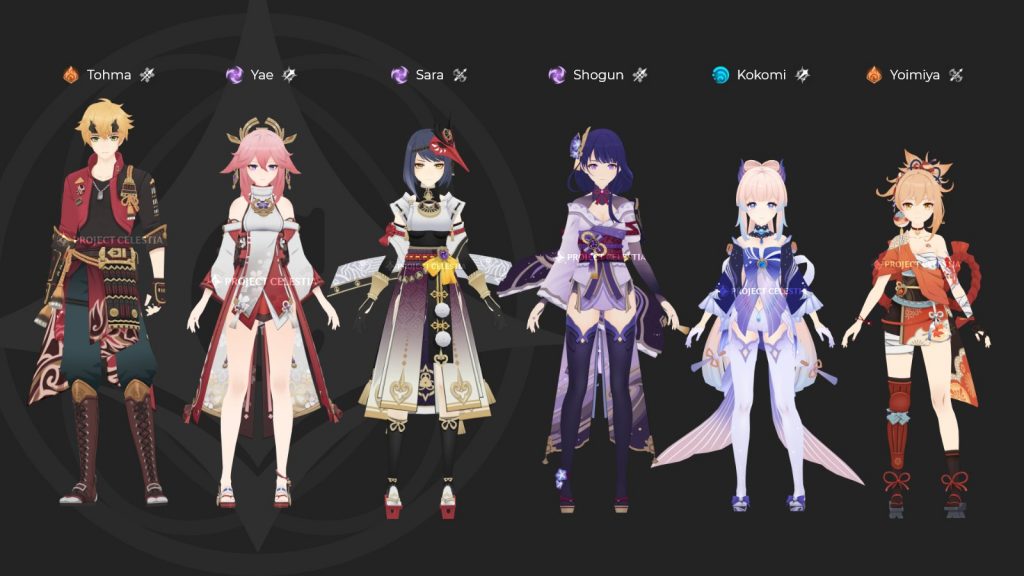 (Picture: Project Celestia)
Starting with the leaked characters, it has been confirmed a big batch from Inazuma will be featured during the rest of the 2021 and maybe early 2022, joining Kazuha, Ayaka, Yoimiya and Sayu from the latest official announcements by miHoYo.
Tohma - Pyro Polearm
Yae - Electro Catalyst
Sara - Electro Bow
Shogun - Electro Polearm
Kokomi - Hydro Catalyst
Gorou - Geo Bow
At this moment, neither their rarities nor their backstory and abilities have been released, however most of them will be a big part around the main story of the Inazuma journey.
Featured Electro-styled weapons
Inazuma is known for being the lands of the Electro Archon, so it's no surprise the first weapons introduced as part of the next expansion will be focused on exploiting the affinity and importance of this element, with four new ones being added to the game's repertoire.
All names featured are based on literal translations from the Chinese archives, so these can differ from their final localizations.
Mist-Cutting Gleam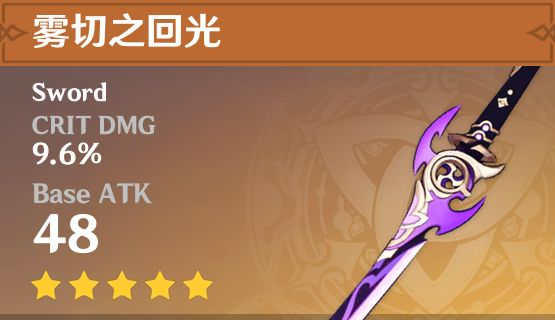 (Picture: Genshin Intel)
With this five-star sword, wielders can gain 12-24% of elemental damage bonus, along with stacks of Mist-Cutting Tomoemon (up to a maximum of 3 stacks), which can further increase elemental damage of the same element as the character.
The Mist-Cutting Tomoemon stacks can be gained by normal Attacks dealing Elemental damage, Elemental Bursts, and only when not having a full level of Elemental energy.
Ring of Bai Chen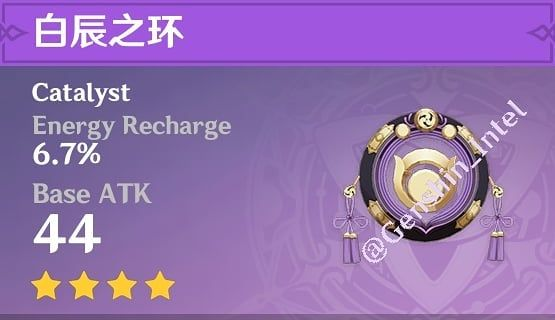 (Picture: Genshin Intel)
Flying Thunder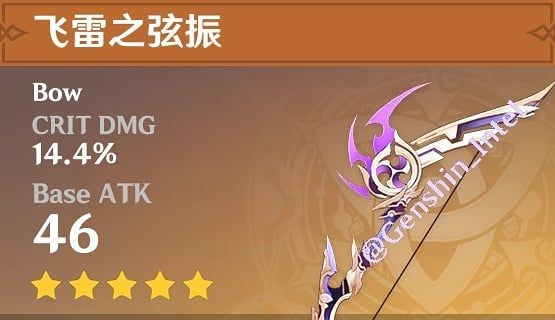 (Picture: Genshin Intel)
Demon Breaker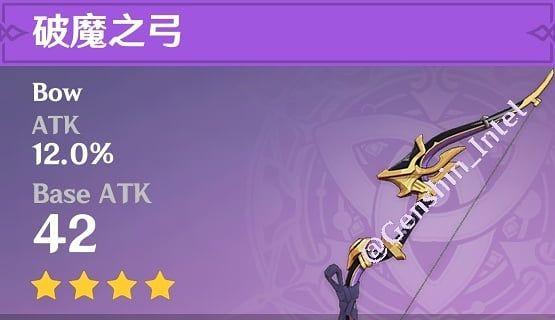 (Picture: Genshin Intel)
No info around the skills and passives from the last three weapons has been revealed at the moment, so these will be updated as soon as more intel is available.
New artifacts and Ascension materials
Two new artifacts are expected to be released during the next updates, both having aesthetics based on Japanese traditions like the Kabuki and the shoguns.
Shimenawa of Memories

(Picture: Genshin Intel)
This set will increase ATK stats by 18% when having two pieces of it, while for four pieces, if the character has more than 15 Elemental energy, casting elemental skills will drain 15 energy and increase Normal, Charged, and Plunge attacks by 50% for ten seconds.
Hatajirushi of Isolation

(Picture: Genshin Intel)
As for this set, with two pieces it will passively increase Energy Recharge by 20%, while with four pieces it will also increase Elemental Burst damage, being equal to 30% of the current Energy Recharge, and up to 75%.
The debut of Inazuma's characters and weapons will also introduce a set of new Ascension and Talent materials.
Weapon Ascension materials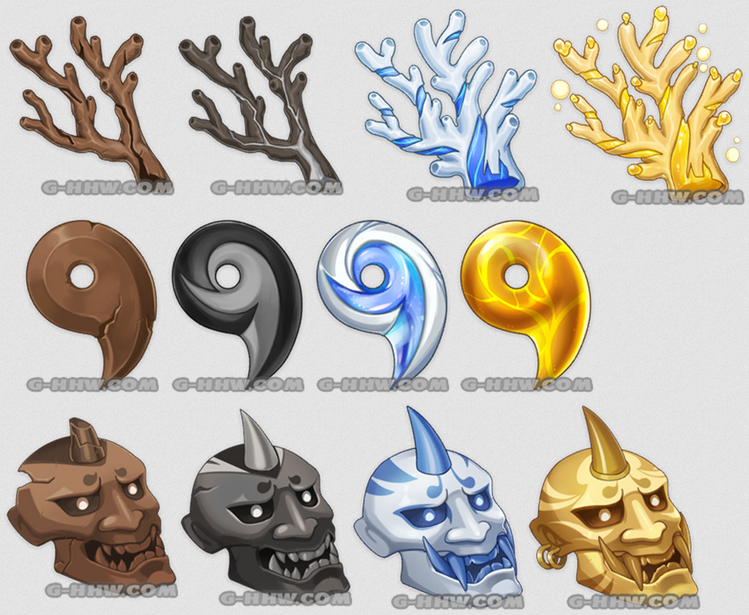 Gaikai Isyuu, Narukami's Spirit and Konjyaku Gekiga (Picture: Honey Impact)
Talent Books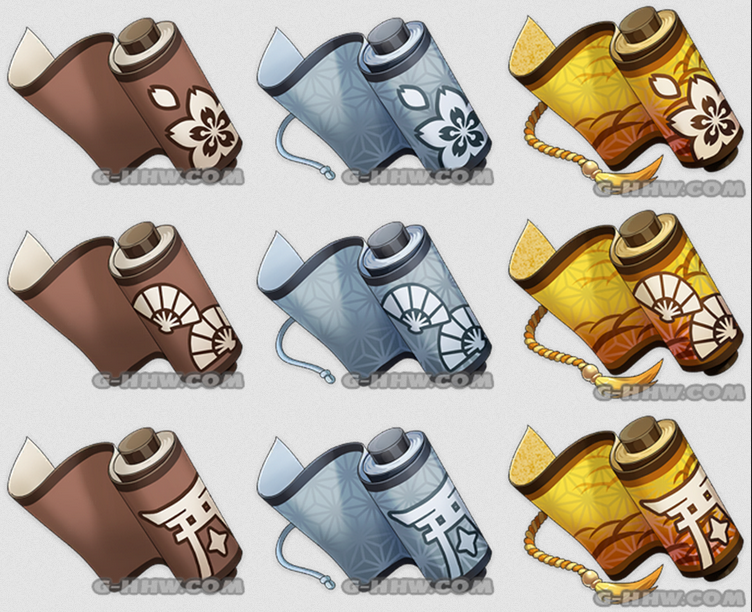 Ukiyo (Yoimiya), Elegance (Ayaka), and Heavenly Light (Sayu) (Picture: Honey Impact)
Character Ascension materials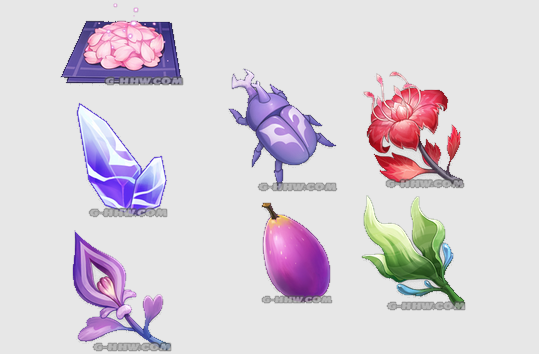 First three are for Ayaka, Sayu, and Yoimiya. The use for the rest is unknown. (Picture: Honey Impact)
Along with all we covered here, four new currencies have been added into the game for future events, together with 11 different namecards available as redeemable rewards from either missions and achievements, as well as buyable from Event Shops.
The journey to Inazuma has only just begun, now that much of what miHoYo has in store for the arrival of this new region has finally come to light, and with update 1.6 arriving shortly, the road to know the mysteries of this region is about to open.
Don't forget to follow our Genshin Impact dedicated section packed with guides, updates, news, and more.