After a few days of waiting and with Update 1.4 now available, its special event, the Windblume Festival, has finally begun, bringing with it new missions and rewards everywhere.
Next, we will give you a guide on how to complete the first main missions of the event, belonging to Act I "Ode to Flower and Cloud".
Ode to Flower and Cloud
To start this mission, you will have to head towards Mondstadt which will be fully decorated for the Festival. When you get here, you will talk to various tenants to see if they need any help. Unfortunately, none of these will need it due to the celebration.
Speaking with Flora, she will explain all about the Windblume Festival, an event in which the people of Mondstadt celebrate harmony and love, as well as giving offerings to the Anemo Archon Barbatos, and their loved ones.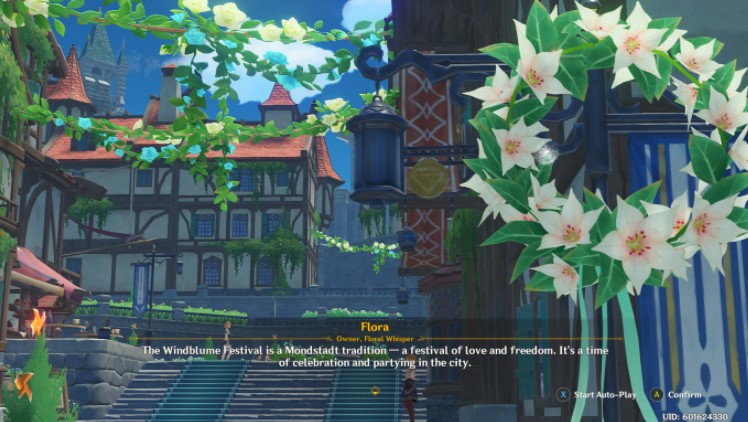 (Picture: miHoYo)
There will be a little discussion about what a Windblume is between Flora, Quinn, and Bea, with the latter ending up somewhat furious at Quinn. After finishing the conversation, you will have to go to the Mondstadt plaza where you will meet an old acquaintance, Venti.
Venti will ask you for some help with some citizens around, who want to learn how to create love poems for the Festival, however some of these will be indecisive, so you and Paimon will have to assist Venti.
Before starting, Venti will give you some signals which will help you to give the appropriate advice for each of the cases.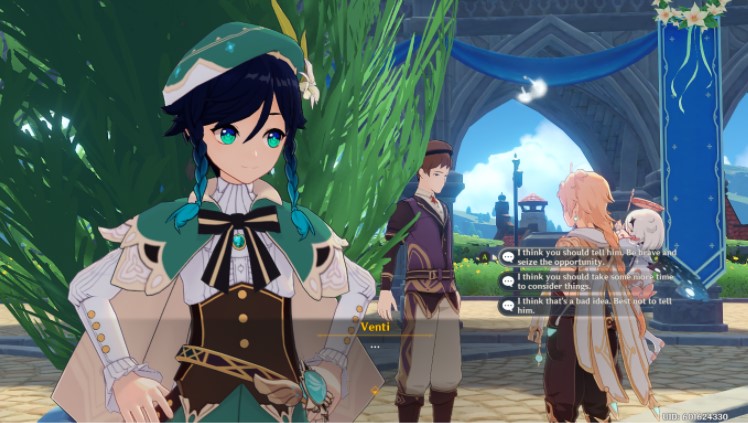 (Picture: miHoYo)
Once you're done, Kaeya will join you as part of Venti's class, in exchange for some demands and a bottle of Apple cider.
With this, Venti will start his masterclass and the mission will be over, you will receive 30 Primogems, 3 Hero's Wit and 30,000 Mora, and also unlock the other sections of the Festival and a couple of quests that we will talk about next.
Those Hard-to-Reach Places
For this quest, you will need to head towards Aramis, one of the Mondstadt statue guards. Aramis will ask you to help collect some of the Festival flowers' debris stuck in high places around the town.

(Picture: miHoYo)
After cleaning all the traces of flowers, you will find a lost cat which you will take back to Aramis so that he knows what to do with it.
When you return with him, Margaret, the boss of the Cat's Tail, will be present looking for her cat Butterfly, the same one you found on the city walls. They will both thank you for your help and the quest will be over, and you will receive 20 Primogems, 2 Hero's Wit and 20,000 Mora.
"Quiet, please, this is a library!"
You will have to go to the library inside the Knights of Favonius headquarters, where you will speak with Ella Musk. She will be somewhat annoyed due to the influx of people because of the Festival, which has stopped her from studying comfortably.

(Picture: miHoYo)
You will have to help her convince visitors to improve their behaviour within the library, something in which you will not have much success. To try to solve it, you will ask for advice from Wyratt, one of the guards at the headquarters.
Wyratt will recommend emphasizing the rules of Lisa, the library manager, to everyone present. After hearing this, everyone will clean up their mess and leave the place terrified. With this done, the mission is over, and you will receive 20 Primogems, 2 Hero's Wit and 20,000 Mora.
The next Festival missions belonging to Act II "Missive of Cloud and Fog" will be unlocked on the 22nd March.