In what's categorially the first big
Guilty Gear Strive
tournament, Dominique "SonicFox" McLean won the first edition of Strive LEVO battling against some of the toughest opposition the North American FGC has to offer.
The Dragon Ball FighterZ, Mortal Kombat 11, and Injustice 2 Evo winner defeated TempestNYC in an exhilarating Grand Finals, with SonicFox forced to defeat their fellow East Coast representative in two sets after being sent to losers by Steve "Supernoon" Carbajal.
LEVO, which is organized by Smash Melee icon William "Leffen" Hjelte, featured some of NA's finest from different scenes, including Street Fighter V's Victor "Punk" Woodley, DBFZ's Reynald, MvC's Jonathon "Cloud805" Morales, and many more, making the first edition of Guilty Gear Strive LEVO a treat for fans, who flocked to the stream making it peak at over 18k viewers.
SonicFox's win, which they have already described as one of the "greatest matches in GG Strive" came down to the wire, with their Leo's DP beating Tempest's May Totsugeki when both players were at almost no health in a final game, final round scenario.
What a hype af ending during LEVO Guilty Gear Strive Grand Finals
Congrats to @SonicFox pic.twitter.com/6CVMuZyh4x

— Starry~ (@xPandora__) June 13, 2021
LEVO x Guilty Gear Strive: Top 8 standinds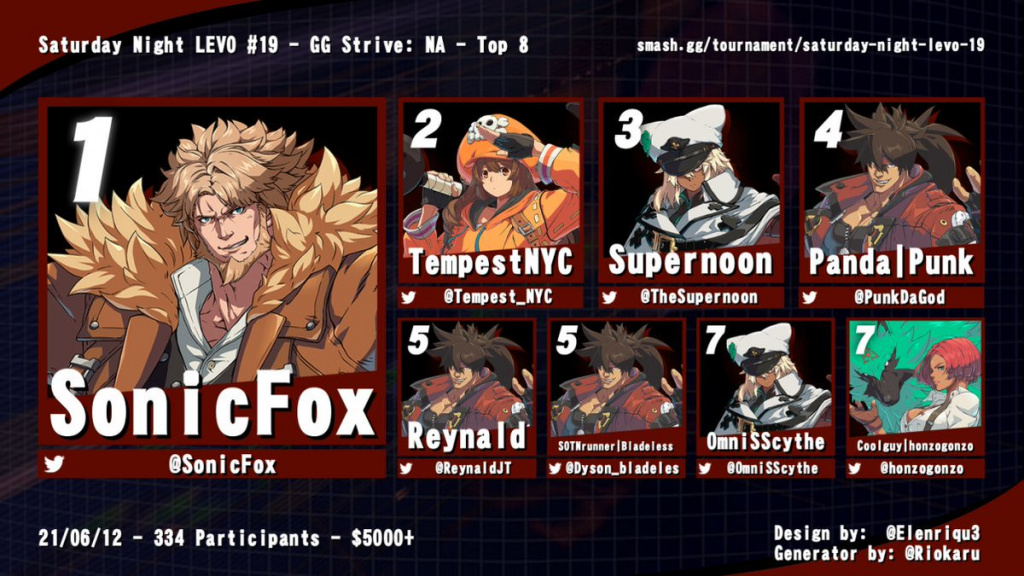 (Picture: Leffen)
If you want to watch LEVO x Guilty Gear Strive, which we highly recommend that you do, you can check out the VOD on Leffen's Twitch channel.
Leffen has also confirmed select matches will make it into his YouTube channel, starting with the phenomenal Grand Finals set between SonicFox and Tempest.