The Witcher card game Gwent is right now at a great state. The gameplay is fun and engaging, meta is stable and diverse, and the player-base is relatively big. Players are mostly happy with the state of the game, and now CD Projekt RED is delivering next step.
And that step is called Journey, and effectively it represents Gwent's version of season/battle pass in other competitive games.
What is Journey?
It's a three-month progression system, where players unlock various goodies just by playing the game. It is separated into two tiers, one is free, and everyone can immediately start working toward levelling up and earning its rewards: player avatars, reward points, and a variety of card kegs. The other tier is called "premium", it cost $9.99, and it grants you instant access to Geralt's legendary neutral leader skin, along with over 50 unique ornaments that you also unlock by playing the game. Still, first, you need to progress through the free tier. Although, if you are impatient, you can pay for the "fast travel bundle," which cost $24.99 and gives you 25 levels of progress immediately.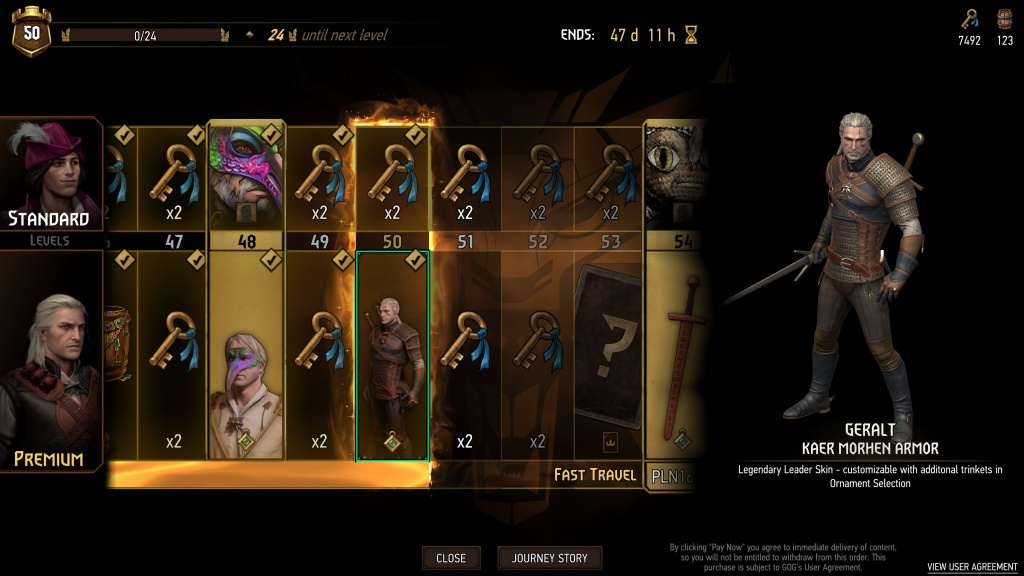 As you level up in your Journey, you will unlock more options to customize Geralt's character: weapons, armour, trophies, and various accessories. There are also new types of ornaments introduced with this update: coins and animated avatars.
For the fans of The Witcher world, this whole Journey will follow an epic tale of witcher Geralt and master bard Dandelion. The story will gradually unlock with each passing week.
Reactions from players are almost universally positive, people are happy with this new progression system, so it seems that CD Projekt RED really did the right thing here and we're pleased to see that.