Halo Infinite's free-to-play multiplayer had a not-so-surprising launch on 15th November. As witnessed in the multiple technical previews ahead of its beta launch, Halo Infinite multiplayer does not disappoint in the gameplay department, offering tight and precisely polished gunplay, a wide array of well thought out maps, and game modes that both veteran and new Halo fans seem to enjoy.
However, as a free-to-play AAA live service title, Halo Infinite has its own challenges to overcome, one of which is the shockingly slow-progressing Battle Pass.
Thankfully, developer 343 Industries has been quick to address and fix some of the progression issues though some areas of the game which remain unattended needs a major overhaul before Halo Infinite's six months long season 1 ends.
The state of microtransactions in Halo Infinite
It's no surprise that the free-to-play business model relies heavily on in-game currencies and microtransactions for revenue, and Halo Infinite wasn't going to be any different.
However, it's the pricing of these items and the way they are being made available is leading many to question whether Halo can sustain long term as a free to play multiplayer title.
In regards to the pricing of some of the cosmetic and booster packs, one disappointed fan took to Reddit to share their opinion towards the current state of microtransactions in Halo Infinite multiplayer.
At the time of writing, this Reddit thread has a whopping 44,000 upvotes in less than 24 hours.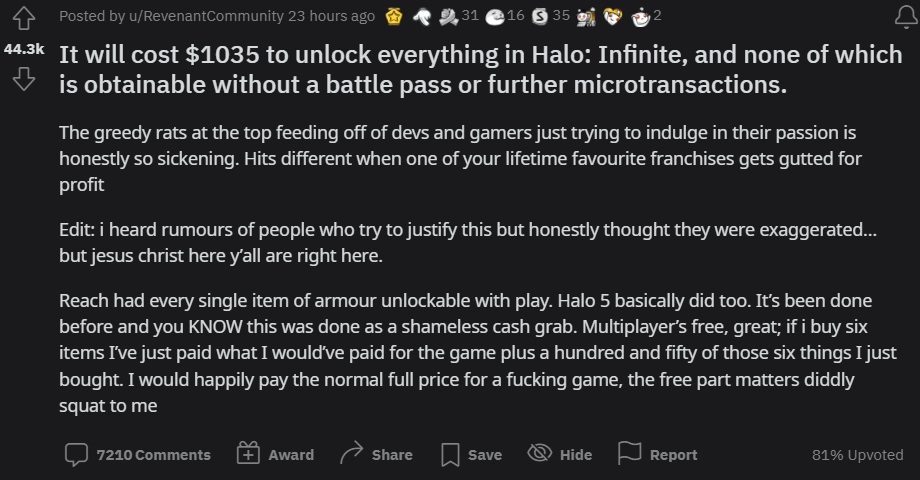 As it turns out, it currently costs 1,035 USD to unlock every single item in Halo Infinite. Furthermore, these are not items that are obtainable without the premium battle pass.
In fact, the battle pass for free players does not reward any armour equipment until level 21, which is a shame because progression in Halo Infinite is already quite cumbersome at the moment.
Halo Infinite has a long road ahead, and developer 343 industries seem pretty adamant in listening to fan feedback and implementing those feedbacks. With the Fracture: Tenrai event set to launch on 23rd November, Halo Infinite fans should have much to look forward to.

For more on Halo, please make sure to check our dedicated section full of news, guides and more.
Featured Image Courtesy of 343 Industries.