Microsoft's Xbox Game Studios left fans in awe after showcasing an incredible Halo Infinite augmented reality (AR) advert featuring Master Chief's famous Dropship 77-Troop Carrier, otherwise known as the Pelican spaceship, at the Autzen Stadium in Eugene, Oregon.
The mixed reality AR showcase premiered during halftime of the Oregon versus Oregon State football match on 28th November.
Insane Halo Infinite AR advert
Xbox reportedly partnered with Studio Mega in Portland and the Oregon Athletic Department to bring the collaboration to life.
The studio was also previously involved in other AR showcases, including those for the Carolina Panthers and Baltimore Ravens from the NFL.
In their latest masterpiece, we could see Halo's Pelican spaceship fly in from the cosmos, only to hover in the centre of the football field.
We can only assume that the Pelican was piloted by Master Chief himself, who then displayed a hologram of the Halo Infinite logo for all to see before flying off into the distance.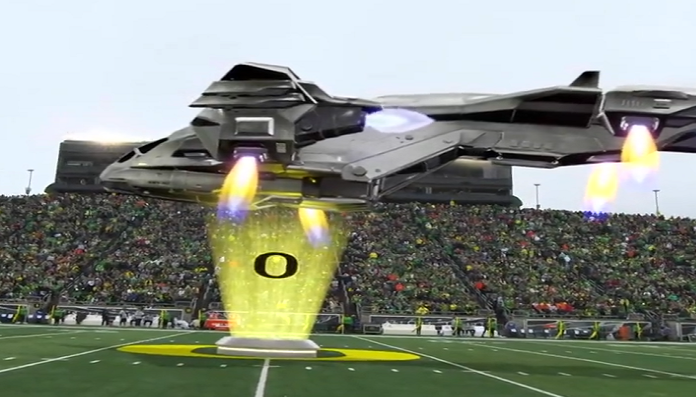 Of course, the Pelican wasn't there, although if you kept your eyes peeled on the large screen, you might have believed otherwise.
While the Pelican may not have been genuine, Master Chief certainly was! Microsoft Xbox's Halo Infinite promotion also saw a real-life Master Chief cosplay at the stadium, which naturally attracted the attention of many fans.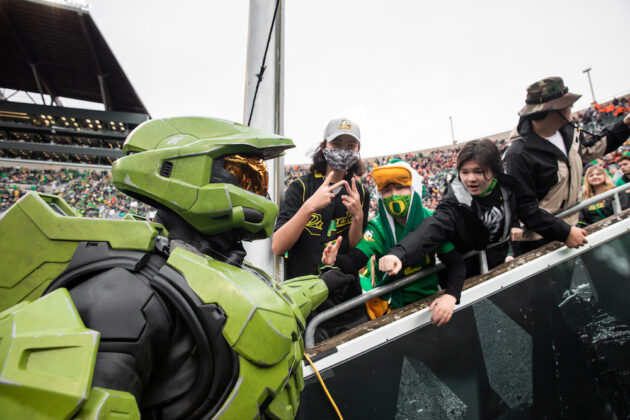 The Halo Infinite promotion couldn't come at a better time, with a little over a week remaining for the game's official launch on 8th December.
While Microsoft Xbox's attempt to promote the game at the Oregon football match is nothing new, it is incredible to see the company explore creative marketing campaigns for the latest iteration of its famed Halo franchise.
Don't forget to check out our dedicated Halo section for the latest news, updates, esports coverage, guides, leaks and more.
Featured image courtesy of 343 Industries.