In an announcement by community manager Kerfluffle on the Official Hearthstone forums, players were informed Ashes of Outland's new Demon Hunter class would be receiving changes to reduce the overall power level of the most popular cards, primarily focusing on increasing the mana cost of cards with the Outcast mechanic. 
The writing was certainly on the wall for early adopters of the Demon Hunter. With win rates of up to 61% from the Tempo variation, and a 55% win rate overall, the class was sure to be touched by nerfs, though many were taken aback by how quickly - and by what method - the changes took place.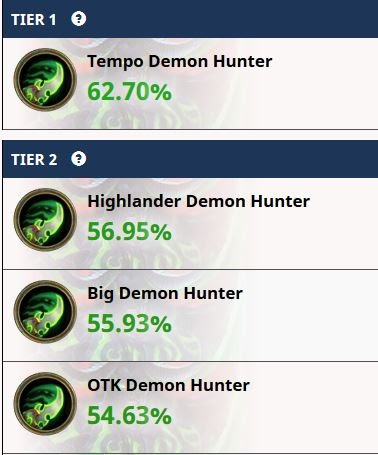 In addition to the nerfs some confusion was caused due to the patch being implemented immediately on the server-side:
"We wanted to get these changes out the door today, and in doing so you will only see the new stats for these cards—displayed in both red and green—in matches, not in your Collection." says Kerfluffle in his post about the patch.
This somewhat unusual move on Blizzard's part provoked a series of confused Reddit posts and tweets with players asking why their cards looked different. 
Though the changes have been implemented in a unique manner, Blizzard stated that a full patch will be incoming, with full dust refunds available for players who wish to dust the newly changed cards. 
Check out what cards changed below!
Hearthstone Balance Changes
Skull of Gul'dan – Mana cost increased from 5 to 6.
Imprisoned Antaen – Mana cost increased from 5 to 6.
Eye Beam – Outcast Mana cost increased from 0 to 1.
Aldrachi Warblades – Durability decreased from 3 to 2.

In addition to the balances aimed at ranked play, arena will be recieving some adjustments as well, reducing the appearance of the following cards: 
Chaos Nova
Coilfang Warlord
Command the Illidari
Flamereaper
Furious Felfin
Glaivebound Adept
Illidari Felblade
Immolation Aura
Metamorphosis
Netherwalker
Nethrandamus
Priestess of Fury
Skull of Gul'dan
Twin Slice
Umberwing