With Madness at the Darkmoon Faire just a few days away, Blizzard is making significant preparations ahead of the expansion's release with a set of big changes and novelties coming into their popular card game.
Hearthstone's latest patch will bring some of the biggest changes in the game's history, from long-awaited achievements system to revamped progression system.


(Picture: Blizzard) 
Along with the big changes, Battlegrounds are getting another new hero, and Duels: Early Access will become available to everyone for free!
Let's check everything that's coming to Hearthstone with patch 19.0.
When is Hearthstone patch 19.0 coming?
Patch 19.0 is slated for release on Thursday, 12th November, at 7 pm CET/ 1 pm ET / 10 am PT
New Battlegrounds Hero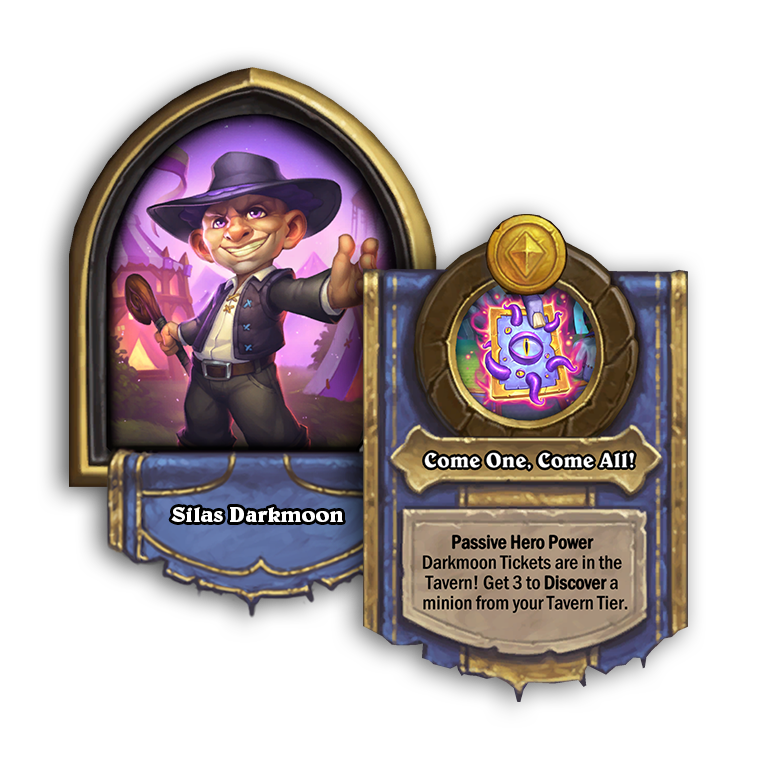 (Picture: Blizzard) 
Silas Darkmoon, the founder and leader of the Darkmoon Faire, will be coming to Hearthstone Battlegrounds as the latest hero to join one of the Hearthstone's most popular modes.
He has a passive hero power called "Come One, Come All!" with this effect:
Darkmoon Tickets are in the Tavern! Get 3 to Discover a minion from your Tavern Tier.
It works by putting Darkmoon Tickets on random minions offered in Bob's Tavern.
When you buy three of these minions, you'll get to discover a minion from your current Tavern Tier, and your Darkmoon Tickets counter will reset so that you can collect three of them again.
Duels: Early Access
When Patch 19.0 launches, Duels: Early Access will become available for everyone, not just for people who pre-ordered the expansion or got access via Twitch Drops.
In addition to that, this update introduces Whispers of the Old Gods to the pool of eligible sets when you are making your starting deck, and adds Madness at the Darkmoon Faire cards to loot buckets.
Duels: Season One will start on the 17th November, along with the release of the expansion, and Madness at the Darkmoon Faire cards will then be added to the pool of available cards for starter decks.
Heroic mode for Duels will unlock when the expansion releases as well.
Achievements system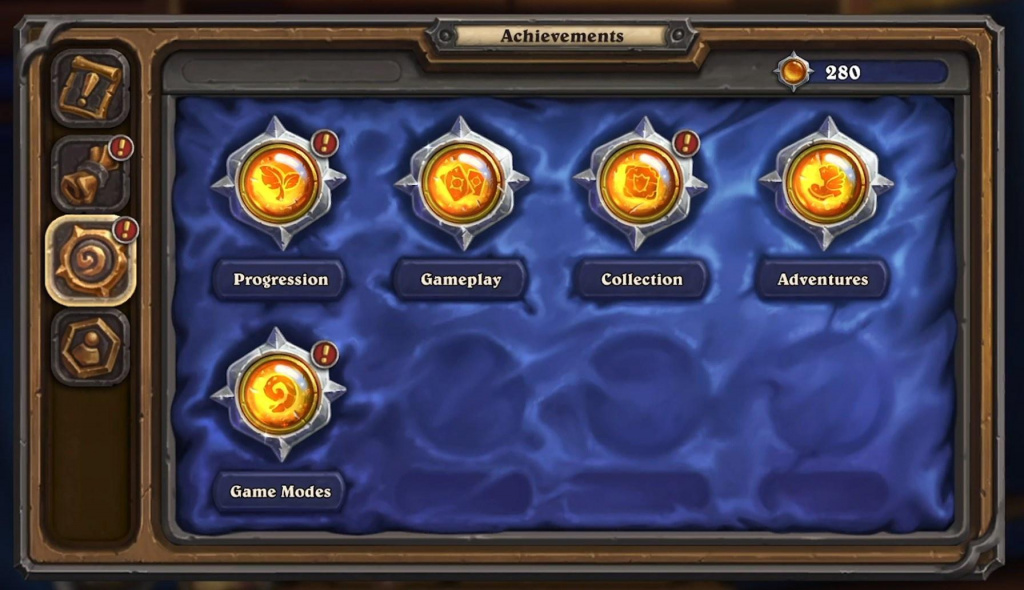 (Picture: Blizzard)  
With today's patch, one of the most requested features will finally be added to the game - Achievements!
Currently, there are 5 main different types of achievements, separated into categories.
Those categories are Progression, Gameplay, Collection, Game modes, and Adventures.
Progression will follow your overall in-game milestones since you've started playing the game.
Gameplay achievements will require players to do some specific things during their matches.
Those achievements can be connected to individuals cards, minion types, classes, etc.
They can vary from to doing something specific once, for example killing the opponent with C'Thun, the Shattered, or doing something a set amount of times, like summoning X Murlocs or casting X amount of a particular spell.
You can see some of the examples below.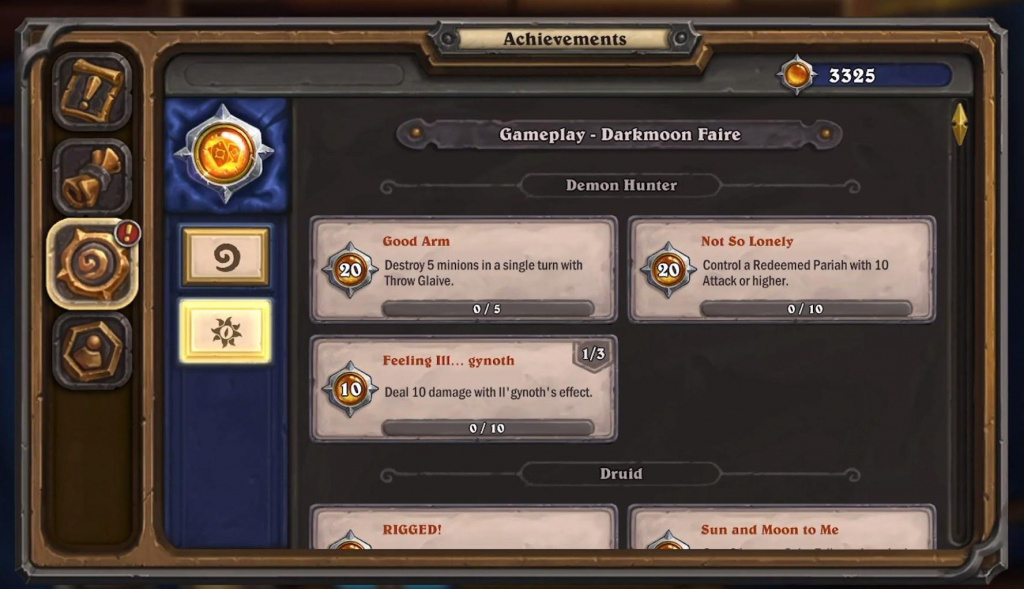 (Picture: Blizzard) 
Collection achievements will track your collection and reward you with achievements for various milestones, from collecting the set amount of Class cards from a set, to completing a whole set.
The same goes for coins, skins, cardbacks, and other collectable items in Hearthstone.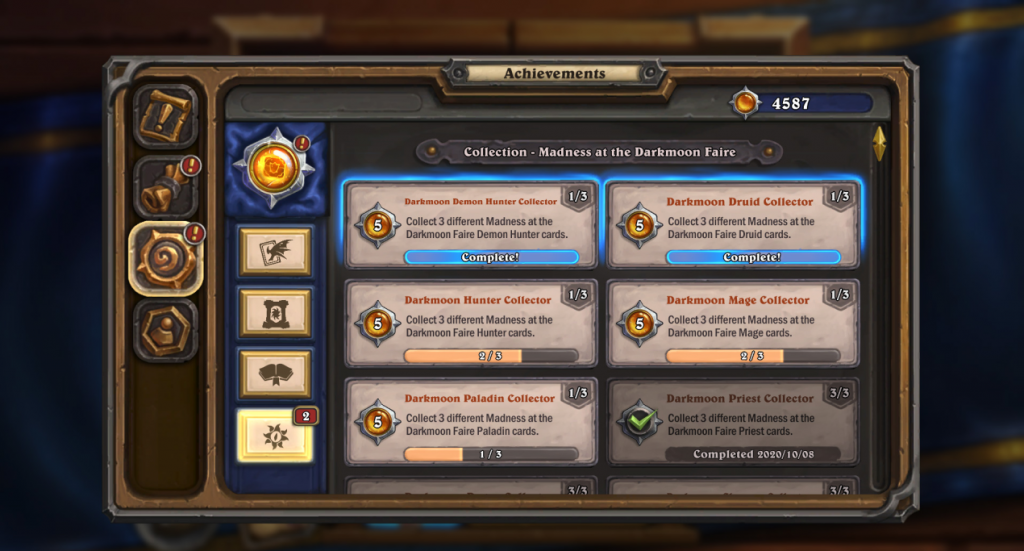 (Picture: Blizzard) 
Game mode achievements will reward you for completing various tasks based around Hearthstone modes.
From basic things like winning a game in Arena, to achieving a Legend rank in ranked mode.
Finally, Adventures achievements are based around Hearthstone's single-player mode, from Naxxramas to Galakrond's Awakening.
Progression & rewards revamp
Starting from patch 19.0, the old reward system will become a thing of the past.
Reward Track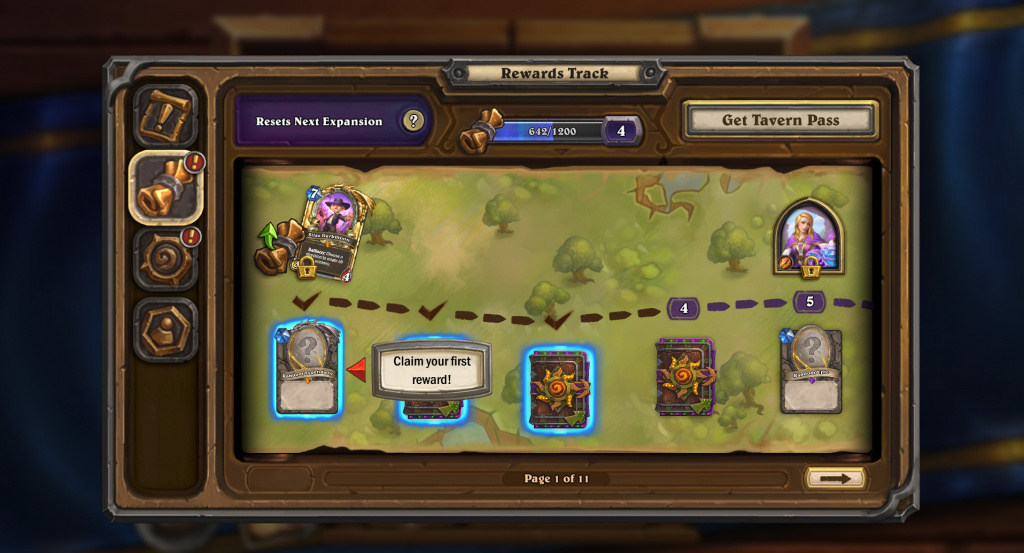 (Picture: Blizzard) 
Instead of Daily Quests and gold for winning games, the new system introduces several new mechanics for players to earn rewards from.
The main one is the Reward Track.
The Reward Track is a map of rewards that can be earned during an expansion by gaining experience (XP) from completing Quests, completing select achievements, and playing the game in any mode. 
There are 50 main levels on the Reward Track and an unlimited number of levels after that.
Daily, Weekly, and Legendary Quests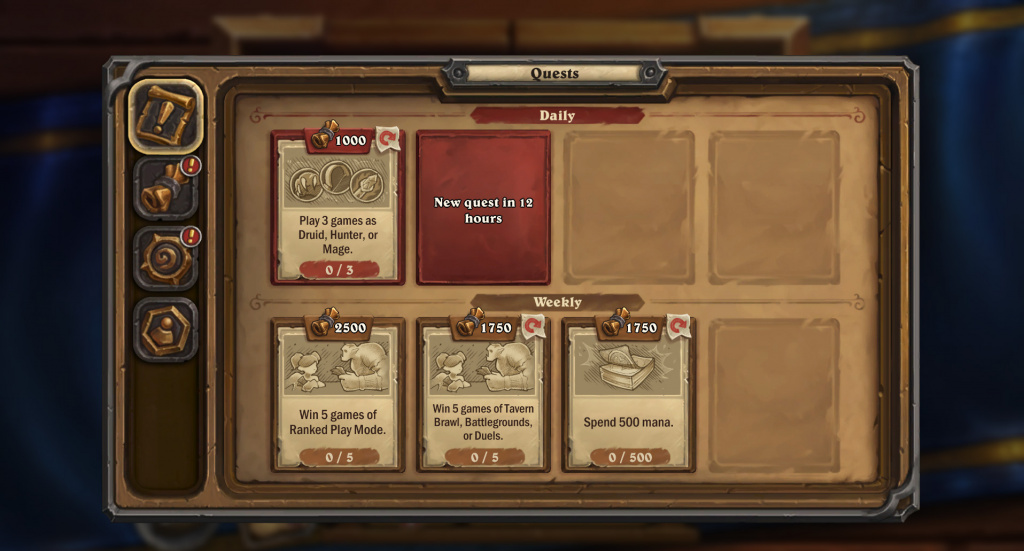 (Picture: Blizzard) 
The Quest system will see some big changes.
Daily Quests are still here and now you can have a maximum of 4 instead of 3, but they will not offer gold as a reward anymore. Instead, they will earn you experience(XP) to progress on your Reward Track.
The new system will also add Weekly Quests.
At the start of every week (On Mondays at 12 am PT/ 9 am ET / 3 pm CET), players will be given 3 new Weekly Quests to complete.
They will be harder than Daily Quest, but players will get more XP from them and, and if you don't like one of them, you can reroll 1 Weekly Quest per day, same as you can with Daily Quest.
Unique Legendary Quest will now have a separate tab, instead of occupying slots within your Daily Quests.
Patch 19.0 Arena rotation


(Picture: Blizzard)
Starting from the 17th of November, when Madness at the Darkmoon Faire launches, the Arena will include cards from the following sets:
Madness at the Darkmoon Faire
Scholomance Academy
Demon Hunter Initiate
Ashes of Outland
Galakrond's Awakening
Whispers of the Old Gods
Basic
Classic
Patch 19.0 game improvements and bug fixes
Hovering over the opponent's Mana tooltip will now display a count of their Overloaded Mana Crystals. The friendly Mana tooltip has also been updated to display a count.
Drustvar Horror will now randomly pick one option for Runic Carvings instead of casting both.
Fixed a Duels bug where Golden cards would appear as normal cards.
Fixed a Duels bug where the Best Runs counter was being unintentionally reset.
Fixed a Duels bug where Heroes were not playing their voice line when selected for a run.
Fixed a Duels bug where Book of the Dead was not counting enemy minions that had died.
Fixed a bug where Dormant minions would not consume discounts provided from Studies.
Fixed a bug where the arrow for targeted Hero Powers in Battlegrounds would begin offscreen.
Fixed a bug where emotes would overlap with the post-game victory or defeat screen.
Fixed a bug where portraits shown in history tiles were inconsistently sized between devices.
Free decks for new and returning players have been updated.
Card text for Corrupting Mist and Chaos Gazer has been reworded to avoid confusion with the new Corrupt keyword. The functionality of both cards remains the same.
Madness at the Darkmoon Faire will launch on Tuesday, 17th November, on all platforms.