In order to celebrate the release of Madness at the Darkmoon Faire, Blizzard is throwing a party!
The pre-launch party will last a few days, rich with interesting content and nice rewards as well!
It kicks off on 11th November with the Card Reveal Livestream, where we will see all remaining Darkmoon Faire cards.
And then on 12th November, a selected group of Hearthstone creators will showcase the Madness at the Darkmoon Faire set, 5 days before expansion's launch, on their personal channels.


(Picture: Blizzard)
In order to make things a bit more exciting and different, this time Blizzard has applied the rule that each deck the streamers create will be required to have at least 10 cards from the new Madness at the Darkmoon Faire expansion included.
Make sure to watch Theorycrafting live streams, because there will be rewards as well!
Theorycrafting Livestream streamers to watch for Twitch Drops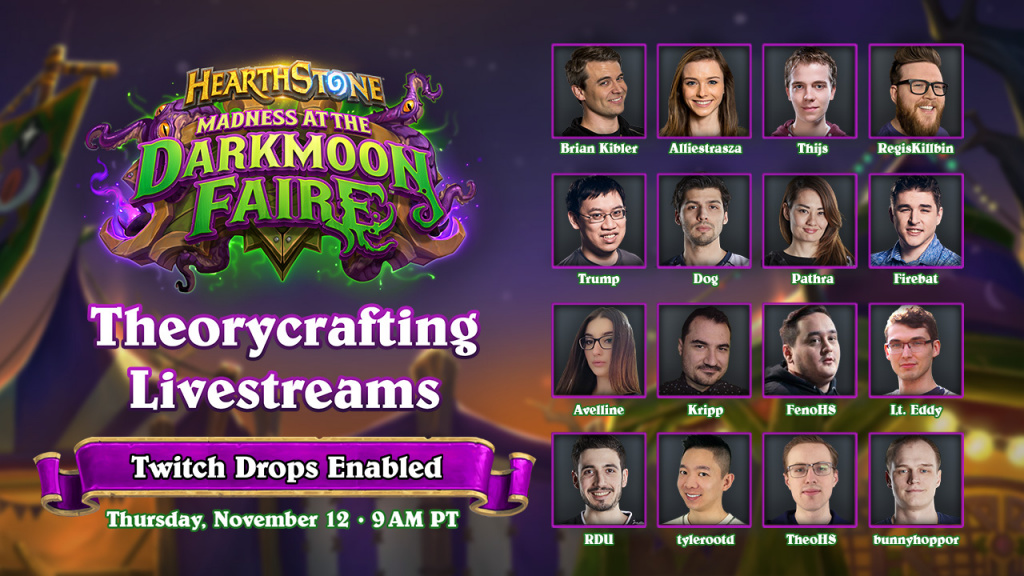 (Picture: Blizzard)
Theorycrafting Livestreams will feature 16 selected content creators that will showcase new Madness at the Darkmoon Faire decks.
You can watch any of them in order to get guaranteed Twitch Drops in the form of Darkmoon Faire packs.
List of Theorycrafting streamers:
Darkmoon Faire Theorycrafting Twitch Drops: When to watch
Watch any of the Hearthstone creators listed above on 12th November between 9 AM PT and 12:00 PM PT for 2 hours to earn 1 Madness at the Darkmoon Faire card pack.
On the same day watch 2 hours of any Hearthstone stream on Twitch between 12 PM PT and 6 PM PT for another pack!
Card packs will be locked until the expansion launches on 17h November.
In order to get packs, your Battle.net and Twitch accounts must be connected.
How to link my Battle.net and Twitch accounts 
Follow these steps to make sure your accounts are linked properly.
Log in or create an account on Twitch.tv.
Navigate to the Settings menu by clicking your account name in the top-right corner of the home screen.
Navigate to the Connections tab of the Settings menu.
Find the Battle.net section, then follow the instructions after selecting a region and clicking Connect.
When connecting accounts, be sure that you're currently logged into the Battle.net account on which you'd like to receive your rewards.