Scholomance Academy is the newest Hearthstone expansions with 135 new cards, dual-class cards, new keyword Spellburst, Soul Fragments, Studies, and other interesting and new mechanics.
It launched yesterday and players are already discovering its secrets, combinations and powerful cards.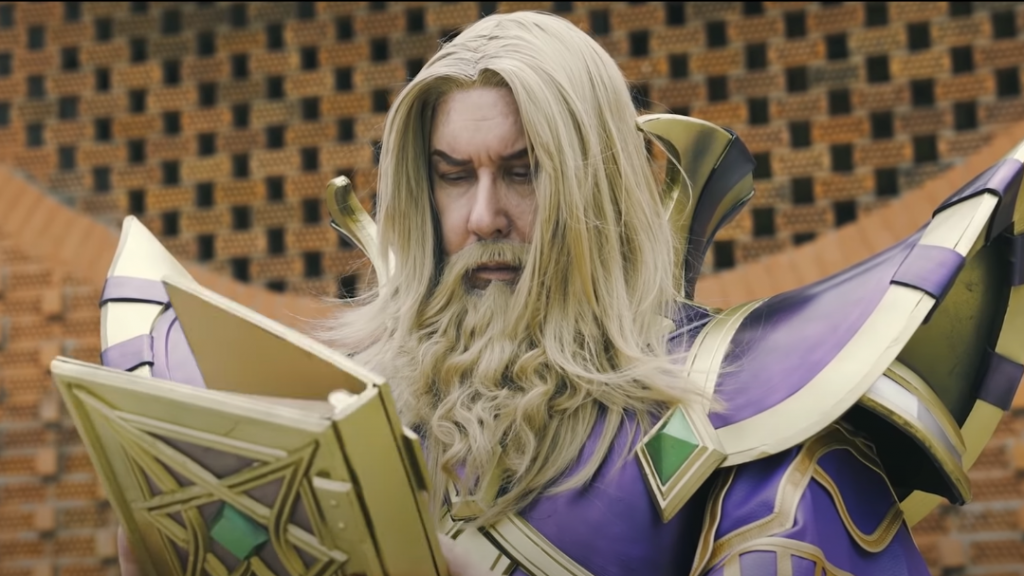 (Picture: Blizzard)
And while most of the players are focused on exploring new decks and new gameplay mechanics, there are always those fans who like to explore new secrets hidden somewhere within the new content.
Those might be special voice lines, cool animations, secret interactions, secret clickable things on the new board, unique dialogue between some cards and heroes, etc.
Blizzard loves to put these little secrets and references, somewhere hidden for players to find and discover them.
And while sometimes players will discover new secrets weeks or months after the release of the expansion, this time around a very special Easter Egg has been discovered on the very first day of Scholomance Academy.
Hearthstone packs have a unique look and opening animation for each expansion. When you open the Scholomance Academy pack, if you look closely, there are some papers with something written on them.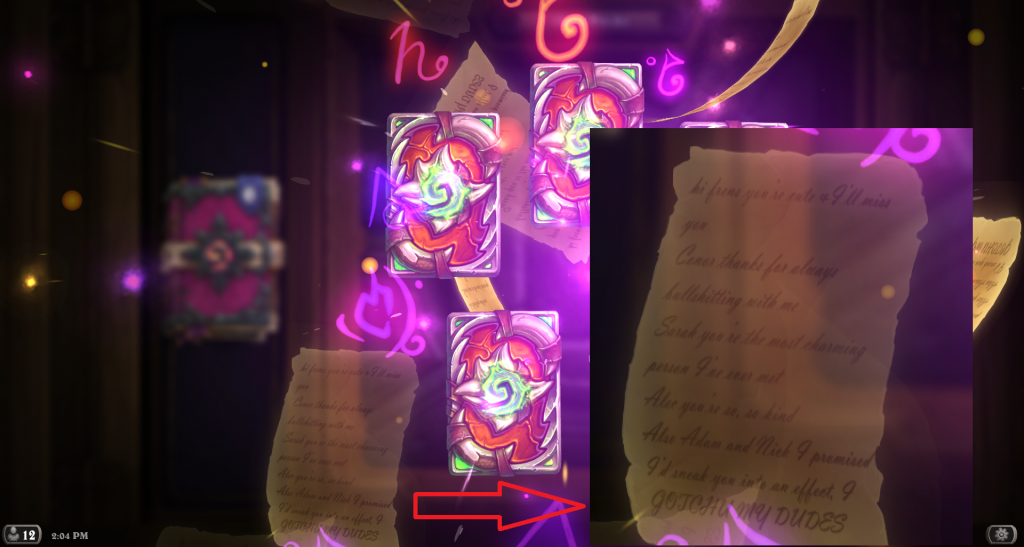 The letter can be seen in a split second of pack opening animation (Picture: Blizzard/Itsadile)
Reddit user Itsadile decided to catch that exact moment and try to see if he can read the text on them. And yes, he was able to read the text.
In the letter it is written:
"Hi frens you're cute & I'll miss you
Conor thanks for always bullshitting with me
Sarah you're the most charming person I've ever met
Alec you're so, so kind
Also Adam and Nick I promised I'd sneak you into an effect, I GOTCHU MY DUDES"
It turns out this was put into pack's animation by Hadidjah Chamberlin, one of the lead FX artists on Hearthstone, who recently left Team 5 (Hearthstone development team) because she has been transitioned to work on an unannounced project at Blizzard.
I UH.

That... that may have been me, yes. I'd meant to go back and rune up the text so it wasn't quite so on the nose but I forgot lol.

— Hadidjah (@hadidjahb) August 6, 2020
This was her little secret way to say goodbye to her friends from Team 5, and a way for their time spent on Hearthstone to be forever immortalized within the game.
It is also quite appropriate to be within Hearthstone expansion which has themes of school and friendship, with secret letters sent between students.
Some of the very best Hearthstone animations are the work of Hadidjah Chamberlin, she has been recognized as one of the best FX artists within the company, and it comes as no surprise that Blizzard wants her to work on their next projects.