DAMWON Gaming have won the League of Legends World Championship 2020, taking down Suning in a 3-1 victory.
Along with being awarded the Summoner's Cup, the team also win the minimum prize pool of $2.5 million, set to inflate through revenue from in-game sales.
Joining the LCK in 2017, this is DAMWON's second appearance at Worlds; in 2019 they finished in Quarterfinals. This year, they were looking to take it all and pulled it away from Worlds newcomers Suning Gaming.
Like other regions around the globe, the LCK had moved all of their games from in-studio to strictly online this year, after having previously shut down all games.
Despite these difficulties and changes, League of Legends has continued in addition to Worlds, and the fact that no one knew whether the largest international tournament Riot has to offer would even be available, but fans all over the globe - and DAMWON especially - are smiling at this accomplishment today.
🏆 @DamwonGaming 🏆 pic.twitter.com/fNfbNW7GbK

— LoL Esports (@lolesports) October 31, 2020
The LCK teams have been hungry to become winners again; for the last two years, the LPL have taken home the Summoner's Cup. For Heo "ShowMaker" Su, being able to hoist the trophy for the first time, and take it back home for the LCK would mean a lot.
"It was the finals between Samsung Galaxy and SKT. The series ended in a 3-0 and I saw Faker sitting in his chair in tears," Showmaker said before the final.
"That moment was unforgettable. Seeing that moment, I thought about how if I were to become a pro player, I would have to win it all. With the opportunity I have now, I need to go in thinking this could be my last and only chance… I consider it our duty to win here to restore LCK's status."

DAMWON Gaming have done it (Picture: lolesports) 
DAMWON Gaming vs Suning Worlds 2020 final breakdown
Game 1
And restore status they did. In the first game, DAMWON had a bit of an advantage. With Cho "BeryL" Geon-hee and Jang "Ghost" Yong-jun in the bot lane being able to put a lot of pressure, this allowed Beryl to roam and help the pressure in the midlane as well as get the first drake.
Suning were able to snag first blood when Lê "SofM" Quang Duy roamed top, however, Chen "Bin" Ze-Bin also had to use his flash to make it happen. DAMWON continued to show their prowess in team fights, when a botlane fight could have turned badly, but due to Showmaker stopping a teleport from Xiang "Angel" Tao, it was able to turn in DAMWON's favour, and they tied it up with a kill onto Hu "SwordArt" Shuo-Chieh. They took drakes with ease, getting the first three by 16 minutes without even a sliver of contest by Suning.
Suning fought back in the botlane, getting two kills for SofM on his River Shen. Bin engages while knowing SofM has the Shen ult, and though Bin falls, SwordArt is able to help the re-engage, and they take down Kim "Canyon" Geon-bu and Ghost.
A massive fight happens around infernal drake, with Suning trying to attempt a flank. Tang "huanfeng" Huan-Feng takes out BeryL, Showmaker takes out Bin, Canyon takes out huanfeng, Canyon takes out SofM, but with Suning being split with the flank not being the best move, DAMWON is able to catch back up to the small lead Suning had taken and they pull it back from their grasp. This was the fight that caused more of a DAMWON snowball.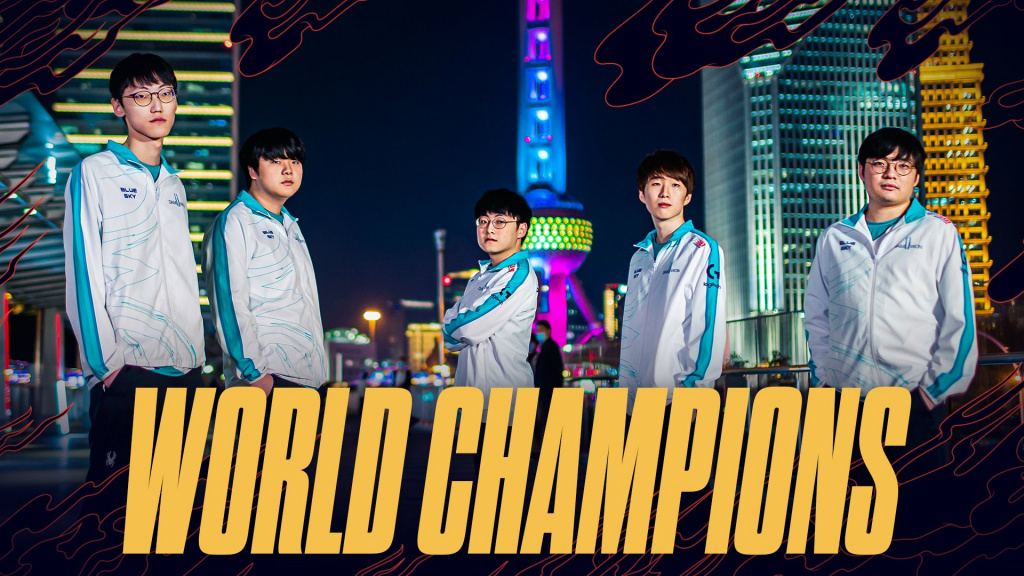 DAMWON Gaming have won Worlds 2020 (Picture: Lolesports) 
Another botlane fight, with Bin getting caught out, but his teammates are able to catch up to him and move to Baron and take it, which turns to another standoff at elder drake around 30 minutes. While SwordArt and Bin are able to distract DAMWON, Suning took the drake, but DAMWON got three kills in exchange, and minutes later, took Baron and another kill on SwordArt.
After almost 45 minutes of Suning holding on, they unfortunately could not stop the inevitability of DAMWON, giving the team game 1.
Game 2
In the second game, Suning excited the casters and fans by pulling out Rengar against Evelynn in the jungle. DAMWON began an aggressive fight in the botlane with BeryL's Thresh, but they were unable to get any kills, although they got huanfeng's flash.
This game, at least in the beginning, was a bit more controlled, with Suning grabbing first drake this time. Around 11:27, a pause was made to the game due to a microphone issue on the side of Suning. Almost immediately jumping back into the game, we find a fight in the botlane, and while no kill was given in that moment, seconds later, Canyon gets a solo kill onto huanfeng. At around 15 minutes, DAMWON knocks out the first tower in the botlane, which has been their focus.
Less than a minute later, a fight rift herald becomes a massive contest, with again, kill after kill after kill: SwordArt takes Canyon. Ghost responds with a kill on SwordArt. Bin gets Nuguri. Showmaker goes for Angel. SofM gets Showmaker. These teams are hungry, and while the kills end up even, Suning end up with two more drakes by 20 minutes, a much different objective grab this game. Despite this, Nuguri is so tanky on Ornn, and this is evident in a midlane fight that took down another tower. No matter the damage Suning threw out, DAMWON got low but did not fall.
DAMWON get their first drake around 23 minutes after a fight in the pit, pushing Suning out and taking out SwordArt. They move over to Baron, but Suning follow, and although both teams lost players, Bin gets help from Baron to kill Nuguri and miraculously, Suning are able to prevent Baron from being taken down. Seconds later, Bin gets a solokill onto Showmaker.
Just like in Game 1, the kills continue to be close; for every kill DAMWON make, Suning are able to answer, and another kill is answered by DAMWON. This is the League of Legends Worlds Finals you want to see.
Amazingly, a massive fight in the midlane gets Suning a tower, and leaves SofM and huanfeng to take down soul. Nuguri and Canyon follow, with SofM zoning them away. Suning take the drake as their teammates begin to respawn, they take down Canyon, Nuguri, and Ghost, who had respawned by then.
These are the reasons why you cannot doubt Suning. At 34:32 in DAMWON's base, Bin gets a pentakill - the first one in Worlds Finals history - on his Fiora and they take the win in game 2!
PENTAKILL FOR BIN'S FIORA! #WORLDS2020pic.twitter.com/pmgr2Jz2Gm

— LoL Esports (@lolesports) October 31, 2020
Game 3
In Game 3, Bin came out swinging in the top lane with his Jax against Nuguri's Kennen, but Canyon roamed to the top lane in the first few minutes and took the first blood for DAMWON. In response a few minutes later, SofM comes up top lane and while they cannot get a kill, they do get the flash off of Nuguri. Canyon again gets another kill onto Bin, which is a strong change from the game previous, where Bin was a lot stronger and certainly did not die twice before ten minutes.
In addition to the targeting on the side of DAMWON to Bin, the objectives went the way of DAMWON as they did in the first game, with three drakes and three towers in under 17 minutes going to them. They continue to keep control over the map, even preventing the rift herald, who was released by Suning in the bot lane, to be able to hit the tower. DAMWON continue to snowball, taking a 21 minute soul. There are not nearly as many fights in this game as there were in the past two, but this type of gameplay from DAMWON was what most people expected from the entire series.
However, Suning show signs of life at Baron pit. Suning follow up with Angel on his Akali. Dubbed the Angel of Death when on this champ, he shows exactly why he is called that as his positioning is important coming up from the top lane jungle.
He uses the blast cone to begin the engage and dashes into the pit to take out Ghost. The rest of Suning shows up. Huanfeng takes out Canyon, Bin kills Showmaker and Angel takes down BeryL. Nuguri tries to stop the Baron on his own, but Angel zones him out and takes him out with extremely low health himself.
A massive fight at drake pit, in which Suning do take the infernal, but at the cost of huanfeng and Angel. We follow them to Baron, which Suning attempt to take but with the pressure of DAMWON, they end up backing off and no one falls. Minutes later again at Baron pit, DAMWON steal back the lead, they take out Bin, Angel, and huanfeng and move towards the base. They take another kill to SwordArt, and take the nexus, which puts DAMWON at match point.
Game 4
DAMWON want the series to end with this, taking first blood in the botlane with a strong Caitlyn and Pantheon support. The objectives snowball continue forward as is tradition this series with the first drake taken by DAMWON in less than 7 minutes.
In the jungle, Canyon gets a double kill onto Bin and SofM and huanfeng responds with a kill onto BeryL in the botlane. DAMWON get their second drake, an infernal, in under 12 minutes, and they translate that into a push onto the botlane tower, taking it very low but not down yet.
Just like in Game 3, the pressure onto objectives becomes a problem for Suning, as DAMWON are relentless in towers, drakes, rift heralds, and even kills, with 5-3 in favor of DAMWON. In a small fight at drake, BeryL falls but his teammates answer with the take of yet another drake. In not even 20 minutes, a fight in the botlane around DAMWON's tower goes massively in their favor, as one by one Suning players fall. Canyon is dominating on his 7/0/2 Kindred at 21 minutes. It's almost impossible to keep track of every that DAMWON take, as it is so frequent. Without even a shred of contest, DAMWON take the soul.
Unfortunately for Suning, who tried their hardest, DAMWON continue to take pick after pick, a fight at Baron where DAMWON grabs four more kills, the Baron, the game, and the Worlds Finals win at 27 minutes, bringing glory back to the LCK in 2020.