Coming into the LEC's opening weekend, all eyes were on the first game of the split - with the G2 Esports vs MAD Lions matchup having provided one of the most explosive best-of-5 series of the Spring Split.
With G2 served their first best-of-5 defeat since the 2019 World Championship finals by the rookie MAD squad in the LEC Spring playoffs, fans were curious as to whether MAD would be able to replicate their previous dominance in today's game.
Starting the split off with a win against arguably the LEC's most dominant team would surely create incredible momentum for a team that finished the Spring Split on a high of third place in their first ever competitive season. 
However, it was not to be. The role swap of G2's all-star Luka "Perkz" Perković back into AD Carry proved to be a remarkable success, with the ex-midlaner racking up a 9/0/9 KDA in a 27-minute masterclass put on by the reigning LEC champions.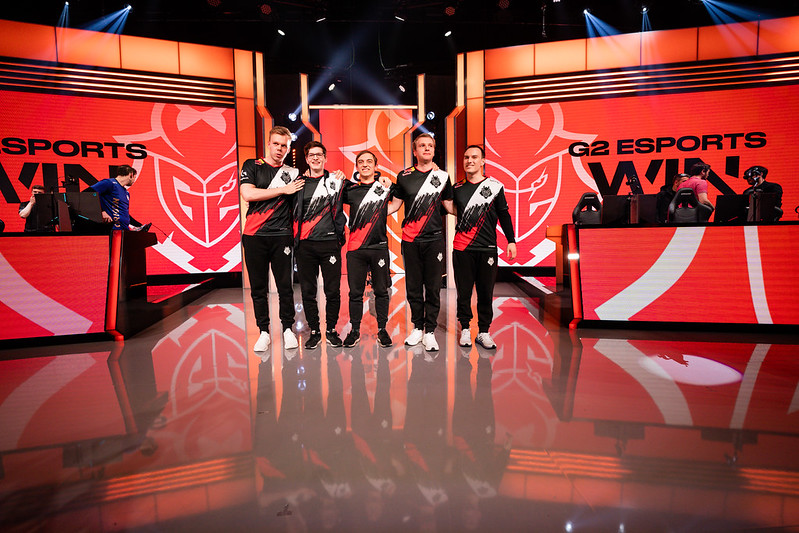 G2 Esports started off the LEC Summer Split with a win (Picture: lolesports)
With G2 opting into a mid-lane focus with weak top and bottom side picks, an early top lane towerdive freed up loose cannon Rasmus "Caps" Winther to play the roaming mid-lane style that gained him fame in his first split on G2.
His performance in the AD Carry role throughout Spring Split definitely left a little to be desired, but this game saw him at his peak; with even a CS deficit of almost 50 to lane opponent 
Marek "Humanoid" Brázda throughout the majority of the middle-to-late game proved unable to stop his oppressive presence across the map. Props are in order for jungler Marcin "Jankos" Jankowski too, with four successful dragon secures (including a clutch smite steal). 
G2 Esports vs MAD Lions highlight
What does this mean for the upcoming weeks of the LEC? Well, it's clear to see that G2 shows no signs of slowing down from their historic success. With their first game coming against such a skilled team, G2 seized an opportunity to silence their doubters from the very beginning.
However, it is unfair to say that MAD simply rolled over and died. Despite only accruing five kills and three towers throughout the course of the game, MAD showed a proactive early game that, with a little finetuning, could serve them well in later weeks of the LEC, against less storied opponents.