The final week of the LCS Spring Split ended with a definite bang, and some of the teams are still reeling from the aftermath.
We'll go through some of the craziest bits, and finish off with the bracket that will be our jumping off point for playoffs next week.
Golden Guardians snag the final spot for playoffs 
Golden Guardians, who have certainly not had the best record of the split, have clawed, bit, and scratched their way to the final spot in playoffs, beating out Dignitas after a series of tiebreakers.
For a team that went 0-2 their first week of the split, this was a huge grab for them, and the players were ecstatic. 
My first LCS game ever was on dignitas and now my first playoffs quarterfinals is going to be from beating dignitas ☺️

— Greyson Gilmer (@Goldenglue) March 30, 2020
This run has certainly been powerful for Greyson "Goldenglue" Gilmer, who has done quite a bit of his own clawing to get to a starting LCS midlane spot; having been on multiple teams that either haven't made it far to still be a team today, or benched/removed him at the first signs of trouble.
After going to Korea alone to bootcamp in 2017, he eventually found his way onto Cloud9's Academy team, where he was able to showcase his skills as substitute in the midlane during Cloud9's 2018 10th place to Semifinals at Worlds run.
And now, on Golden Guardians, Goldenglue has been able to show North America that he is worth the starting spot, and that he more than deserves it. 
Their game against Dignitas was a long one, and for a while it looked like Dignitas would win and take it all, when Golden Guardians started to find their resolve.
During a fight in the midlane, Matt "Akaadian" Higginbotham ulted in as Pantheon and almost took out Ian Victor "FBI" Huang on Varus, but his teammates were able to stop Akaadian and get the kill off on him, which turned into two more kills at around 24 minutes. 
But then, at around 41 minutes into the game, Dignitas were knee deep in fighting Baron when Golden Guardians came up from behind.
Kevin "Hauntzer" Yarnell and Goldenglue came up, and when Hauntzer ulted on Sett, Goldenglue was able to easily take out Johnson "Johnsun" Nguyen on Ashe with his Zoe.
Zaqueri "Aphromoo" Black had devoured Johnsun when the Sett ult came in, but Johnsun released it and popped out right into Zoe's Paddle Star.
From there, they were able to take Baron, pushed their way minutes later into the base, and won at around 45 minutes. 
While the 6th place spot means that Golden Guardians cannot lose another game or they will be out, there were many that doubted this team and its roster, and they've now secured a spot in the playoffs.
We hope to see good things from this team, and hopefully they perform well in their first - but we hope not last - best of five coming up. 
Evil Geniuses secure 2nd place
Evil Geniuses is another team that finds itself shocking North America.
Called "Cloud9 lite" by some of the League community on Reddit, no one was really sure where this team would end up, with a smattering of players.
You have the new rookie flavor in Colin "Kumo" Zhao, the MVP and veteran Dennis "Svenskeren" Johnsen, EU "Italian Stallion" Daniele "Jiizuke" di Mauro, Worlds Champion Bae "Bang" Jun-sik, and known shotcaller Tristan "Zeyzal" Stidam.
This ragtag group of players, however, had some struggles initially with communication due to differing playstyles. In an interview with WIN.gg after a loss to CLG early in the split, Zeyzal said: "Some players have certain habits that can be selfish for comp play. We're trying to work on those and get rid of those.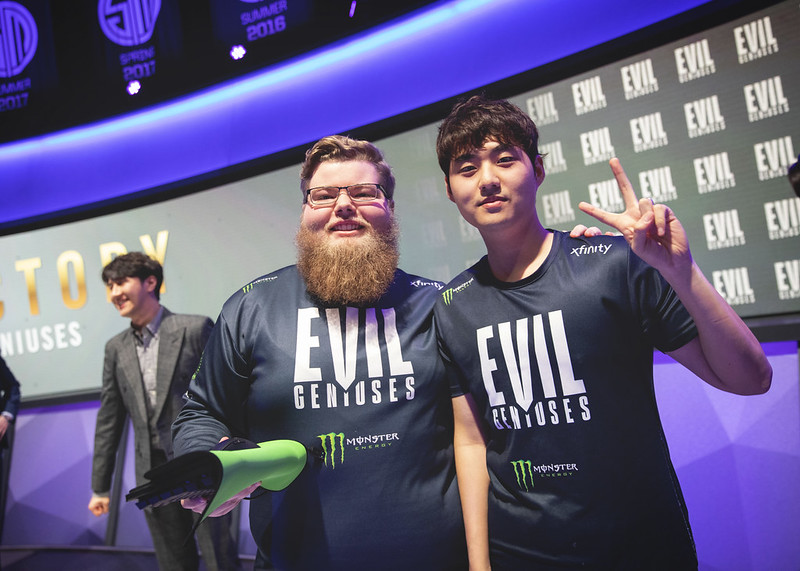 Will Evil Geniuses go all the way? (Picture: Lolesports)
"Our willingness to give up losing objectives.There was an example today, the third dragon, where we had the chance to push two lanes and two turrets but we somewhat pushed mid, somewhat pushed top… We're sometimes just on a different page from each other." 
But as the split moved forward, so did the team, and giving Jiizuke champs like LeBlanc and Ryze have helped him excel and carry, and it brought them to a tiebreaker against 100 Thieves, who had just beat FlyQuest and we're now up for second place… if they had been able to get past EG.
The game had been quite even in kills for most of the sub-30 minute game, but Svenskeren on Lee Sin and Bang on Aphelios were able to really propel this team to the win.
A fight in the river near drake at about 24 minutes found Svenskeren kicking Sun "Cody" "Cody Sun" Li-Yu and getting the shut down, while Bang chased Tommy "Ryoma" Le and shot him down right as Ryoma was using a blast cone to try and escape.
From there, they grabbed drake and moved to Baron, where another team fight broke out as William "Meteos" Hartman tried to steal Baron but was quickly deleted. EG decided not long after to move to the top lane where they were able to push into the base and take the win.
It's hard to see, despite their rough split start, how this team could not do well in playoffs with as many seasoned players; whose various playstyles have now seemed to mesh together into something pretty intense.
With a second place finish they will not play Cloud9 in the first round, which may help them in the long run. 
We are 2nd place going into playoffs never doubted 😅😅

— Svenskeren (@Svenskeren1) March 30, 2020
Team Liquid, four time defending champs, fail to make playoffs
It was their last chance for playoffs, and Team Liquid did not answer the call. By losing to Flyquest and C9, they were unable to clinch a spot, and their season is over. 
This cannot come as a shock to anyone; most expected Team Liquid to sit this out given their abysmal record this split; a fall from grace from the team that dominated and won the last four splits.
However, during this weekend, it seemed almost that the things they needed to come to fruition to make a playoff run tangible started to happen. They needed Golden Guardians to win, they did. They needed Immortals to lose, they did. The next step was to take down Cloud9, something they had always been able to do - up until now. 
The game they needed to win was certainly one for the books.
While Cloud 9 began an early lead thanks to Robert "Blaber" Huang's Olaf - who continued to quickly take down jungle camps and got himself a nice level lead over Broxah - Team Liquid were able to bounce back during a few pivotal fights around the drake pit.
Doublelift's Ashe was not only able to use Hawk Shot to constantly find players on the map, but continuous use of her ultimate made picks and began fights.
However, with Eric "Licorice" Ritchie being able to use flanks to his advantage and Yasin "Nisqy" Dinçer doing well on Rumble, Cloud9 were able to bounce back and push far into the base.
It seemed a fight for elder drake would be the game ending play, but during the move, Phillippe "Vulcan" Laflamme used his Tahm Kench ult to backdoor into the base and take the Nexus with Jesper "Zven" Svenningsen. That backdoor sealed Liquid's fate. 
This hopefully should be a wake up call for Liquid, who have time before Summer Split to figure out the issues, which seem to be way deeper than just Doublelift, or Broxah's visa, or their Academy substitutes.
Even if you take away Broxah, you have four other veterans who have been playing together fully for the last year (as Nikolaj "Jensen" Jensen" had been on Cloud9 for Liquid's first Spring and Summer split wins) and there should really be no excuses.
Is it motivation issues, due to Spring Split not having as much of an impact on getting teams to Worlds? Or is it something even deeper than that? 
At this point, no one is really sure what medicine will cure Liquid from themselves. The coming weeks hopefully will give us more insights to their next steps, and hopefully we see a better team in Summer than we did in Spring.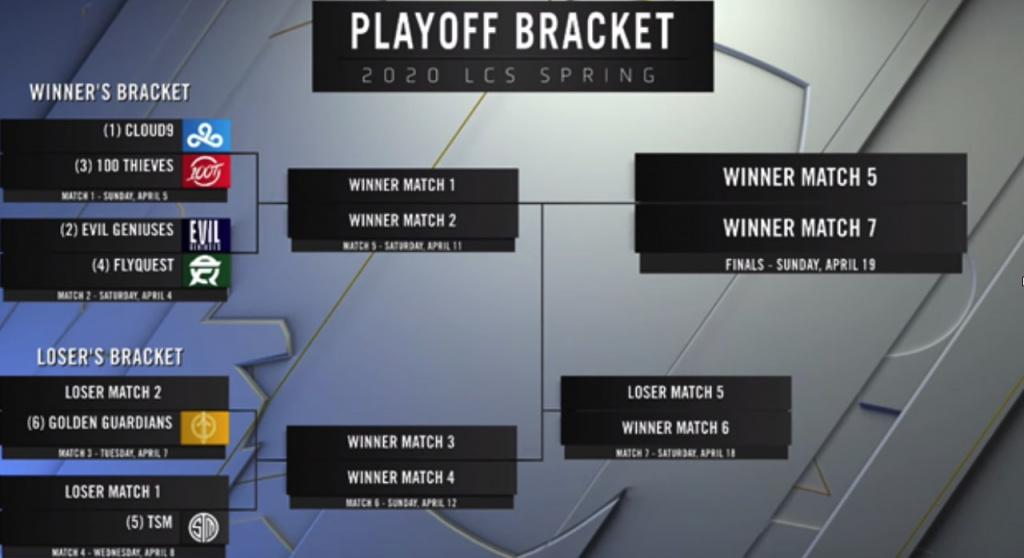 LCS playoffs bracket (Picture: Lolesports)
Here is your bracket for what to expect in playoffs. Evil Geniuses will take on FlyQuest; whoever loses there will face Golden Guardians.
Cloud9 have chosen 100 Thieves to spar with; whoever loses that match will go on to play TSM. From there we will continue forward until Semifinals on April 18th and Finals on April 19th.
Needless to say, Cloud9 fans are hungry for a finals win, and although it sure would have been sweet to have them take finals against Team Liquid, fans are likely settling for the bloodbath that removed Liquid from playoffs completely. 
Who do you think will take the wins in these games, and who do you think will reign supreme and grab that spot to go to MSI? Let's hear those answers, and stay tuned for playoffs! 
Be sure to catch more weekly recaps here on GINX TV and check out the beginning of playoffs on 4th April, at 21:00 GMT (12:00 CET / 01:00 PST). You can catch it on YouTube, Twitch, and lolesports.com.