Legends of Runeterra is set to have its first seasonal event with the start of the Spirit Blossom set to begin when patch 1.6 drops.
As explained by Riot in their detailed roadmap for the free-to-play card game, each season will have themed events that will bring special modes, cosmetic rewards, and quests to the world of Runeterra. Fans will have a lot of content to sink their teeth into the next time they log in to the servers after the patch drops.
Legends of Runeterra Spirit Blossom Lab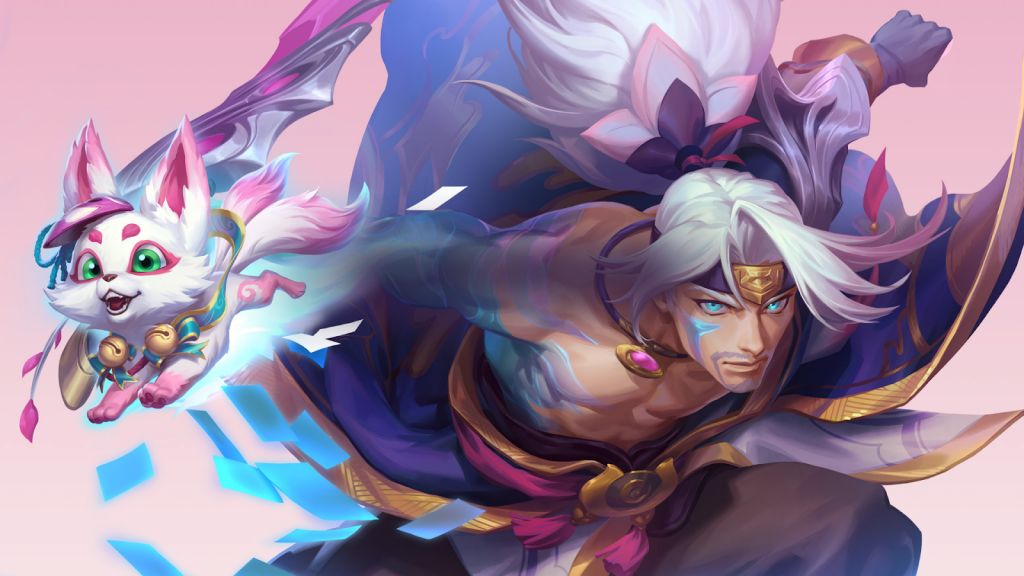 Runeterra will have tons of new content for players in the coming weeks. (Picture: Riot Games) 
Labs debuted with patch 1.5, providing a completely different experience for Runeterra adding rules that generally don't apply to the base game. The Spirit Blossom Lab will feature the following rules:
Choose one of 6 preconstructed Spirit Blossom decks
Players start the game at 30 Health
When a unit dies, its stats are conferred to a random unit in hand
Legends of Runeterra Spirit Blossom Epic Quests
More quests will be added when the patch drops, giving players a new set of challenges. Completing these quests will grant you petals, which you will need to obtain special Spirit Blossom themed rewards. Two Epic Quests will drop with patch 1.6 and a couple more will follow with 1.7.
Worth mentioning, you will also receive petals for your first win of the day (four) and subsequent victories (one).


Some of the rewards players will be able to obtain. (Credit: Riot Games)
Legends of Runeterra Event Pass
Also debuting in Legends of Runeterra is the Event Pass, a sort of general season pass to incentivise players during the Spirit Blossom event. It will set you back 975 coins (an average of $10) but will include an assortment of collectables ranging from card backs, emotes, and guardians. Here's the complete breakdown: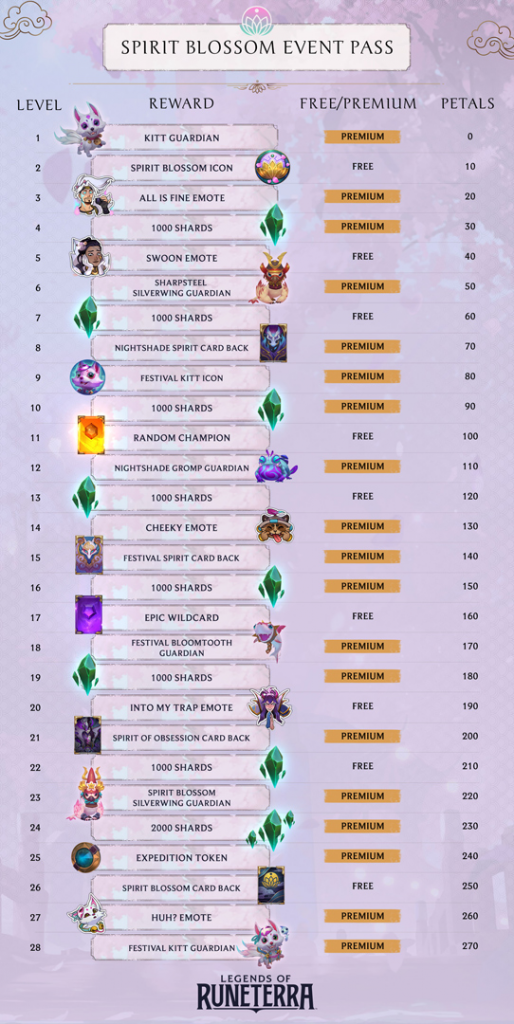 When does the Spirit Blossom Event end?
The Spirit Blossom festivities start on 22nd July at 10 am PST (6 pm BST) and end next 19th August at 10 am PST (6 pm BST).
Legends of Runeterra Patch 1.6 Balance Changes
As per usual, Riot will bring some new balance changes to the table with Champions, Spells, and Followers all being targeted. Here's the full list:
Champions:
Heimerdinger: 3-mana spells now create Mk3: Apex Turret, 4-mana spells now create Mk4: Stormlobber, 6-mana spells now create Mk6: Floor-B-Gone
Braum: Power 1 → 0. 
Braum (Level 2): Power 2 → 1
Eggnivia: Health 2 → 1
Spells:
Relentless Pursuit: Spell Speed Fast → Slow. Applies to Lucian's version too.
Flash of Brilliance: Cost 3 → 4
Steel Tempest: Cost 3 → 2. Applies to Yasuo's version too.
Will of Ionia: Cost 4 → 5
Followers:
Arena Bookie: Cost 3 → 2. Health 1 → 2
Basilisk Rider: Power 5 → 4
Crimson Disciple: Change of to "When I survive damage, deal 1 to the enemy Nexus." 
Legion Grenadier: Health 1 → 2. Change of text to "Last Breath: Deal 1 to the enemy Nexus."
Sump Dredger: Cost 2 → 3. Change of text to "To play me, discard 1 and draw 1."
Zaunite Urchin. Change of text to "To play me, discard 1 and draw 1."
Shadow Assassin: Power 2 → 1
Rivershaper: Health 1 → 2
Golden Narwhal: Cost 3 → 2. Health 4 → 3
Hunting Fleet. 5 → 4. Power and Health 7 → 6
For more info regarding the full patch notes, check out the Legends of Runeterra official blog post.