Lost Ark
is filled with many main story quests and side quests to complete and collect rewards. In addition, through the game's Sailing feature, players can extend their adventures to islands with its activities for bonus rewards.
Panda Island is one location where upon arrival, players can complete the Fragrance and Fish quest and get acquainted with the island's residents: pandas. This guide will explain how they can get to Panda Island and find the three hidden clue locations to solve the stone tablet.
How to get to Panda Island in Lost Ark?
Panda Island can be located between the Arthetine and Anikka nations. Players can sail to the island from their current location to Panda Island, where they'll arrive on its eastern side.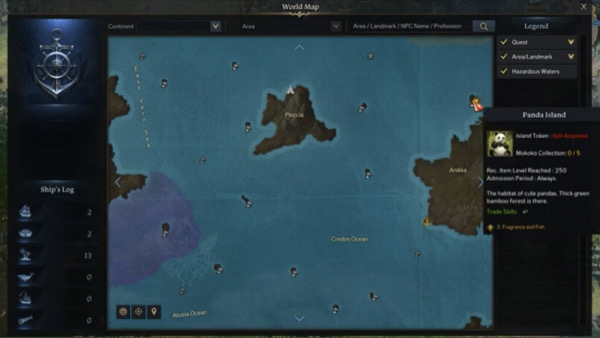 Upon their arrival, players can begin the Fragrance and Fish quest, which tasks them in finding three hidden locations on the island. These locations were inscribed on a stone tablet located on the island.
Before beginning the Fragrance and Fish quest, make sure that it's marked within the Quest Journal for the progress to be tracked and then read the stone tablet itself by using F5 or F6.
Where to find the three hidden clue locations on Panda Island?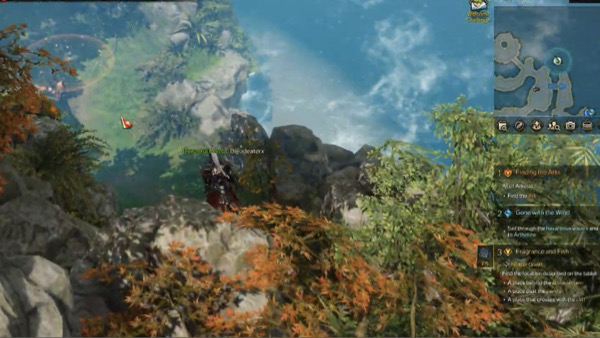 The first hidden clue location, the "place behind the stone lantern", can be found on the island's eastern side, behind a stone lantern near a secret passage. There's a little clearing before approaching the location. A highlighted circle will indicate the first hidden location, and players can then collect Mokoko Seeds in this area.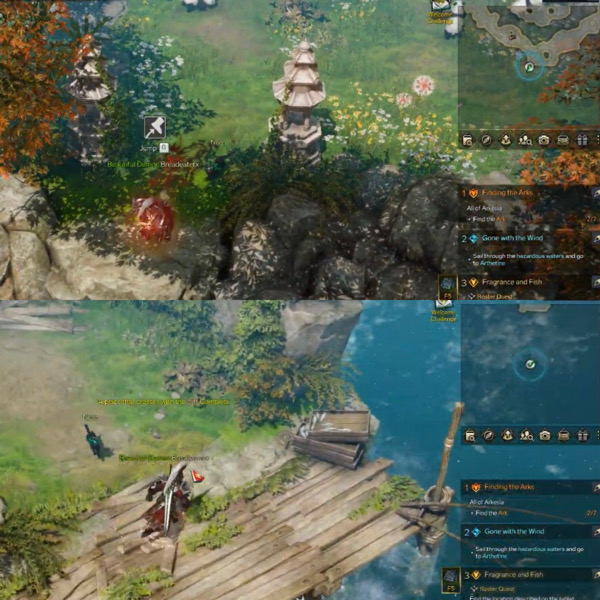 The second hidden clue location, the "place that crosses the cliff", is located at the very bottom of the island, which players will need to continue to, on foot, from their current location.
Keep an eye out for two stone lanterns before a broken bridge; you will need them to cross the bridge to the other side.
Follow the route before dropping down a cliff and crossing over to a smaller island. The second inscribed location is here, marking the "place that crosses with the cliff" clue.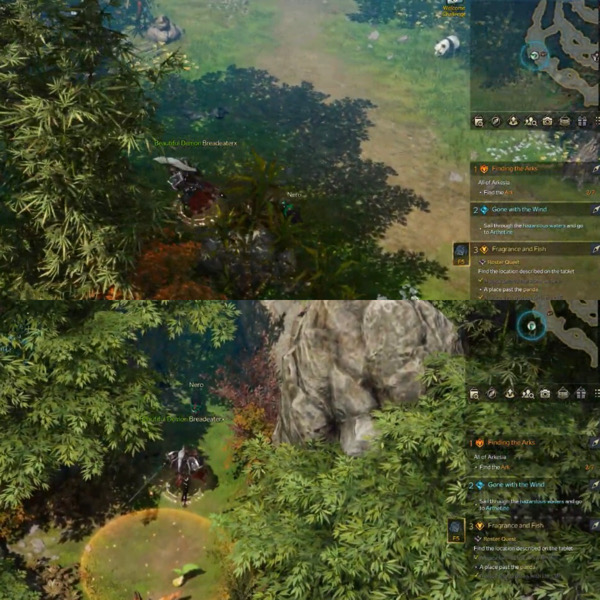 Retreat to the main island until the two stone lanterns and then head northwest from the location. Continue travelling along the pathway till you encounter a group of pandas.
Tucked away behind them is an alcove, where the hidden path will lead to the third and final clue location, "past the panda", and complete the Fragrance and Fish quest.
Completing this quest will see the following rewards earned:
Silver
Wisdom
Roster XP
Splendid Destruction Stone Fragment Chest
Lavish Guardian Stone Fragment Chest
Splendid Shard Chest
Players can use these materials much later once they've reached Level 50 and unlocked the Gear Honing system. But this completes the guide to exploring Panda Island in the quest for the three hidden locations.
We want to thank the YouTube channel, Game Guides Channel, for the complete walkthrough of the Fragrance and Fish quest in Lost Ark.
Featured image courtesy of Smilegate & Amazon Games.