Words cannot express how excited we are for the NFL to come back - coupled with the obligatory extensive
Madden
sessions obviously. 
It is without a doubt one of the most exciting sports showcasing the abilities of elite athletes which are measured in the most imaginative ways possible to create virtual replicas of their feats.
Although this transition from the real to the video game world has become one of the most sophisticated sciences it doesn't always flow as smooth as wished. With that in mind, let us review five times where controversy and disagreement was the centre of a Madden Player Rating.
RB Saquon Barkley - Madden 21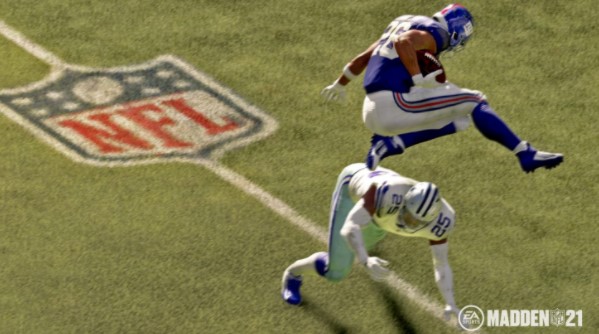 (Picture: EA Sports)

We begin with last year, as the Giants' running back was in the centre of a controversy because of his rating.
Although he was sixth in overall rating he got a BCV (Ball Carrier Vision) of 78. That meant he was listed as the 86th player in that category.
As the NFL Legend RB Barry Sanders pointed out on Twitter, there is no way that there are 85 players who see the field better than Barkley, who has electrified defences since he entered the league.
I think @EAMaddenNFL got @saquon stats about right. But you have to think about giving my man more credit on carrier vision. Hard to think of 85 men who see it better... Think I know a #RatingsAdjuster pic.twitter.com/YVn6uABtks

— Barry Sanders (@BarrySanders) July 14, 2020
QB Tom Brady - Madden 15
It is funny how we always got signals not to mess with the G.O.A.T and we just kept ignoring them.
Back in 2014, EA was caught again overvaluing a player over a Super Bowl performance (More on that later). This time it was QB Russell Wilson.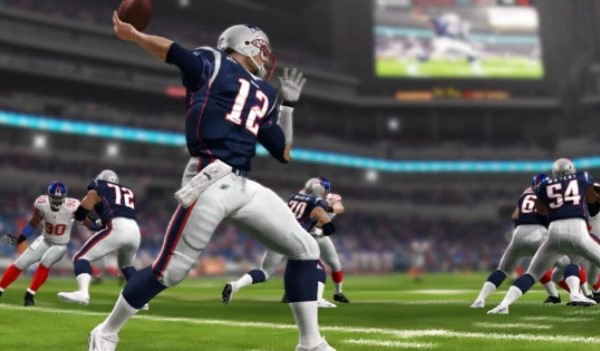 (Picture: EA Sports)
For the Madden 15 edition, Wilson ranked ahead of Brady in ratings, something that definitely turned heads. Wilson obtained worse results than Brady in every major category during the previous season, but he got the ring, so that bumped him on top.
As beautiful as destiny works, they faced each other in the next Super Bowl and Tom got the last laugh.
DE Cameron Hayward - Madden 19
This was one of the cases where the argument of EA of determining the rating based on performance fell flat.
The Steelers' Defensive End was raging after the official ratings were released and he did not figure in the top 15 of his position.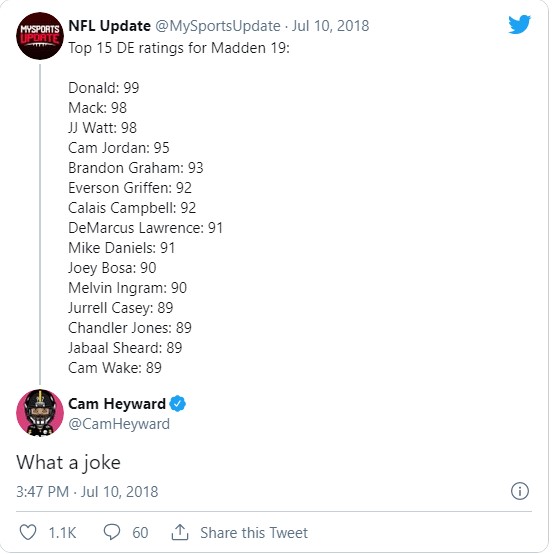 (Picture: Twitter)
He definitely had a point as he was named both All-Pro and Pro-Bowler and he even outperformed Donald in Sacks and Tackles for Loss, those two being key stats for a defensive lineman. He actually got EA to accept the error and fix the rating.
QB Peyton Manning - Madden 13
Here we encounter a moment where two things combined for one of the most memorable "passing the torch" frauds in Madden history.
Peyton was always considered the superior player, but with him sidelined for a full season with a neck injury and Eli lifting the Lombardi that same year against Tom Brady, EA thought that the younger Manning would finally take over the family legacy.
That idea aged badly. Everyone questioned those ratings upon their release and were proven right as Peyton came back to earn back to back All-Pro honours, a fifth league MVP and second Super Bowl ring. Eli never figured as an elite signal-caller again.
RB Leonard Fournette - Madden 19
2018 was definitely a difficult year to be a Madden developer. We already covered Hayward's snubbing, but Fournette took matters to a whole new level.
Unsatisfied with his overall rating, the then Jaguars' tailback ranted on Twitter about it and got an official response from EA.
I'm not sending nothing just take me off madden Period 😭😭😭😭 and let my defense not be number one on there ima send to tackle y'all ass https://t.co/RP71QMHyU7

— 7⃣ Leonard Fournette (@_fournette) July 12, 2018
They requested for Fournette to submit video proof focalizing on abilities where the score rating did not match the reality. The RB refused to submit and even asked to be removed from the game.
We are certain that this year will bring us more candid declarations from eager players about the official Madden ratings that should be published later this month and we will bring you all about it.
Be on the lookout because we will bring you the latest on Madden 22 from every release, news, MUT tips, and more.