It is normal if you have reached a point where your competitiveness has consumed a little bit of the joy of playing Madden 22 as it can feel like an endless cycle.
Fortunately, there are other game modes that can do the trick of putting the fun back in the gridiron and a great example of that is The Yard.
One of the kicks of playing there is that you can get off the traditional wearables and bring a little bit of drip to the field and you can now get Ultimate Kickoff Bundles that can ease the selection process for you.
The Ultimate Kickoff series joins The Yard with sick attires for your avatar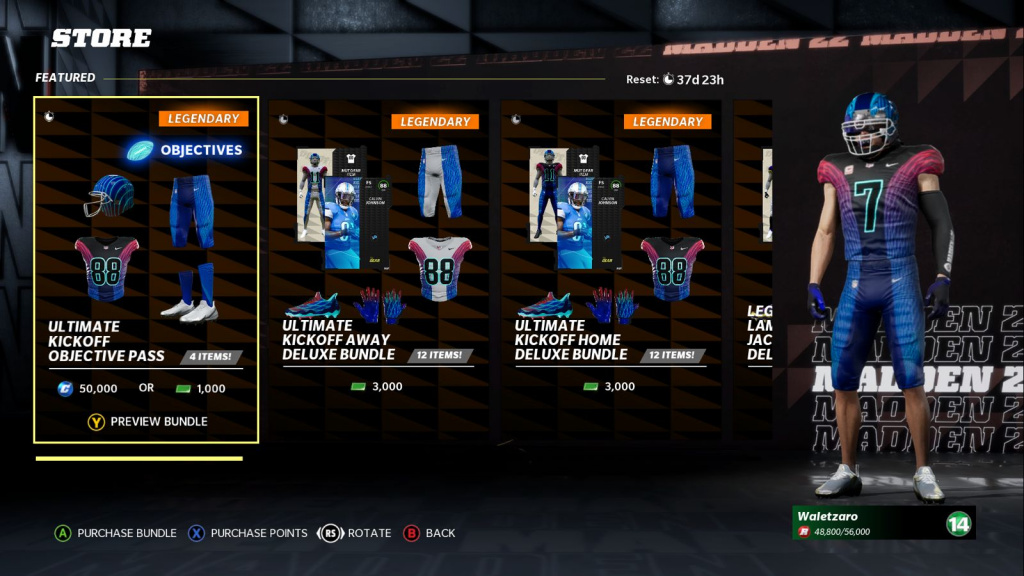 There are three options for you to grab some beautiful gear at the store:
Ultimate Kickoff Objective Pass - 50,000 Creds or 1,000 Madden points: This is the most basic bundle where you will only get the standard The Yard gear which is a helmet, tights, jersey and cleats.
Ultimate Kickoff home Deluxe bundle - 3,000 Madden points: Here we start with the same items as the last bundle but we add other 8 wearables like a mouthpiece, a hoodie or themed gloves, plus you will get the full uniform and a 88 OVR FS Calvin Johnson for Madden Ultimate Team.
Ultimate Kickoff away Deluxe bundle - 3,000 Madden points: This bundle is identical to the home version, including the MUT items as well, the only difference is that the away version has a lighter colour pallet just like the NFL uniforms.
The fourth slate of MUT Legends arrive with an all-time great at wide receiver
Speaking of Madden Ultimate Team, one of the most anticipated NFL icons has arrived at the game mode within the Legends program.
The 49ers' Hall of Famer, Jerry Rice, has arrived with all of his eliteness to Madden Ultimate Team and brought reinforcements as the lockdown cornerback Mike Haynes joins the program as well.
You will now be able to find them both in packs and at the auction house but be ready to break your piggy as they are going for over 500,000 MUT coins at the moment.
Make sure to give a look at our dedicated section as we will bring you everything you need to know about every Madden release, news, MUT tips and more.