Were you blinded, paralyzed or stunned by its majesty when you first saw Halo? If so, then you'll absolutely love this. YouTuber and Minecraft modder Reach went against all logic and reason to create a Halo ring for Minecraft, and the best part is that it actually rotates!
According to Reach, making the spinning Halo ring for Minecraft was a gruelling engineering task. Fortunately, they overcame the many challenges and ultimately brought the design to life. The ring mod was "heavily inspired by Halo Infinite's Zeta Halo" and includes nuances that Halo fans can truly appreciate.
How to get the rotating Halo ring for Minecraft
Minecraft players can download the spinning Halo ring for free via Planet Minecraft, although a few mods are required for the ring to work correctly.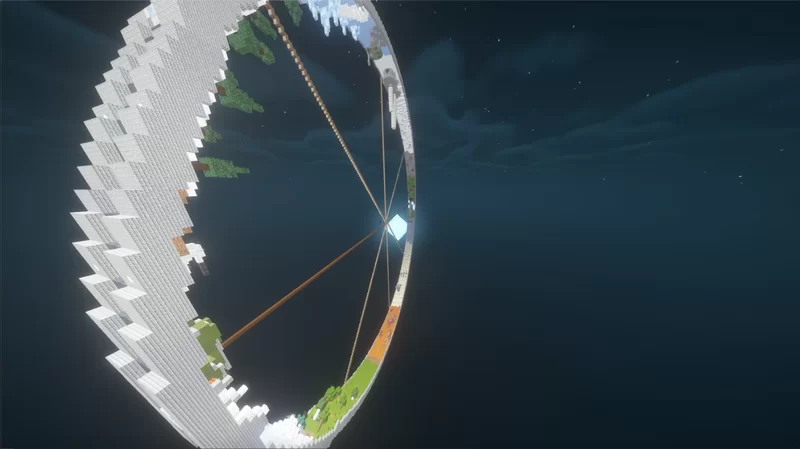 To use the map, simply follow the instructions below.
Extract the downloaded file and place the "Halo Ring Map Final" inside of the "saves" folder
Next, place the "Halo Ring Textures" inside the "resourcepacks" folder.
Ensure that you download the Create Mod and Flywheel for Minecraft 1.16 before using this map. (Requires Forge)
When spawning on the control platform, right-click the clockwork bearings to activate the ring.
Once activated, hop onto the ring, go into survival or adventure mode and live the Halo Experience.
If you're wondering what the experience might look like, Reach uploaded a video with a first-person perspective on Reddit. The ring rotates in increments roughly every 30 seconds, which may require some time to adjust.
Reach also highly recommends that Minecraft players download a performance mod, such as Optifine.
While we doubt the Minecraft world is intended for playing, it's a spectacle to behold and truly demonstrates the tremendous skill of modders and what's achievable in the game (lest we forget about the mod to play Doom in Minecraft).
You can watch the video below to learn more about how Reach built the Halo ring.
And that's it! Be sure to share some love with Reach by heading over to their YouTube channel and social channels if you enjoy their creation.
Don't forget to check out our dedicated Minecraft section for the latest news, updates, guides, leaks and more.
Featured image courtesy of Mojang and Reddit / FuriousSlayer73.