After nearly eight months in open beta, ray tracing has been added to the live branch of Minecraft on Windows 10. The update also includes support for Nvidia's proprietary DLSS 2.0 rendering technology. The ray-tracing graphical option will be available for AMD users with supported GPUs.
The first screenshots of Minecraft ray tracing were released by Nvidia in August of 2019. An open beta test was launched in April of this year and has received constant tweaks and updates. Minecraft is a cultural juggernaut, with more than 126 million active players worldwide. Images of the lighting engine quickly went viral proving that the game, ten years since its initial release, still has the ability to take your breathe away.
(Picture: Windows Central) 
Ray tracing is a digital rendering technique that produces incredibly realistic lighting and shadows. While beautiful, ray tracing is extremely resource-intensive. Minecraft's quaint art style is an ideal candidate for the innovative lighting system. Nvidia has also announced ray tracing options for other big 2020 titles, including Call of Duty: Black Ops - Cold War and Cyberpunk 2077.
Minecraft's low system strain is further aided by Nvidia's DLSS 2.0 rendering tech, which is now supported in the live patch. Deep Learning Super Sampling can reduce the number of pixels rendered by up to 75% while not impacting image quality. DLSS goes hand-in-hand with the intensive needs of ray tracing tech.
To celebrate the dynamic lighting system, two more official RTX worlds have been added. Dungeon Dash RTX by Bookworm features medieval villages and an expansive treehouse above a parkour challenge cavern.
Colosseum RTX by Banv is a lavish reimagining of the Hellenic stadium. Both worlds are built to show off the lighting. There's plenty of fire, lava, and corridors positioned perfectly for the sun to peek through.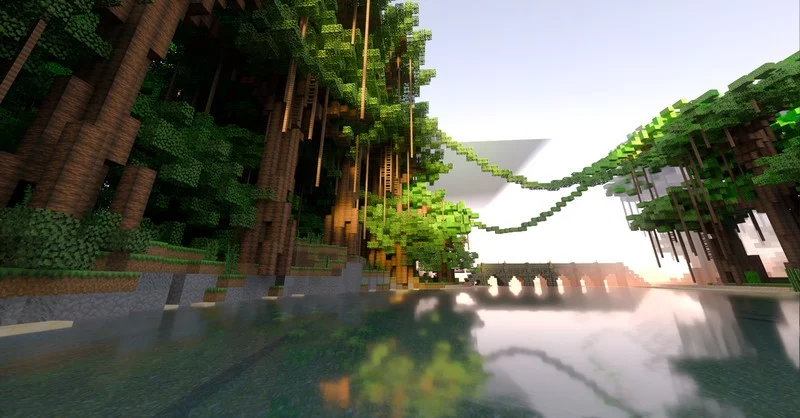 (Picture: Nvidia) 
Their inclusion brings the total number of RTX worlds to 15. Minecraft ray tracing will work with supported texture packs and on user-created worlds.