Twitch Rivals, the series of tournaments organised by the platform across a wide variety of games, decided to stage (oddly enough) a Minecraft competition.
The way it worked boiled down to teams having to complete challenges within a set amount of time, trying to fill a Bingo card as fast as possible.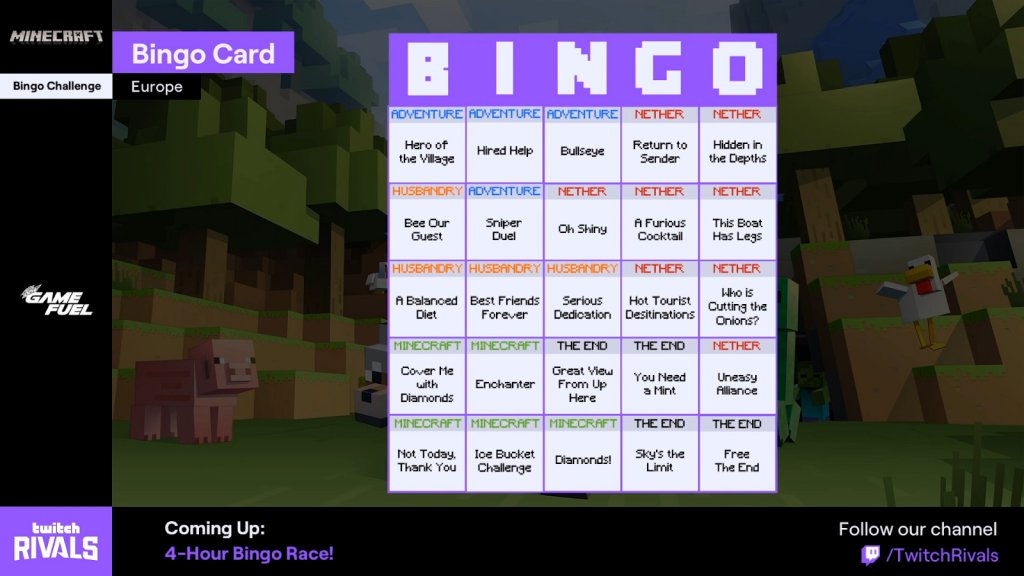 Anything can be an esport with the right twist. (Credit: Twitch)
With a plethora of invited influencers from both North America and Europe, it was unanimously agreed upon that the biggest name in the competition was Spanish streamer Rubén "ElRubius" Doblas, captain of Team Rubius, with the majority of spectators tuning to his channel rather than the official Twitch Rivals one.
ElRubius, who recently signed an exclusivity deal with Twitch, was paired alongside other Spanish streamers such as ElRich, AlexElCapo, and TheGregFG, landing a respectable third place and earning themselves $10,600 in the process.
In what was essentially a five-hour marathon, Team Rubius made it all the way to the final 20 minutes with a chance to catch up with both Team Aypierre and Team Veni, needing to complete two challenges from the Bingo card in that amount of time.
Sadly, one of the things holding back Team Rubius was the fact Gregfg has only experienced the joys of Minecraft for just a couple of months, leading to some hilarious interactions, like accidentally killing Rubius.
"Are you dumb or what? Are you dumb? F**cking hell, you better have brought food otherwise I won't forgive you for the rest of your f**cking life," Rubius said.
Of course, there wasn't really any bad blood between the members of Team Rubius, with everyone expressing their happiness at how they collectively performed
Hace unos meses no había jugado Minecraft y ahora salgo en esta foto lol.

Lo hemos dado todo y podemos estar orgullosos no solo del puesto, sino del apoyo de la comunidad.@ElRichMC, @EvilAFM y @Rubiu5 gracias por enseñarme a jugar al Minecraft. ❤👨🏻‍🦲 pic.twitter.com/zQLm6lVmnd

— Grefg =) (@TheGrefg) July 21, 2020
"A few months ago I hadn't played Minecraft and now I'm in this picture lol. We gave everything we had and we can be proud not only of our placing, but the support from the community. ElRich, EvilAF (AlexElCapo), and Rubius, thank you for teaching me how to play Minecraft," Greg tweeted out.
You can catch the VOD of the tournament over at the Twitch Rivals channel or if you're looking to practice your Spanish, check out ElRubius' stream.