Bo Burnham
delivers
. It doesn't need to get convoluted or phrased problematically, he just gets it. His latest project with a vanity logo resembling his own YouTube productions and 2014 what. special, INSIDE, comes five years after the release of Make Happy and is yet another masterpiece from the Massachusetts native.
At this point, you might've already heard about the project; that it has to do with comedy as much as it does with drama, self-awareness and society and Bo himself wrote, directed, shot and edited it -- hence going over that real quick to avoid redundancy.
Right from the get-go, INSIDE teases the viewer establishing a confusing timeline with jumpcuts to Burnham himself with long or short hair, long or short beard and in a flashing sequence difficult to set in a time or space.
This confusion plays in Bo's favour, taking the startled viewer on a journey through a single room in search of answers to questions not entirely clear.
What at first seems like a random crop of sketches, bits and ideas, you'll soon notice a detailed and thoughtful narrative that ties every minute, segment and song together even when Bo randomly ramble at times.
No one is safe as the hot takes against abusers in comedy and content creation, react videos, and even his past self, start to get going early in the special.
The infinite loop of blaming content creators for doing their job whilst we see "white men in white cloaks" and "houses burning" yet at the same time we, the audience, create content to escape from the same men and fire they are.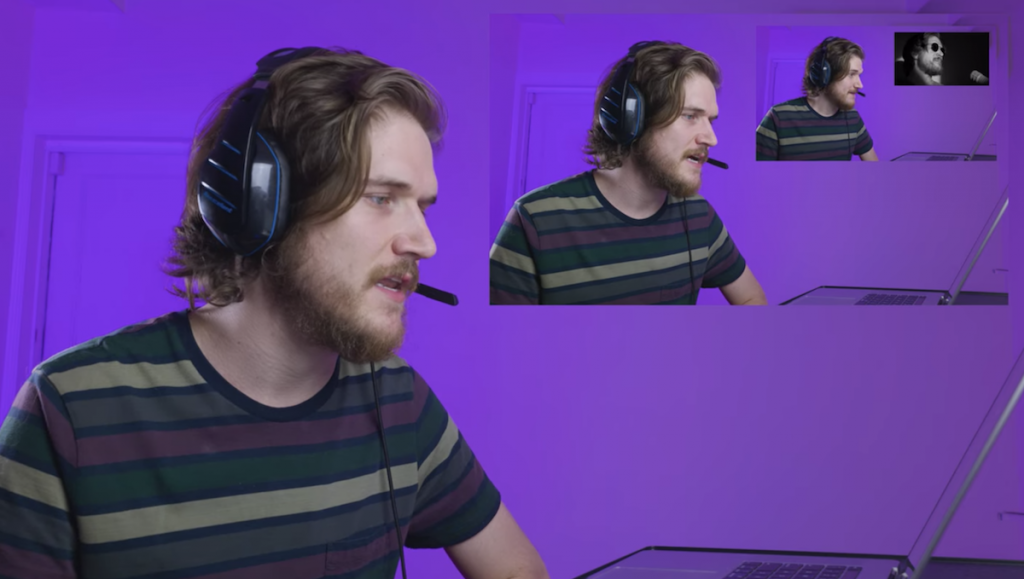 (Picture: Netflix)
Burnham isn't scared of tricking the viewer in a more than controller environment like pre-recorded media in place of his long theatre-like live comedy with birds chirping, aeroplanes zooming and fake audience laughs to make a point or segue from A to B.
The only bad thing about the special is the unripe avocado during White Woman's Instagram and who can blame him? The one-man show has his monitor appear in every other shot reminding the viewer there's a huge crew behind the now 30-year-old comic.
Some shots last longer than one expects or notices and I feel that goes underappreciated. The patience to shoot long one-takes over the course of a year is mindboggling, especially when dealing with frustrating or complicated cinematography which Bo fully explores during INSIDE.
The whole second half of the show is the mental downfall of Bo since his 30th birthday, foreshadowed by the scene where he reminisces about his past self introducing the song Problematic.
That Funny Feeling, his first guitar song in a comedy special in over ten years, really does the trick to remind the viewer this project goes beyond comedy and sets the tone for the remaining 20 minutes of the special.
The whole build-up to All Eyes on Me, the climax of the hour-and-a-half show, alternates between an outtake of Burnham trying to explain his mental state and failing to do so out of frustration and another scene of him breaking down. "I am not well."
(Picture: Netflix)
This ends up leading to the protagonist of the show -- the camera; the void. His simulated outro song including the audience's cheers, woo's and claps is reminiscing of his Make Happy outro, Can't Handle This.
Then, when the same intro music plays and he is reviewing the "final product", we get one more glimpse at Bo working, hinting at the idea of unfinished business.
The bait of him testing the take one of Goodbye then cutting back to himself with long-hair and beard is either a fast forward or backwards in time.
His second verse with the behind the scenes montage just utterly breaks my heart thinking about the solitary process of content creation, even more so during the year 2020 and the vicious circle of creating for others' distraction and distracting yourself creating.
The way music plays a major role even when the focus point is not a song but a soundtrack really wraps it all together with variations of Look Who's Inside Again during the streaming parody, of Comedy during the brand consultant bit and Content for the sponsor parody and intermission screen cleaning man.
When Goodbye reprises Welcome to the Internet, Comedy and Look Who's Inside Again leaving the viewer speechless in a first-ever for Burnham, circling back to the opening shot of Comedy with Bo sitting with his profile to the camera, now butt naked -- the biggest cliché of art and vulnerability.
The magic, however, lies in the Truman Show-esque ending, where outside was really another, even bigger inside. A never-ending stage for people pleasers and performers to put on a brave face, or at least a well-liked one for the benefit and detriment of one's self and others.
Whilst the full album is out now and several "singles" are available on his YouTube channel, as a Bo Burnham fan, this is definitely one you need to set a dedicated time and space to enjoy thoroughly, not through micro-consumptions of the whole. Trust me, it'll be worth it.
Follow me and tweet your thoughts about the review and special using @mitchmozey on Twitter, where else. Comedy.