This year's Academy Awards were a somber affair, in part due to Covid restrictions placed on attendees. But while Hollywood – like everyone – is dealing with the fallout from the pandemic, there were also moments of humor peppered throughout the evening, with the following our four favorites…
Daniel Kaluuya Embarrasses His Mum
When accepting the Best Supporting Actor award, and while talking about life, Daniel Kaluuya said: "My Mum met my Dad, they had sex, it's amazing, I'm here!" The camera was trained on Daniel's mother and sister in London at the time, and while his mum mouthed "What's he talking about?" his sister appeared to die of embarrassment.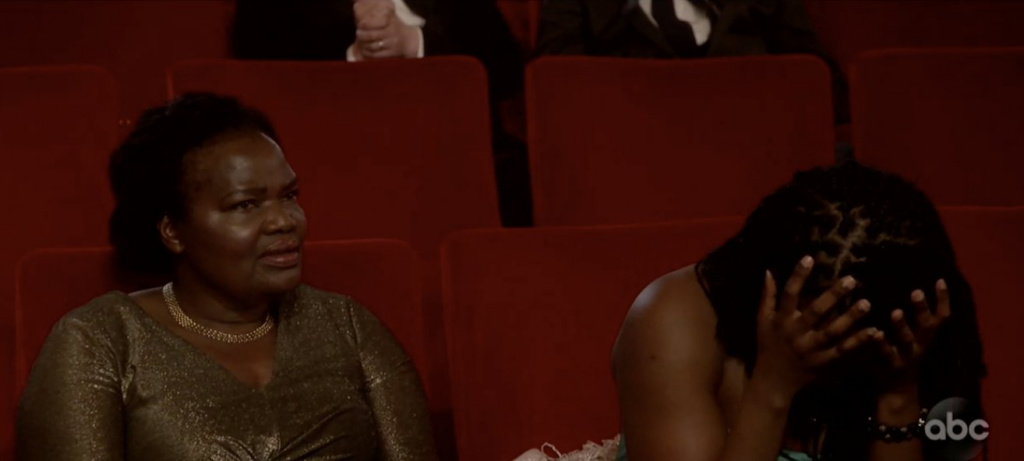 (Picture: ABC)
Best Supporting Actress Loves Brad Pitt
Yuh-Jung Youn – who was named Best Supporting Actress for her work in Minari – seemed more excited about being introduced by Brad Pitt than winning the award itself, referencing the heartthrob three times before launching into her speech.
The words that followed also charmed the audience, with Youn putting her win down to luck, American hospitality, and the fact that her two sons make her go out and work.
Questlove's Music Quiz
Oscar DJ Questlove teamed up with actor-comedian Lil Rel Howery for a quiz, playing members of the audience a song, then asking if it was an Oscar winner, nominee, or none of the above.
The game started with a guest swearing on live TV. And ended with Glen Close shaking her thing to Da' Butt from School Daze. A strange but welcome interlude. 
Blade Runner is "Deadly Dull"
While introducing the Editing Oscar, Harrison Ford read out a list of editorial suggestions sent to the filmmakers following an early screening of sci-fi classic Blade Runner: "Opening too choppy. Why is this voiceover track so terrible? He sounds drugged. Were they all on drugs? Deckard at the piano is interminable. Flashback dialogue confusing – is he listening to a tape? Why do we need the third cut for the eggs? The synagogue music is awful on the street – we've got to use Vangelis. Up to Zhora's death the movie is deadly dull. This movie gets worse every screening."
In Ford's laconic drawl, the list got big laughs.