Spiral, the new
movie
aiming to reinvigorate the Saw series, opened at No.1 at the U.S. Box Office this past weekend, proving there might yet be life in the horror franchise. The gory thriller – which stars Chris Rock and Samuel L. Jackson, and revolves around a copycat serial killer – grossed .7m from 2,811 theatres, which is low for the Saw series, but decent numbers in the time of Covid.
Spiral tops U.S. Box Office
While the first spin-off of the Saw franchise, Spiral: From the Book of Saw, or simply Spiral, topped the U.S. Box Office, Zack Snyder's Army of the Dead did disappointing numbers.
Guy Ritchie's Wrath of Man – which sees the director re-teaming with longtime collaborator Jason Statham – dropped to two, making $3.7m for a total of $14.7m.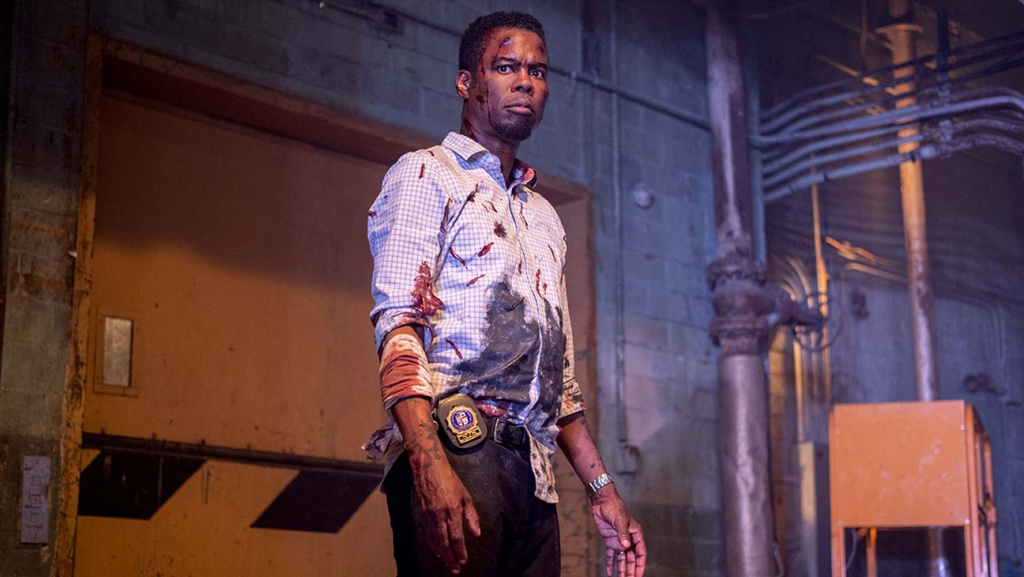 Chris Rock in Spiral (Picture: Lionsgate)
While Angelina's new action-thriller Those Who Wish Me Dead did disappointing business on its opening weekend, making just $2.8m in 3,188 screens. However, the fact that it dropped on HBO Max the same day doubtless contributed to that weak number.
Elsewhere animated flicks Demon Slayer and Raya and the Last Dragon continued to do solid business, grossing $1.77, and $1.72m respectively, for cumulative totals of $41.9m and $46.1m.
While Godzilla vs. Kong edged ever closer to the $100m mark, making $1.46m for a running total of $95m.
The only other big story was Army of the Dead, Zack Snyder's action-horror that Netflix decided to release in cinemas for seven days before dropping on the streaming service. Starring Dave Bautista as a mercenary carrying out a heist in zombie-infested Las Vegas, Variety reports that Army of the Dead made just $800k over the weekend, though that's likely because the film screened in just 430 locations. 
Next weekend looks to be another slow one at the American box office, but then Cruella and A Quiet Place Part II hit the week after, signalling the start of the summer season.
For more news on movies and TV series, check out our dedicated entertainment section.