One of the moments that everyone wishes you could freeze forever is that precise second where your favourite athlete is signing your shirt, cap, jersey or notebook as the autograph will last but that interaction is the one that sticks.
2K has wisely taken this idea and embodied it through NBA 2K22 MyTeam with the arrival of an already loved program, the Signature Series event has now landed.
With this, you can get powerful items of your favourite players while going on a hunt for this first release grand prize a Diamond 94 OVR Larry Bird.
The Signature Series has finally arrived at NBA 2K22 MyTeam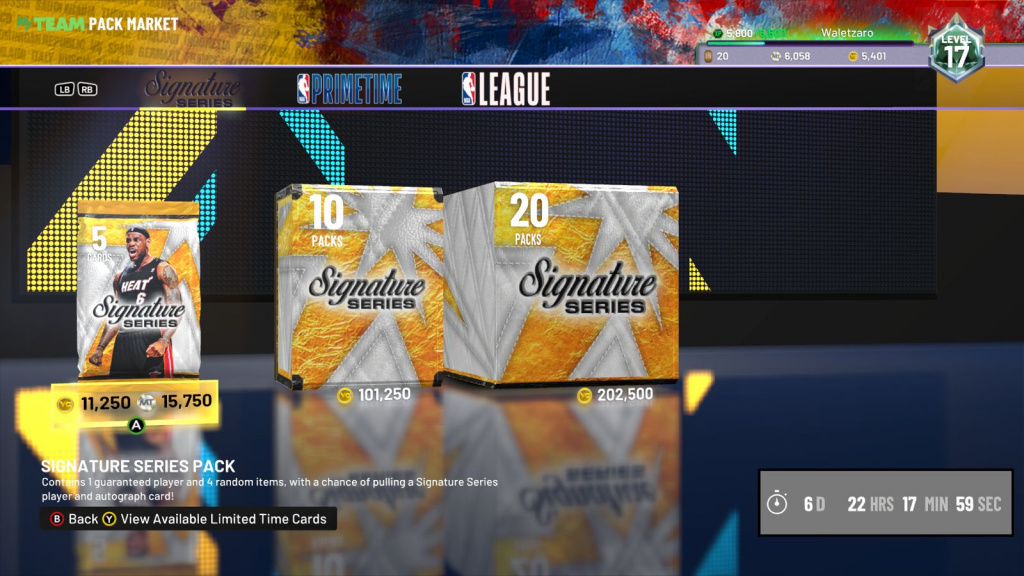 If you head onto the marketplace you can buy some Signature Series packs or bundles, each pack contains five items, one of them being a player with a chance of pulling a player from the Signature Series or limited Autograph item.
You can buy each pack individually for 11,250 VC or 15,750 MT, buy a 10-pack bundle for 101,250 VC or a 20-pack bundle for 202,500 VC, which any of those two represent a 10% savings against individual purchases.
This exclusive program has only added 6 players into the packs, each with a regular edition and an autographed edition, although the overall rating and attributes don't vary:
Diamond 93 OVR Dwyane Wade - Miami Heat
Diamond 92 OVR Lebron James - Miami Heat
Amethyst 91 OVR Blake Griffin - Los Angeles Clippers
Amethyst 90 OVR Karl Anthony-Towns - Minnesota Timberwolves
Ruby 89 OVR Rudy Gobert - Utah Jazz
Ruby 88 OVR Terrence Ross - Toronto Raptors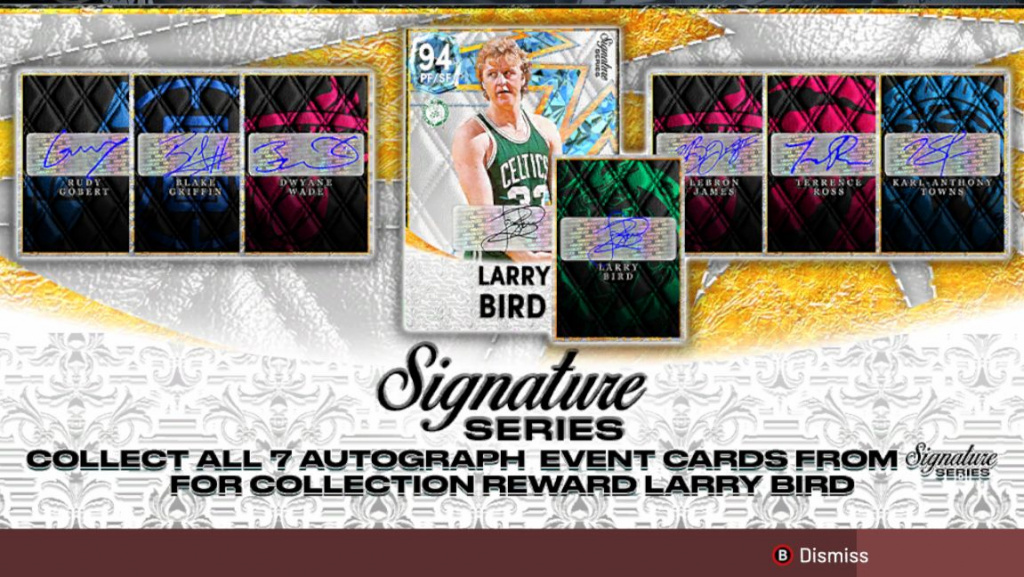 As we mentioned earlier, there is also a special event going on around the Signature Series release that involves autographs from the enshrined players.
Among the packs, you will be able to find Autograph Event Cards that you can collect and whenever you assemble all seven of them you can redeem a fantastic reinforcement for your lineup: Diamond 94 OVR Larry Bird from the Boston Celtics.
If you were to have a repeated Autograph Event Card you can go visit the auction house to try and get the other one and skip the packs' algorithm for a moment and get exactly what you needed.
In the meantime, make sure to give a look at our dedicated section as we will bring you everything you need to know about every NBA 2K release, news, MyTeam tips and more
Feature image courtesy of 2K Sports.