One of the few gameplay features players have access to in the Outriders demo is the ability to change World Tiers. 
This feature is a unique way to increase the difficulty level of the game around you while also giving you the chance to earn higher-tier loot. The lower the World Tier, the easier the enemies and the chances of acquiring a better loot drop decreases. If you decide to raise the World Tier, the enemies will increase by a certain level but the game offers you more of a chance to earn better loot. 
All in all, the system balances out quite well, as players who want to relax and have a good time can play on a lower World Tier and players who want a challenge or sweet loot can turn up the tier. However, during the demo and past release, players are still not fully understanding how to change World Tiers or even how they work. 
Changing World Tiers in Outriders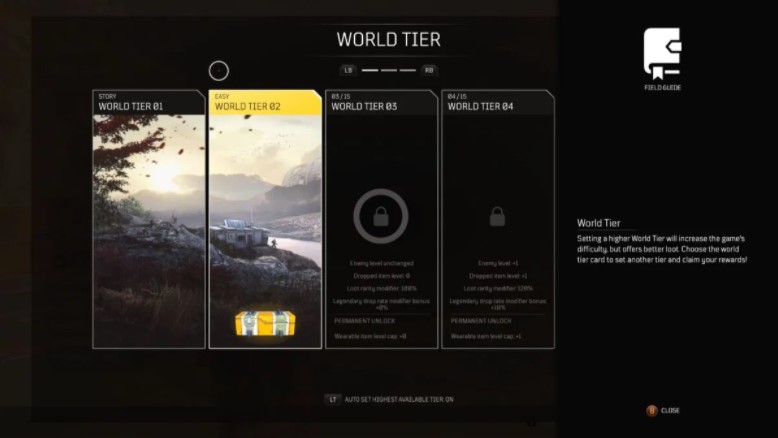 The World Tier system in Outriders. (Picture: Square Enix)
To change World Tiers, all you need to do is open the main menu by hitting "Esc" and clicking on the World Tier button. From here, you'll have a chance to scroll between all of the World Tiers you've unlocked and select which one you want to play. Each tier has a rating and an explanation of the challenge associated with it, like enemy level, the chance of better loot, etc. 
Once you've changed the tier, you don't need to do anything further. The world changes around you instantly, so the enemies will change to whatever level you set them at. 
The specifications of the World Tier system 
During the Outriders demo, there are five World Tiers. However, for the full release of the game, there will be a whopping 15 World Tiers. Each tier has to be unlocked individually through playtime but once you get to 15, you have complete access to the difficulty range in Outriders. Here's a breakdown of each World Tier. 
01 – Story
Enemy level: -2
Legendary Drop Rate:10%
Chance for higher rarity: 70%
-2 Levels to dropped items
Permanent Unlock: wearable item level cap: 0
02 – Easy
Enemy level: -1
Legendary Drop Rate: 50%
Chance for higher rarity: 90%
-1 Level to dropped items
Permanent Unlock: wearable item level cap: 0Rewards for unlocking: Accolade, Resource Pack (Scrap)
03 – Normal
Enemy level unchanged
Legendary Drop Rate: 100%
Chance for higher rarity: 100%
0 Levels to dropped items
Permanent Unlock: wearable item level cap: 0
Rewards for unlocking: Accolade, Resource Pack (Scrap)
04 – Hard
Enemy level: +1
Legendary Drop Rate: 150%
Chance for higher rarity: 105%
+1 Levels to dropped items
Permanent Unlock: wearable item level cap: +1
Rewards for unlocking: Accolade, Unusual Gear (Weapon)
05 – Expert
Enemy level: +2
Legendary Drop Rate: 200%
Chance for higher rarity: 110%
+2 Levels to dropped items
Permanent Unlock: wearable item level cap: +2
Rewards for unlocking: Accolade, Rare Gear (Weapon)
06 – Master
Enemy level: +3
Legendary Drop Rate: 250%
Chance for higher rarity: 115%
+3 Levels to dropped items
Permanent Unlock: wearable item level cap: +3
Rewards for unlocking: Accolade, Rare Gear (Weapon)
07 – Legend
Enemy level: +4
Legendary Drop Rate: 300%
Chance for higher rarity: 125%
+4 Levels to dropped items
Permanent Unlock: wearable item level cap: +4
Reward for unlocking: Accolade, Resource Pack (Iron)
08 – Immortal
Enemy level: +5
Legendary Drop Rate: 350%
Chance for higher rarity: 135%
+5 Levels to dropped items
Permanent Unlock: wearable item level cap: +5
Reward for unlocking: Accolade, Rare Gear (Weapon)
09 – Frantic
Enemy level: +6
Legendary Drop Rate: 400%
Chance for higher rarity: 145%
+6 Levels to dropped items
Permanent Unlock: wearable item level cap: +6
Rewards for unlocking: Accolade, Resource Pack (Iron)
10 – Impossible
Enemy level: +7
Legendary Drop Rate: 450%
Chance for higher rarity: 155%
+7 Levels to dropped items
Permanent Unlock: wearable item level cap: +7
Rewards for unlocking: Accolade, Epic Gear (Weapon)
11 – Inferno
Enemy level: +8
Legendary Drop Rate: 500%
Chance for higher rarity: 165%
+8 Levels to dropped items
Permanent Unlock: wearable item level cap: +8
Rewards for unlocking: Accolade, Resource Pack (Titanium)
12 – Torment
Enemy level: +9
Legendary Drop Rate: 550%
Chance for higher rarity: 180%
+9 Levels to dropped items
Permanent Unlock: wearable item level cap: +9
Rewards for unlocking: Accolade, Epic Gear (Weapon)
13 – Nightmare
Enemy level: +10
Legendary Drop Rate: 600%
Chance for higher rarity: 200%
+10 Levels to dropped items
Permanent Unlock: wearable item level cap: +10
Rewards for unlocking: Accolade, Resource Pack (Titanium)
14 – Insanity
Enemy level: +11
Legendary Drop Rate: 700%
Chance for higher rarity: 225%
+11 Levels to dropped items
Permanent Unlock: wearable item level cap: +11
Rewards for unlocking: Accolade, Epic Gear (Weapon)
15 – Madness
Enemy level: +12
Legendary Drop Rate: 800%
Chance for higher rarity: 250%
+12 Levels to dropped items
Permanent Unlock: wearable item level cap: +12
Rewards for unlocking: Accolade, Legendary Gear (Weapon), Resource Pack (Titanium)