Korean esports organization Gen.G has opted to suspend former Overwatch pro turned content creator Ryu Je-hong, commonly known as Ryujehong, after his sexist rant during a drunk stream.
In a statement shared via social media by Arnold Hur, Chief Operating Officer and Co-President of the org, it was revealed that the former Lunatic-Hai, Seoul Dynasty, and Vancouver Titans flex support will be suspended "until further notice."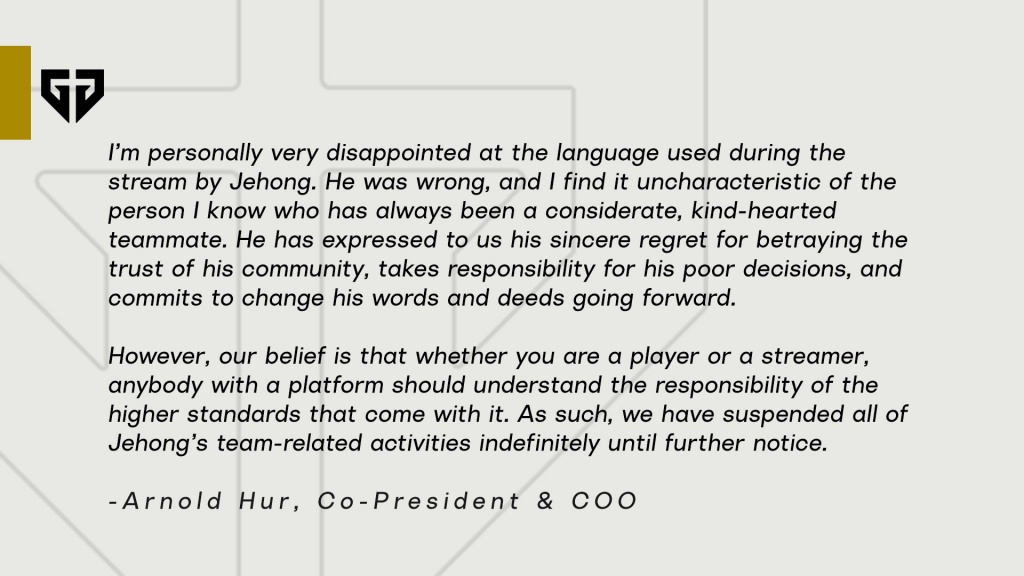 (Image: Gen.G)
Arnold describes the situation as "disappointing" and "uncharacteristic" of a person that's always been a "considerate, kind-hearted teammate."
During Jehong's drunk tirade, the 29-year-old berated a female co-streamer that was broadcasting alongside him, describing her as a "bitch" and a "gold digger" at multiple points of their conversation.
Not only that, but Ryujehong also used a derogatory term to mock the feminist movement, by calling them "megals," a particularly insulting word within South Korea.
Jehong would eventually issue an apology, however, he heavily implied no instances of misogyny would not be censored on his stream, as he desires to foster a place that's open to conversation and embraces "streamer memes."
It remains to be seen if Jehong will eventually come back to Gen.G or if the organization decides to cut ties permanently.