Seth McFarlane's American Dad has been on the air since 2005, with over 17 seasons worth of episodes, it's perhaps no surprise that the eventually turned their satirical eye to the world of esports - with the latest episode featuring the Overwatch World Cup.
In the episode titled "Brave N00b World", Stan Smith, is tasked with infiltrating an Overwatch tournament to take down the head of North Korea's nuclear program, General Kim.
Deputy Director Avery Bullock (voiced by Sir Patrick Stewart) continues explaining that the North Korean likes to attend esports events in Hong Kong, showing a real Overwatch match between the United Kingdom and Sweden, which took place this past World Cup.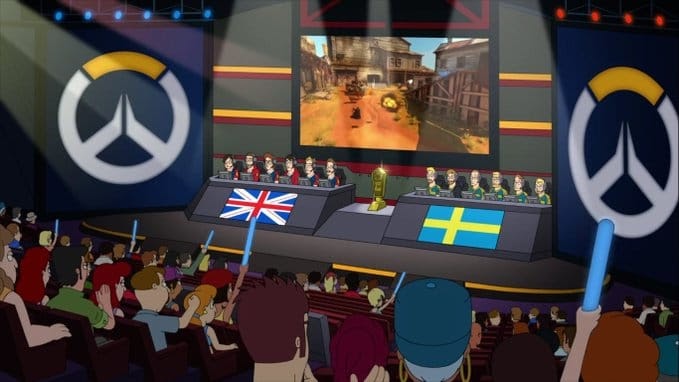 Sweden would end up taking the set 2-1 in real life (Picture: TBS)
Stan Smith then heads to Hong Kong undercover as an "teenage gamers" in an attempt to reach the final of the prestigious tournament and take out the "total poser" General Kim, he doesn't go alone though, bringing his son and "a sh*t load of mango vape juice".
We won't spoil anything, but if you are a fan of the show or esports in general it's a must watch.
This isn't the first time Overwatch has hit the mainstream. Netflix's One Day at a Time features a character that's an avid esports follower, more specifically, a fan of the Los Angeles Gladiators from the Overwatch League.
Robot Chicken also parodied gamer stereotypes with a hilarious Overwatch short featuring characters like Bastion and Widowmaker.
An even more subtle reference happened back in 2016 in Marvel's Agents of Shield. During the episode "Let Me Stand Next to Your Fire," an Australian Inhuman called Hellfire shared similar quotes to Junkrat.
Sharing more than a birthplace, the Aussie villain presented as a "demolitions expert" uttered phrased like "stop me if you've heard this before," or "I'm on fire, well, little more than usual," making the connection crystal clear, as these are all lines used in the game.
At one point, he even uses a croquet ball as a weapon, acting to Junkrat's ammo.
Jemma Simmons, the character played by British actress Elizabeth Henstridge also paid tribute to Overwatch's mascot, Tracer, albeit with even more nuance, using simple phrases like "you've got it," "nailed it," and "just in time."
This was all verified by Matt Owens, the writer of the episode via Reddit: "Can confirm the references. A couple of Tracer ones too from Simmons. Subtle ones cause her quotes would be too obvious to sneak in. Hooray crossover!"
Don't miss out on anything Overwatch related, including the return of the Competitive Open Queue set for June.