A new era for the PUBG community has begun, as players can now be part of the global release of the next instalment in this franchise, PUBG: New State.
As part of its Global Launch Celebration, the developers of this new title at Krafton, Inc. have put together a whole host of events to get players started, with some sweet loot to kick off their journey, in the near-futuristic maps of Troi and Erangel 2051.
Let's check out all events you can take part in PUBG: New State.
Launch-Day Welcome Gifts
Uuntil 5th January 2022, all players who enter PUBG: New State will have the chance to enjoy a series of welcome gifts, just by logging into the game for the first time.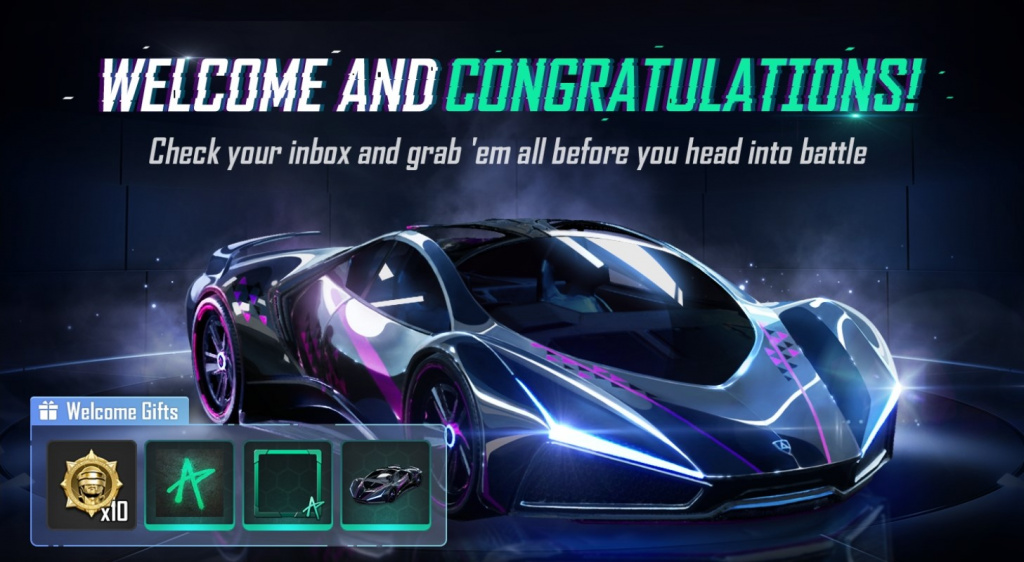 These rewards can only be obtained once per account, and even if you didn't pre-register for the game's launch, you will also be eligible to receive all of them.
Takion TR1 (Vehicle Skin)
New State Profile Icon
New State Profile Frame
10 Chicken Medals
Global Launch Event
Following the same schedule as with the previous one, each day you log in, you'll unlock a new reward to add to your collection.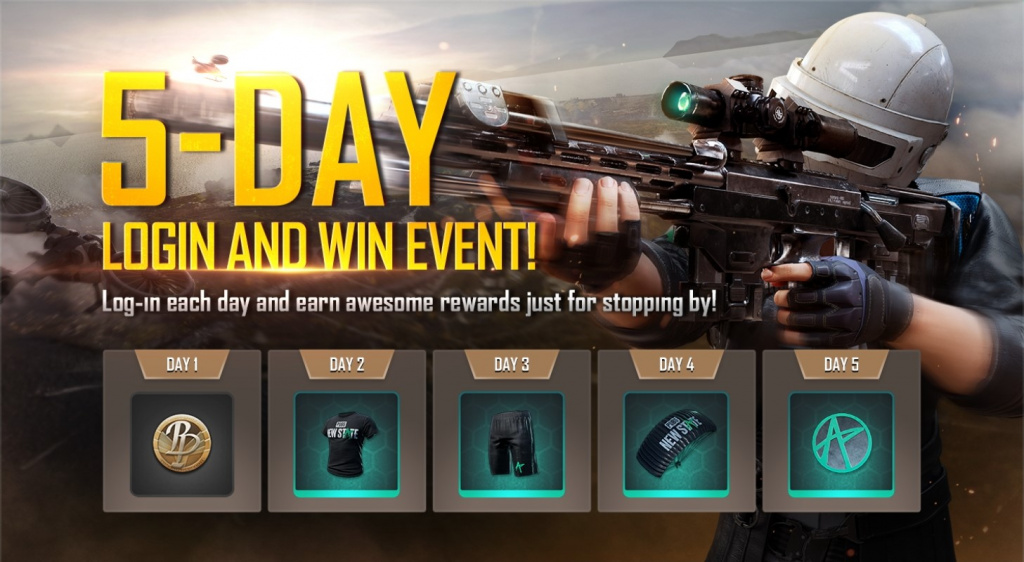 There are 5 great prizes to receive overall, so keep coming back into the game to collect them all.
1st day: 1,111 BP
2nd day: New State Logo T-shirt (Black)
3rd day: New State Logo Pants (Black)
4th day: New State Logo - Parachute
5th day: New State Patch
New rewards will be unlocked at 12 am (UTC+0) until all five are claimed successfully.
Pre-Season Login Event
This daily login event will be active from now until 1st December.
As you may have guessed, you only need to log in for multiple consecutive days during the event period and claim a great new reward each day.
1st day: Hydrodip - Parachute
2nd day: 1 Chicken Medal
3rd day: 1 Chicken Medal
4th day: 1 Chicken Medal
5th day: 1 Chicken Medal
6th day: 1 Chicken Medal
7th day: Cosplay Band Crate Ticket
8th day: 1 Chicken Medal
9th day: 1 Chicken Medal
10th day: Cosplay Band Crate Ticket
New rewards will be unlocked at 12 am (UTC+0) until all of them are claimed successfully or the event ends.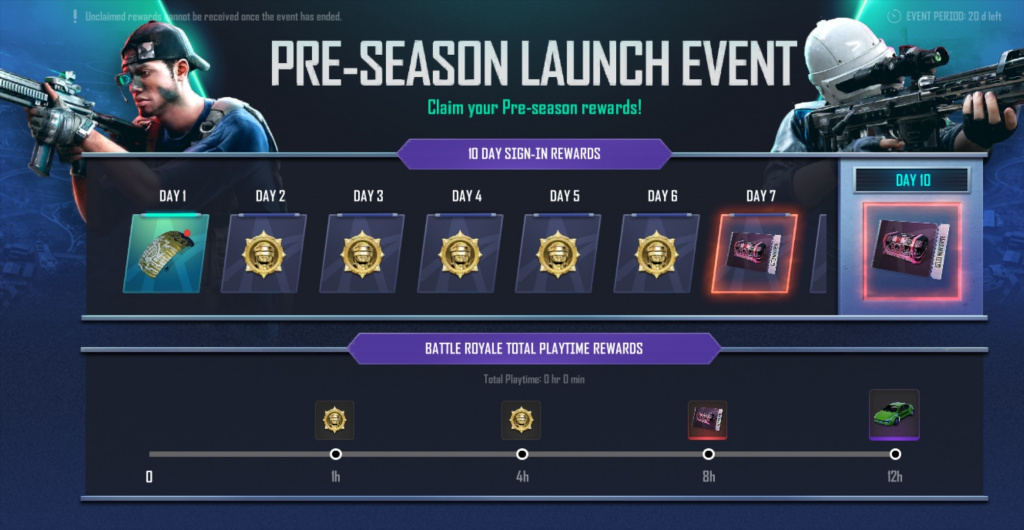 Pre-Season Play Event
For all those players coming from the original mobile game, and also those who want to brush up on their skills and get ready for Season 1, your first hours spent in its classic BR Mode will be compensated.
By logging in for a certain number of hours, you will receive some awesome rewards and a new vehicle skin for your collection.
1 hour: 1 Chicken Medal
4 hours: 1 Chicken Medal
8 hours: Cosplay Band Crate Ticket
12 hours: Spring Green - Volta
These rewards will be available until 1st December.
Invite Friends Event
Last but not least, you will also experience #NEWSTATESTYLE with twice the fun and twice the rewards, by inviting your friends to join you on the battleground by sending them a personalized link.
For every friend that uses the link, you'll get some extra rewards.
1 person: #NEWSTATESTYLE Emote
2~20 people: 1 Chicken Medal
All new users must register using the personalized link, launch the game and create a character to count as an Invited Friend for this event.
This will be active until 5th January 2022.
You can also get some daily rewards through the Daily Roulette, which lets you win either BP or Chicken Medals once every day. Simply log in and spin away, and your new rewards will be automatically added to your in-game inventory.
PUBG: New State is now available for Android and iOS devices.
Stay tuned to our dedicated PUBG section for news about the franchise, including PUBG: New State, as well as guides and much more.
Featured image courtesy of Krafton, Inc.