Togepi is a mainstay in the Pokémon franchise. It's been featured in nearly every title since Generation I, where it made its debut. This has remained the same in Pokémon Legends: Arceus, as Nintendo has yet again included Togepi in the new Hisui region. 
The egg Pokémon has gotten several updates over the years, including some evolutions that can make it one of the most powerful Pokémon in any region. Before you can think about acquiring those forms in Pokémon Legends: Arceus, though, you need to know where to catch Togepi. Below, you can find the answer to that question and add Togepi to your party and your Pokédex. 
Catch Togepi in Pokémon Legends: Arceus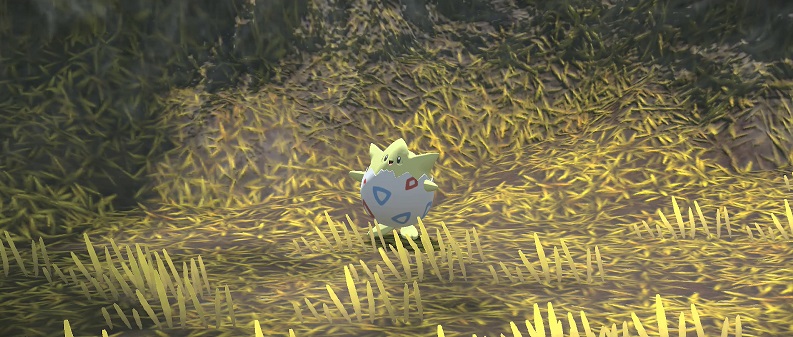 Togepi can be caught in two different locations on the Legends: Arceus map. Those locations are laid out below: 
Cottonsedge Prairie - Crimson Mirelands 
Bathers' Lagoon and Tranquility Cove - Cobalt Highlands 
You gain access to Crimson Mirelands first, so that's likely the easier place to catch Togepi. You can find it roaming around Cottonsedge Prairie in this region. It might take a couple of visits to the location in order for Togepi to spawn, as it's considered a rarer encounter than other Pokémon that can spawn here. 
Some players have claimed that Togepi can only spawn in the morning in either of its two possible locations. However, this has not been confirmed by any official sources, so players should go about trying to catch Togepi as normal until that information is confirmed. It still might be easier to try and catch the Pokémon during the morning time, though. 
Once you've caught Togepi, you can also look for its evolutions, Togetic and Togekiss. Togetic can be found in the same locations as Togepi, so you could find both Pokémon at the same time if you're lucky enough.
Togetic can also be found at Bolderoll Shop if you're ever near there. Togekiss, on the other hand, can only be caught at Lake Verity in Obsidian Fieldlands. 
The Togepi line is quite useful in Pokémon Legends: Arceus, with Togekiss being a force in battle. However, if you're just looking to fill out your Pokédex, you now know where to find all three of the mons in the line. 
Featured image courtesy of Game Freak.