There are many Pokémon in
Pokémon Brilliant Diamond and Shining Pearl
that players don't think of using for a standard playthrough. Aipom is one such Pokémon, as it doesn't possess any eye-grabbing stats or a unique typing. It's a standard Normal-type but has been a popular mon thanks to its appearance and cameo in the Detective Pikachu film. 
Players can catch Aipom rather easily in Pokémon Brilliant Diamond and Shining Pearl. However, evolving it doesn't just require a level to be met. Instead, players need to teach Aipom a specific move for it to evolve into Ambipom. 
Evolving Aipom in Pokémon Brilliant Diamond and Shining Pearl
In order to catch Aipom, you can walk in the tall grass of Route 213, search Honey Trees or head into the Grand Underground. Either one of these locations can spawn Aipom at any given time during your playthrough of Pokémon Brilliant Diamond or Shining Pearl. The Aipom in the Grand Underground will appear at around the same level as your team, though. 
If you want to evolve Aipom as easily as possible, you want to catch it before it reaches level 32. Once it's at level 32, it learns the move Double Hit, which is the prerequisite for it to evolve into Ambipom. After it learns Double Hit and levels up, it will evolve.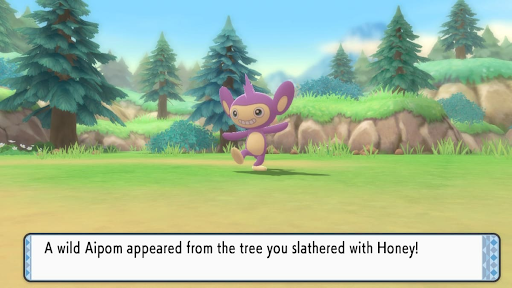 If you catch an Aipom that doesn't know the move, you will need to go to the Move Relearner in Pastoria City and bring a Heart Scale. This is the only way to reteach Aipom the move. 
After Double Hit is learned, an Ambipom will be yours in Pokémon Brilliant Diamond and Shining Pearl. 
Be sure to check out and follow our dedicated Pokémon section to get the latest news, guides, leaks, update announcements and more.
Featured image courtesy of Nintendo / The Pokémon Company.