In a Nintendo Direct presentation released on Thursday 26th March, Nintendo released a new trailer and details for the
first Pokemon Sword and Shield expansion pass
Isle of Armor.
Set to be released in June, the first Pokémon Sword and Shield expansion will give the final evolutions of all the Generation eight starters a Gigantamax form - who will all have their own special moves.
The Gigantamax form of Rillaboom, who sits atop an incredible wooden drum kit, will have a grass-type move called G-Max Drum Solo, which will ignore your opponent's abilities.
Cinderace will be able to use fire-type G-Max Fireball, which is described as an "extremely powerful move where Cinderace will use its strong legs to kick a gigantic fireball at the opponent, causing an explosion when the fireball hits."
The official description adds: "This move is more powerful than other Max Moves and can also ignore any effects of the target's Ability."
Inteleon meanwhile will have water-type G-Max Hydrosnipe, where the Pokémon takes aim from a high tower "gathering water at its fingertip before blasting it at the opponent".
Like all the G-Max moves listed, this will also ignore the target's ability.
Rillaboom - G-Max Drum Solo
Cinderace - G-Max Fireball
Inteleon - G-Max Hydrosnipe
The Nintendo Direct also showed off new fighting-type mythical Pokémon Kubfu similarly available in the first expansion pass, who is given to players so they can take part in challenge the Towers of Two Fists.

Kubfu is the new mythical Pokemon (Picture: Nintendo)
Players have to choose whether to battle with Kubfu either in the Tower of Waters or Tower of Darkness which, when completed, will see Kubfu evolve into Urshifu with moves specific to the tower you chose.
If you decide to battle in the Tower of Darkness, your Urshifu will adopt Single Strike Style, while the Tower of Waters will give Urshifu Rapid Strike Style.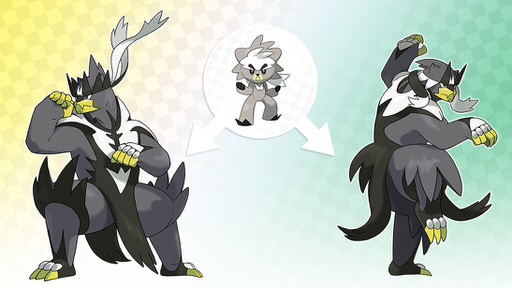 There's two alternate versions of Urshifu (Picture: Nintendo) 
There'll also be new trainer outfits and league card designs available in the pass, offering more character customisation. If you purchase the expansion pass before 31st August, you'll also receive a bonus outfit with a sword and shield theme.
It wasn't the only announcement in the Nintendo Direct, with the next DLC character for Super Smash Bros. Ultimate also revealed. 
The Pokémon Sword and Shield first expansion pass is set to be released before the end of June, while the second pass, The Crown Tundra, will release in autumn 2020.