Trading cards have been a key pillar of the Pokémon franchise for 25 years, sparking collector hysteria and a competitive game that's grown in sophistication since 1996.
While there's many who have collected Pokémon cards at some point in their lifespan, not everyone has delved into the trading card game (TCG). It's a scene which is part of the Pokémon World Championships every year and has smaller regional events too, alongside the video game championships (VGC) and Pokken Tournament DX. 
With an overwhelming amount of influencers now unboxing Pokémon cards following Logan Paul's viewership success, there's a chance the TCG could be on the receiving end of renewed interest too. So if you're looking to play the game, here's the best places to start and what decks you should be buying. 
1. Download and play TCG Online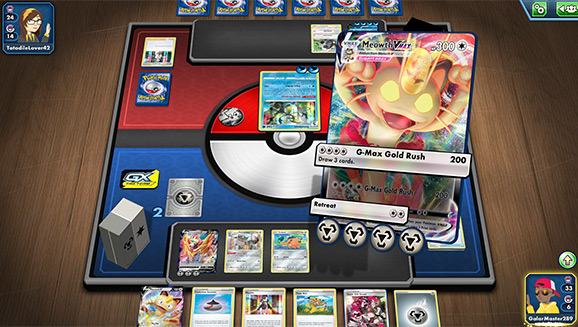 TCG Online is the best starting point (Picture: The Pokemon Company) 
Pokémon Trading Card Game Online (TCGO) is the online version of the trading card game that's free to download and play on PC, Mac along with Android and iOS tablets. This is the best way to learn the basics and play the game without laying down any financial investment (which is the main way pro players are keeping up to speed during the pandemic).
Once you earn 500 coins by logging in each day and playing matches, you'll be able to use them to purchase a theme deck — some of which are excellent ways to learn the different mechanics of the game. For early starters, it's recommended to try out Charizard's Relentless Flame deck and Dragonite's Soaring Storm deck. These themed decks have their own competitive ladder within TCG Online too, so you can train against people who have a similar deck level. 
2. When it comes to building a deck, don't be afraid to copy
While not essential to playing TCG, like other card games, there might be a point when you'll consider assembling your own deck to form unique strategies. It can be overwhelming at first, especially as newer decks like Sword and Shield and Darkness Ablaze have shifted the meta significantly over the past year.
The easiest way to assemble decks is by playing around with different strategies already out there. On TCG site Limitless, there's lists of past decks used in competitive tournaments, along with a breakdown of its popularity over time and how successful it's been in tournaments.
"There's nothing wrong with copying people's deck lists," Chip Richey, US TCG player and caster, tells GINX Esports TV. "It's very common in Pokémon TCG to share deck lists and you can copy a list that did well at a tournament and make your own adjustments."
3. What are the rules for forming a TCG deck?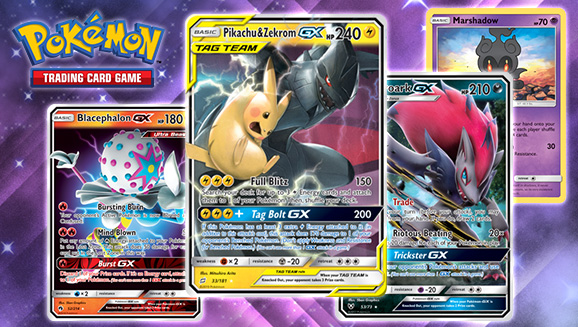 There's a variety of decks to mix and match (Picture: The Pokemon Company) 
Pokémon TCG decks are comprised of 60 cards total, split between the three different kinds of card available; trainer, energy and Pokémon. While there's no restrictions on how many of each card you should include, it's generally recommended for beginner's to go for an even split of 20 cards from each category. 
The rules stipulate there should be no more than four cards of the same name within your deck, outside of energy cards. This also applies across cards from different decks, so having multiple Pikachu's with different artwork still adds to your 'Pikachu' card total. This doesn't apply though to variations like Tag Team cards, like Pikachu and Zekrom GX for example.
Much like any Pokémon game ever, you'll want to balance your deck to anticipate and counter type strength and weaknesses. A common strategy is having opposing types, like water and electric, to account for any weaknesses you may face. 
You can find a full breakdown of Pokémon TCG rules here. 
4. Watch TCG personalities on Twitch and YouTube
A great way to keep up to date with the Pokémon TCG meta, while getting involved with the community, is by watching others on YouTube and Twitch.
There's plenty of content creators out there, with many pro players like Pedro "Sininchi" Torres streaming on Twitch regularly, and also offering coaching sessions. On YouTube, the likes of Omnipoke and TrainerChip offer comprehensive deck breakdowns.
One of the most popular Pokémon TCG streamers today is Trickygym, who features pro TCG play, deck analysis and tournament vlogs from his own runs too. 
There's even official guides too from The Pokemon Company, which breakdown tips on using certain decks. 
5. If you want to go pro, you need the right mindset
You might go into Pokémon TCG to simply have fun, or if you enjoy it enough, you might find yourself contemplating the path to becoming a professional player.
The journey to becoming a professional player however can be long. The Pokémon TCG is split between Junior (under 12's), Senior (12-16) and Master (over 16's) divisions, meaning many start young and climb the ranks over years of practise.
Pedro "Sininchi" Torres, who became the Oceania International Champion in 2017 and achieved Top 4 at the 2018 World Championships, has been playing since 2013. He now considers himself one of the oldest in the game, aged 29, and believes his mindset, built from years of playing chess, helped build the pro player mindset.
"I had played chess for like 20 years, and that mentality of sitting in a place for six or seven hours, where one mistake can cost you the game, that helped me become a pro Pokémon TCG player faster. 90% of people who play Pokémon TCG, when they lose, they think its bad lag or RNG… a lot of people become pro players because they play really well, but when they lose or do a misplay, it's really hard [for them] to actually accept their own mistakes," Pedro said.
So it's not only playing well, the important part to becoming a pro player is the mindset," Pedro adds. "I know so many Pokemon pro players who have won so many tournaments, maybe even more than me, but they hardly do well at Worlds because they don't have the perfect mindset about playing the game."
So looking to take your play to the next level? Be aware, and acknowledge, your mistakes.