DarkZero are now looking like one of the best Rainbow Six Siege teams in the world, coming out on top against Spacestation Gaming and TSM. 
The third Rainbow Six Siege Major for August saw the four best North American teams face-off in their bid to earn points towards qualification for the Six Invitational. 
After winning this year's Six Invitational and the Pro League Season 11 for North America, Spacestation Gaming were the favourites heading into the tournament. DarkZero however gave us early signs of their dominance to come in their first match-up, knocking Spacestation down to the loser's bracket. 
While Spacestation managed to defeat Oxygen, they couldn't quite get past TSM - who clawed their way back from the loser's bracket with a 2-1 win. 
It was a rematch between DarkZero and TSM for the final, after the latter suffered a 2-0 loss prior. While the final eventually panned out in a similar fashion, the opening map saw TSM take the lead initially - only for DarkZero to pull off an incredible comeback and win five rounds in a row. 
Taking the first map 7-4, DarkZero went up 2-0 after coming in from the winner's bracket. With momentum on their side, DarkZero steamrolled TSM in the second map for a 7-2 victory, winning the final with a very comfortable 3-0 score.
DarkZero come away with $62,500 of the prize pool, along with 510 Invitational points - pushing them closer to qualifying for the Six Invitational next year. 
It's a huge win for the team who have been largely overlooked in the past, who now look like one of the strongest Rainbow Six Siege teams in one of the most feared regions. 
The Six Major also saw Ubisoft drop all the details for DLC Operation Shadow Legacy, which features Sam Fisher, a Chalet rework and loads more.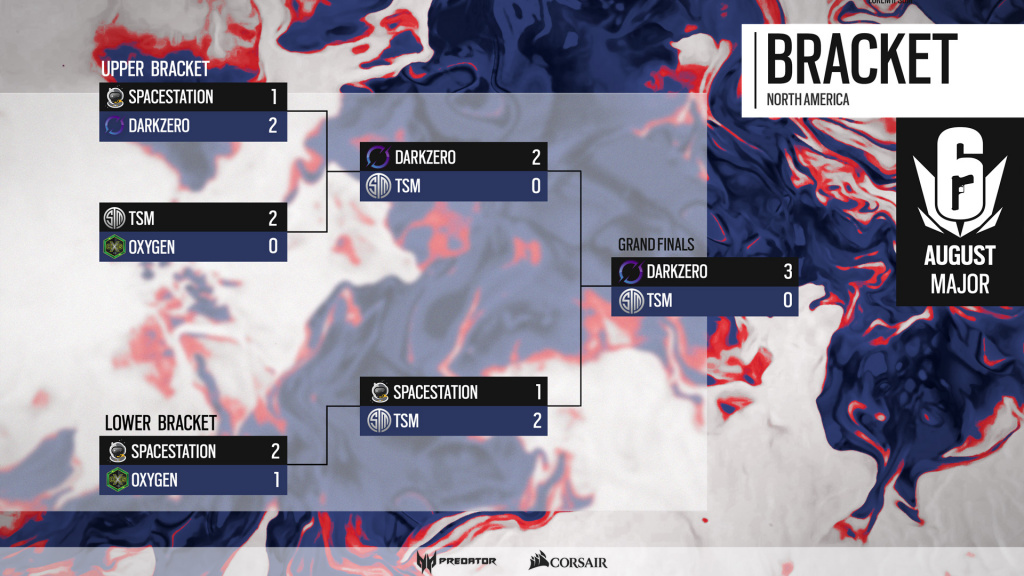 The final bracket for the NA August Major 2020 (Picture: Ubisoft) 
The next and final August Major will see the top four European teams battle it out, including Team Rogue, BDS Esports, G2 Esports and Virtus.pro.
The Rainbow Six August 2020 Major for Europe starts on Friday 21st August.