Rocket League Sideswipe takes high-action car soccer from our consoles and PCs to our phones and the pace can get too frantic for many to even think about strategies.
Debatably, the slowest game mode in the game, Duel 1v1 puts the player in a high-pressure situation where they are their only line of defence and the only attacker on the pitch but before taking possession, how do you start the match to your advantage?
Well, fret not, fellow rocketeer, as here are several kickoffs to pull of when 1v1ing in Rocket League Sideswipe!
Rocket League Sideswipe 1v1 neutral kickoff
First and foremost, nothing beats a good ol' muscle memory 50/50 neutral kickoff. Practice against bots, your friends and then ranked to get the best of every ball and lead it where you want it to be.
A great 50 can get the ball to the ground for a follow-up challenge, behind you for possession or in the air for a quick 0-second goal -- the choice is yours!
Rocket League Sideswipe 1v1 fake kickoff
One of my favourites to pull off especially when the game begs for it, instead of driving towards the ball, drive away from it as soon as the clock strikes zero.
Faking driving forward and suddenly backing away will lead your opponent to touch the ball with such strength as to give away possession and that's your time to shine!
Make sure to defend that first touch well as to not return the ball and favour, so if the ball turns into a shot, remember to kill the ball and keep it close.
If the ball slowly rolls to your half, take it to the sky and go for the kill shot. Keep in mind that your opponents are learning from you with every decision you make so don't abuse this fake kickoff in a single game!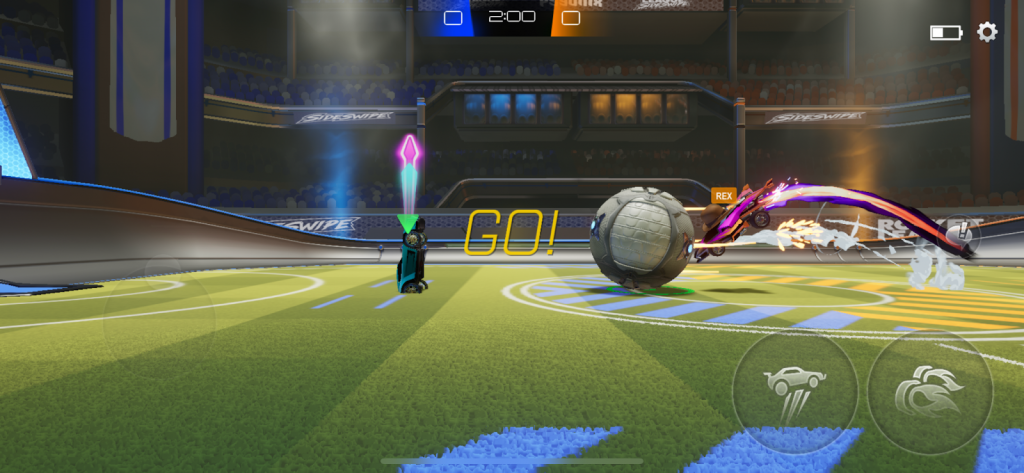 Rocket League Sideswipe 1v1 plank kickoff
Not a popular one, to say the least, the plank kickoff will have you standing up straight and resting on your back wheels and exhaust awaiting for the ball like a brick wall.
Super fun to pull off and extremely hard to get consistent to go your way so practice it as much you can before you clip and perfectly 50 your opponents for some extra flair.
Make sure to follow us at @33Boost on Twitter for more Sideswipe news, content and giveaways and check out our dedicated Rocket League GINX TV section.
Featured image courtesy of Psyonix.