Triple Trouble will be going hot and heavy in the Spring Split with their new professional Rocket League squad. 
As of 9th February 2021, the team announced the departure of German player, Gian "Calix" Luca Bruder and the addition of English newcomer, Finlay "rise." Ferguson as his replacement.
The tryouts for a third-man were first reported by insider intel team, ShiftRL, including rise. Dan "Polar" Rees and Lorenzo "Dead-Monster" Tongiorgi.
The announcement was made through Triple Trouble's Twitter, first reporting Calix's departure only to present their new third-man, rise., two hours later.
Welcome @RiseRL_ to @TripleTroubleRL 🎉

An incredibly exciting new chapter for our roster, including picking up one of the best up and coming players in the scene.

The roster is already putting in work towards Spring Split, see you there hopefully looking new and improved. pic.twitter.com/geYeHwRhPp

— Triple Trouble Rocket League (@TripleTroubleRL) February 9, 2021
rise. is the newest addition to the three-man roster joining Euan "Tadpole" Ingram and Dan "bluey." Bluett.
The 16-year-old has been a part of the competitive scene for over a year, playing for teams like VoiD, Barrage Esports and SauceSquad. 
His highest placements came in finishing 1st in the APS Tournament, 2nd place in Nitro League S6 D1, and Top 8 in the RLCS X Fall Regional #2.
Triple Trouble is looking to turn things around after a couple of turbulent starts or finishes through RLCS X and Calix's exit had been a part of the plan.
Calix joined Triple Trouble in July of last year and has had his fair share of highlight placements with two Top 8 finishes in RLCS X (Fall EU Major and Winter Regional #3), even winning the very first week of RLCS X's The Grid against Oxygen Esports. 
The 18-year-old has approximately pocketed $17,753 according to Liquipedia but has not yet announced that he is looking for another team.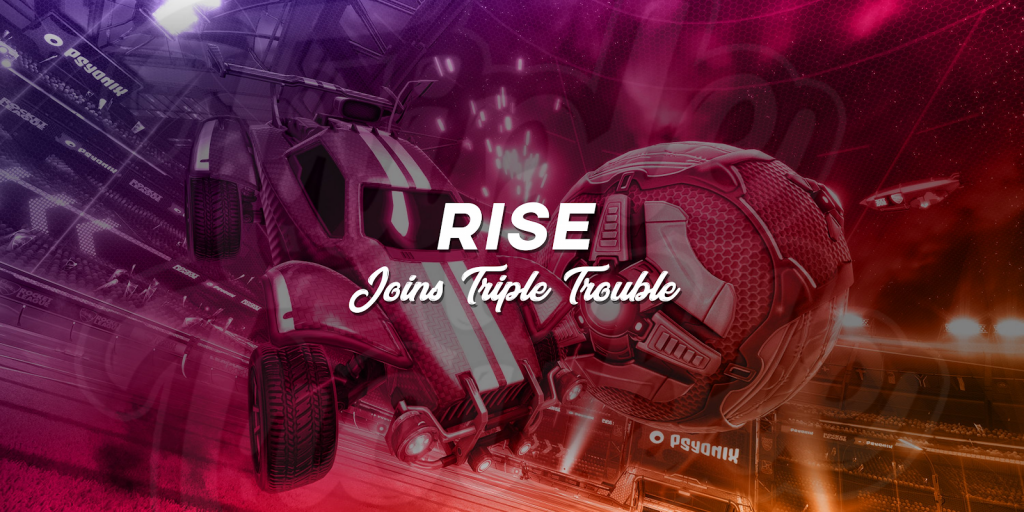 (Image: Triple Trouble)
There seems to be no bad blood between the two parties as Calix showed his appreciation towards Triple Trouble retweeting the amicable departure announcement. 
"I want to thank them for putting so much faith in me 7 months ago. It helped me a lot as a player and i'll never forget the highs we had as a team", Calix posted to his socials, even liking rise.'s announcement tweet later in the day.
Without an invitation to the RLCS X EU Winter Major, make sure to catch the start of the Spring Split to see how Triple Trouble fairs off in the last-third on the road to the World Championship.