Cloud9 have announced they are exiting Rocket League esports after 1,048 days, having entered the esport after signing a roster then known as the "The Muffin Men" ahead of Season 4 of the Rocket League Championship Series (RLCS).
It may well be the last time we ever see the Muffin Men in action, with NRG announcing the signing of Mariano "SquishyMuffinz" Arruda who is set to replace four-time world champion Pierre "Turbopolsa" Silfver, with a player many consider to be the GOAT moving to the bench.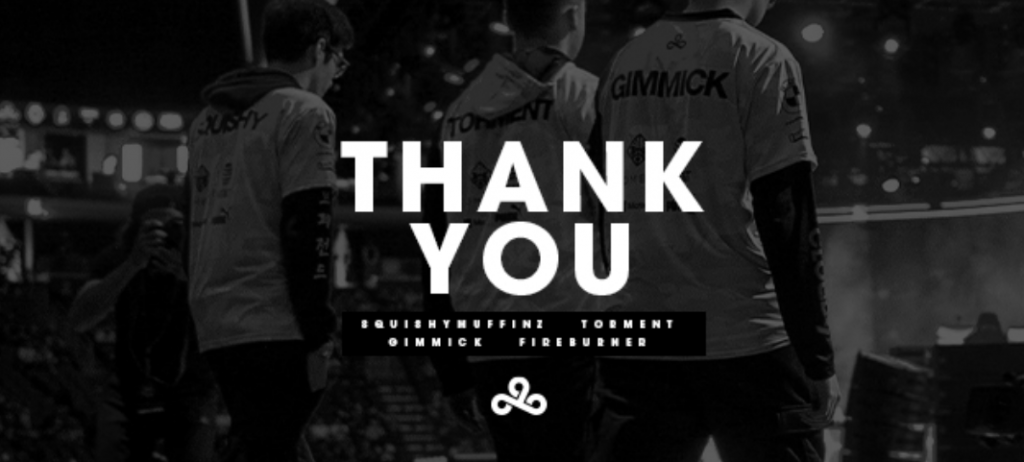 (Picture: Cloud9)
It a statement Cloud9 thanked the team for their service while announcing that the "Muffin Men are splitting up".
"The entire organization would like to extend our deepest gratitude to all members of the Rocket League team for their efforts and the incredible things they achieved while representing Cloud9."
Jack Etienne, Cloud9's CEO & Co-Founder also spoke of the last impacting the team has had on the organisation:
"I'm so proud of everything C9 Rocket League achieved during their time with us. They've proven themselves on the biggest stage by bringing home the RLCS trophy and I have no doubt that they'll be pulling off more highlight-reel moves soon. Everyone here will miss them and we thank them for being such an incredible part of Cloud9."
The news comes a month after Psyonix received a grievance letter from 13 NA and EU esport organisations involved in the game, voicing concerns over a "lack of communication," from the game developer and primary tournament organizer. Notably, Cloud 9 was missing from the teams supporting this letter, with their decision to leave according to Rocket League caster Adam "Lawler" Thornton, already made.
"C9 never signed because they already made up their mind before the letter," claimed Lawler in a recent YouTube video. Adding that he believes more orgs may make an exit, "C9 isn't the only team, Rogue and Mouz are also likely to leave."
Cloud9 quickly became a beloved team in North America, winning the Rival Esports: Summer Open 2018 and the Rocket League Universal Open: Season 2 in August 2018, they reached their peak when they defeated Dignitas to win the RLCS Season 6 World Championship held in Las Vegas.
Their performances since they have been mixed, they came uncomfortably close to relegation in Season 8 of the RLCS, eventually securing their place after finding themselves in the Promotion Playoffs. The next season looked to be falling a similar trajectory but an up-tick in form, in the latter part of League Play, kept them out the danger zone.
Where the Cloud9's two other players go is yet to be determined, Kyle "Torment" Storer and Jesus "gimmick" Parra, still retain their RLCS slot under the current system and have recruited Slater "retals" Thomas of the Pittsburgh Knights for the Codename: CONVERT tournament.
SquishyMuffinz, as mention before, is off to NRG where he will join Garret "GarretG" Gordon and fellow Canadian Justin "jstn." Morales.
It won't take NRG fans long to see their new man in action with the team also set to play in the Codename: CONVERT tournament.